By Micheal Rios, Tulalip News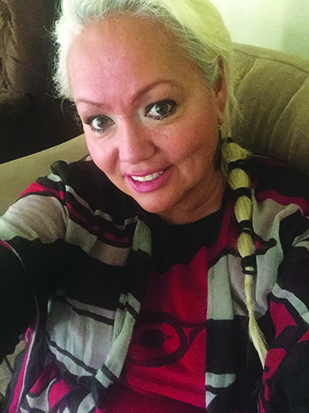 Northwest Indian College (NWIC) Tulalip campus has a new site manager, her name is Colette Keith. An enrolled member of the Cheyenne River Sioux Tribe of South Dakota, Colette left her position as an instructor and guidance counselor at Nueta Hidatsa Sahnish College, located on tribal land in North Dakota, to relocate to the greater Seattle area and join the NWIC team.
Colette has a very unique professional background that has seen her successfully navigate University systems. She has worked for the University of Colorado (Denver), the University of North Dakota, the University of South Dakota and the University of Nebraska. Along with her experience working at a tribal college on a reservation, Colette's higher education background makes for an ideal fit to manage the NWIC satellite campus located in Tulalip.
"I absolutely love the tribal college system," confesses Colette. "When I found out about NWIC I was determined to become part of this college. It's only been a few weeks, but I'm loving it here. Tribal colleges just have certain elements that reflect our indigenous lifestyles and make us feel safe and secure. Even though I'm far from my home reservation, working here on the Tulalip Reservation feels like I'm close to home."
NWIC is part of the Tulalip community, as a college offering a variety of educational programs to meet academic, vocational and cultural needs. At Tulalip NWIC, students are encouraged to develop themselves, be proactive about their academic goal setting and achievement, and discover ways to contribute to their communities and families.
There are about sixty students currently enrolled at the Tulalip NWIC campus. Through partnerships and joint recruitments efforts with other education based programs Tulalip provides, Colette hopes to see the applicant and student enrollment numbers increase over the next several quarters.
"It's really important that we network with all the community education stakeholders, from the Sylvan Learning Center to the Higher Education department and Teen Center staff to name a few," says Colette on her immediate and long-term goals for expanding NWIC opportunities. "There are only two of us here, myself and Katie Lancaster-Jones, and for us to have a reach, to make some impact in this community, we need to network heavily with the education-oriented departments and programs."
In addition to her responsibilities as the on-site manager, Colette plans on doubling as an NWIC instructor to impart knowledge she has collected from twenty years in University systems.
"I've taught for two years at my last tribal college and look forward to doing the same for NWIC," affirms Colette. "Foundations in English will be the first course I oversee. It's so vital for our tribal people to know how to write a proper paragraph and form their thoughts as clear sentences. The bridge is communication. We know that effective communication and transparent messages are so important for working in a professional setting, whether that's on or off the reservation. After taking Foundations in English, students will be more confident in their writing and assured they are communicating effectively."
Colette also plans on teaching a Public Speaking class after she is settled in. Motivating students and helping educate tribal communities is her passion and we look forward to NWIC benefiting from all she offers.
For more information about Tulalip NWIC or to set-up a meeting to discuss educational opportunities and degree programs, feel free to contact Colette directly at 360-594-4094 or by email ckeith@nwic.edu