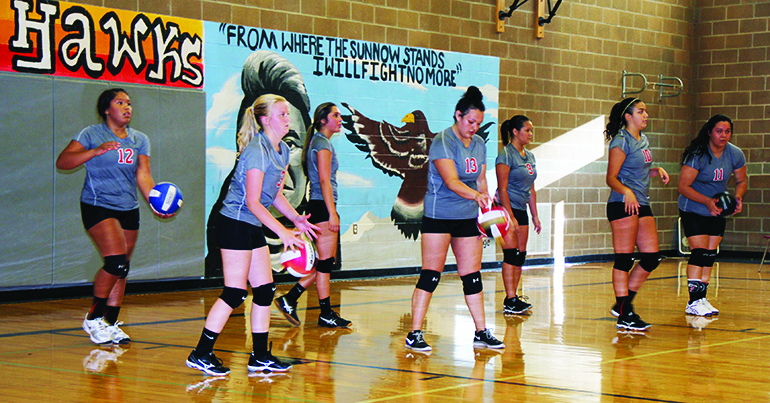 By Micheal Rios, Tulalip News 
The Tulalip Heritage Lady Hawks volleyball program took leaps forward last year by winning five regular season matches and winning two clutch postseason matches before losing a nail-biter to Shoreline Christian, ending their season with a 7-11 final record. This season's Lady Hawks team returns seven players from last year, and with another off season of development under their belt the Heritage program looks to take another successful leap forward.
On Thursday, September 8, the Lady Hawks hosted the Grace Academy Eagles in what doubled as the season and home opening game. Last season, our Lady Hawks got walloped 0-3 in both match-ups with the Eagles, so a good showing would be a nice confidence booster and proof positive the program is developing in the right direction.
From the opening serve it was obvious the Lady Hawks came to play. The first game was a highly contested battle, with each team going on a series of runs. Up 23-22, the Lady Hawks tightened up the defense and scored on back-to-back points to take the opening game 25-22.
The near even play continued in the second game, until miscommunication crept in on the Lady Hawks part leading to them trailing 17-23. Digging deep, they went on a 6-1 run to make it a one point game, 23-24. The momentum was halted moments later with a bad serve that gave Grace the game 23-25.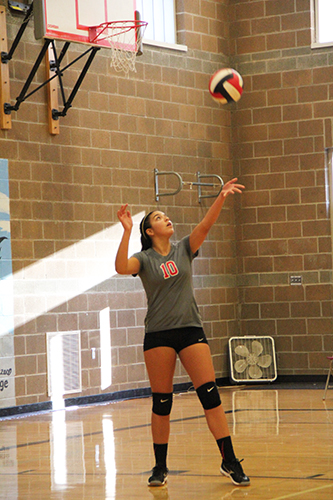 Tied at one game each, the Lady Hawks opened up a 7-5 advantage to start the third game. However, Grace took control and the home team trailed 10-18. Heritage was unable to get back in the game, going on to lose 17-25.
Down one game to two, and with Grace only needing to win one more game to take the match, the odds weren't looking good for Heritage. But these Lady Hawks were determined to take the momentum back. They took a very quick 6-1 advantage in the fourth game and never looked back. Winning the fourth game 25-15 tied up the match at two games apiece, forcing a match deciding fifth game.
In the fifth and final game, the Lady Hawks opened up trailing 0-2 before buckling down and scoring at will. Determined to end their match losing streak to Grace, the Lady Hawks went on a 15-3 run to clinch the game 15-6 and take the match victory 3-2 in front of a very spirited home crowd.
The Lady Hawks hit the road for their next two matches against Lopez and Arlington Christian before coming back home to host Skykomish on Tuesday, September 20.