Wellness Court aims to give people the support they need to be successful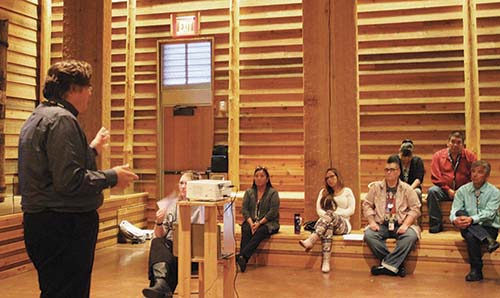 By Kalvin Valdillez, Tulalip News 
On the first day of 2017, the Tulalip Tribes will begin to heal the community using a new approach to addiction and the court system, the Wellness Court. The philosophy behind the new court system is that by treating addiction as a disease and not a crime, the victim will have an opportunity to take advantages of resources such as counseling and treatment. Therefore, providing addicts the opportunity to slowly and comfortably transition from a habit-led life to a new life where they can begin take control back.
"This has been a long time coming and we're very grateful for everyone coming together. It shows courage when you come together as a community and you want change. You want to help people instead of throwing them in jail. We know as Indian People that there's a better way to help our people, a better way to help them find their journey," stated Tulalip Tribes Chairman Mel Sheldon.
It has been said by numerous officials that the nation is seeing the worst drug epidemic since crack cocaine  ruled the drug scene in the 1980's. Specifically in the state of Washington, heroin and opioids are tearing families apart and are the cause of about 30% of the state's deaths. In Native America, those numbers are a lot worse. The Tulalip Tribes alone sees 13 times more losses due to the drug epidemic.
Tulalip Board member Les Parks serves on the committee for the Wellness Court and has been very active in getting the system up and running.
He says, "The Wellness Court concept is not new to this country. It's been around for a long time, back then it was known as drug court. But this program is a completely different animal than the drug courts of the old days. We are adopting this new philosophy of love by wrapping our arms around our people who need us."
Les explained that the current court system is failing when it comes to helping the people from the Tulalip area who are addicts.
"The addiction in our community is rampant and [the majority] of the people that are coming through the courts are because of crimes that are related to their addiction. We're just recycling people. You can't just put them in jail and expect them to get better. They do their crime, go to court, then to jail. They get out and repeat their crimes and it keeps going over and over until it's too late. What we're doing is not working," Les urged.
In most cases an individual can spend anywhere from two days to six months in jail. Tulalip's Chief Judge, Ron Whitener, stated that the jail time is not a factor in the recovery process for most addicts, and holding a person who is battling addiction in jail for six months is not cost efficient. The end result for a user fresh out of jail remains the same, they will relapse and sadly, this is when many people overdose.
For this reason, the Wellness Court's average jail time will be two days. After the individual is released, the Wellness Program is immediately put into effect. Judge Whitener explained the difference between the traditional court system and the Wellness Court.
In traditional court, the judge remains neutral and enforces jail time. At the Wellness Court, the judge is extremely interactive and rewards positive behavior and takes the time to talk to an addict who is struggling, helping them stay on their path to sobriety.
The Wellness Court is a two-year program that will assist users by providing resources and encouragement. Resources include access to counselors in behavioral health, mental health and chemical dependency, as well as overall health care. Another service Wellness Court offers is advisement for education, job placement, and housing.
Judge Whitener states the epidemic is requiring nationwide change and that the process has to adapt to the needs of today's society. "The courts are now moving away from the old way of business. It was this idea that when people choose to commit crimes, the way you deter them from committing more crimes is by throwing them behind bars. What we are now finding is the reason they are committing crimes is because of an addiction. They're either trying to get money to be able to pay for the drug or they're doing something like driving a motor vehicle while impaired by the drug," he explains.
"By breaking the cycle we can save one of our young people that's an addict. We can't keep sending them to jail and giving up on them. They need us.  We can't give up on them."

– Marie Zackuse, Tulalip Tribes Board of Director
Chief Carlos Echevarria also serves on the council for the Wellness Court and has been working tirelessly to find a resolution for his people. He explained the heartbreaking reality that his team sees every day, addicted members of his community that have burned all their bridges with friends and family, now have nowhere to turn.
The Chief stated, "One of the most horrific things my officers have to deal with on a regular basis is when they come into contact with one of our members who has an outstanding warrant and is addicted. The jail refuses them because they are full. We attempt to reach out to their family members for additional resources for them and, because of strained relationships caused by the drugs, there aren't any. We have to watch them walk out of our police department. It's the absolute worst thing. We don't know what's going to happen to them as they leave our custody and head back to the streets. This program allows us to use a number of new resources to help those individuals and get them on the right path. We need to starve the addiction and through this program we can. Recovery is contagious."
Katie Lancaster-Jones shared her experience with the Snohomish County Drug Court located in Everett. Katie became addicted at age 12. Her drug of choice was Meth. After being in and out of the court system, she realized that the system was not working for her. She desperately wanted to become clean so she attended the 21-month long drug court program and has been clean ever since.
"Drug court saved my life. It taught me structure. Now I am a Northwest Indian College Graduate. I am clean! And most importantly my two kids are happy and healthy," expressed Katie.
During the month of October, the Tulalip Tribes is hosting a series of community meetings explaining in further detail, and answering all of your questions throughout the Tulalip Community. The remaining meetings will be held on Wednesday October 19 at the Tulalip Gym at 5:00 p.m. and on Wednesday October 26 at the Kenny Moses Building at 5:00 p.m. For additional information be sure to attend one of the upcoming community meetings.
Tulalip Board of Directors member Marie Zackuse urged her community to take action stating, "By breaking the cycle we can save one of our young people that's an addict. We can't keep sending them to jail and giving up on them, they need us. We can't give up on them."
Contact Kalvin Valdillez, kvaldillez@tulaliptribes-nsn.gov