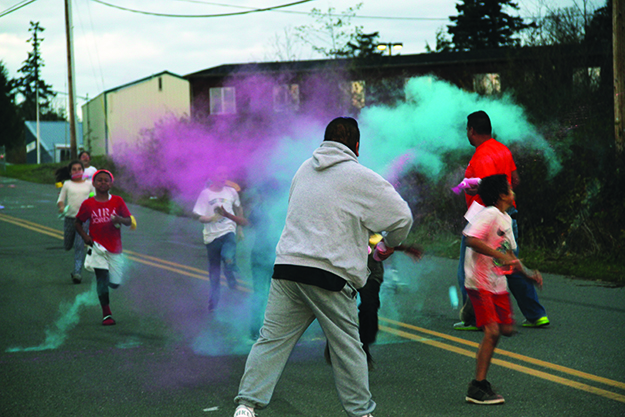 By Kalvin Valdillez, Tulalip News 
Tulalip Youth Services ended the extremely popular and successful Tulalip/Marysville Unity Month in the most insanely fun way possible, a one-mile color run from the Boys and Girls Club to the Greg Williams Gym.
Youth Service team members set up inflatable check marks in between the start and finish line and awaited runners, with bags of multi-colored powder chalk in hand. The event started precisely at sundown on the last Friday of October. Over 50 participants of all ages joined in the fun. Dressed in white t-shirts, participants made the dash to bring awareness to important, serious topics such as bullying, drug abuse, and suicide.
Upon reaching the gym, the chalk-covered participants were able to freshen up. Following the run, a dance and dinner was held at the gym as the youth celebrated the completion of the first Annual Tulalip Unity Month.