By Micheal Rios, Tulalip News 
March is Problem Gambling Awareness Month. To increase public awareness of problem gambling and the availability of prevention, treatment and recovery services here at Tulalip a free community-wide celebration was held at Hibulb Cultural Center on Friday, March 3.
"The Tulalip Tribes is a trailblazer in Indian Country for acknowledging Problem Gambling Awareness Month. Our efforts to illuminate and shine a spotlight on problem gambling and recovery contributes to the wellness movement in Tulalip," states Sarah Sense-Wilson, Problem Gambling Coordinator. "Events like this provide us a platform and an opportunity to address gambling disorders as a real public health concern, negatively impacting individuals, families, and communities. Our goal is to invite people to learn about gambling addiction and to destigmatize the illness by seeking recovery through a wide range of treatment services offered through Tulalip Family Service's Problem Gambling program."
The celebration event consisted of a large gathering of local residents, members of the gambler's anonymous community, and friends to the cause who offered guidance and support. Master of Ceremony was Jobey Williams, drumming and singing was provided by the talented Terrance Sabbas, and the keynote speaker was Native comedian Kasey Nicholson.
Kid, elder, and family friendly, the atmosphere was shared by all as attendees enjoyed a bountiful salmon dinner with lots of entertainment and encouraging words.
Many of us have been personally affected by friends or family members who are problem gamblers. We've witnessed the devastating effects of financial, emotional, spiritual and physical toll on our families and community. Gambling addiction has a rip tide impact on our people and we want to encourage them to seek help and have the courage to make change.
Heartfelt, personal life stories of gambling and alcohol addiction and their road to recovery were shared by Jobey and Leah Crider. Their words were truly inspiring as audience members absorbed the emotions invoked in journeys from co-occurring addictions to recovery and healing.
"I am overwhelmed with adulation for Jobey and Leah's willingness to share their triumphant victories over the powerful, life-taking addictions," marvels Sarah. "The gamblers anonymous community is growing in our region, as more and more folks seek help and begin to reconnect with their community. It is important we continue to provide spaces and opportunities for folks in recovery. Fellowship is a core principle of every 12-step program and we want to honor our gamblers anonymous community by celebrating their recovery."
Lifting our community through recovery is vitally important for building a network of support for both the inflicted and their friends and family members.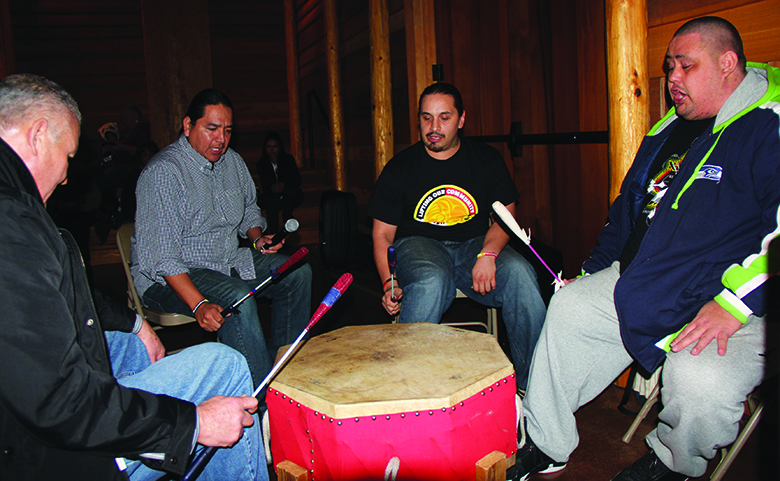 Among the celebrations attendees was twenty-five year old tribal member Brando Jones. Brando grew up in Tacoma and when he was a teenager fell into the vicious grips of alcohol and drug addiction. Now 22 months clean and sober, Brando has recently moved to Tulalip and has been attending Tulalip cultural events to help him remain spiritually strong on his road to recovery.
"The reason I attended this event is because it's important for people in recovery, like me, to hear words of wisdom and advice from people that have been where I've been, people who've battled the beast of addiction and came out on top," says Brando. "It's truly inspiring to see Natives from different tribes helping each other out and showing their concern and offering support for our people. We may be from different tribes, but that doesn't stop us from coming together to help each other in our addictions and recovery."
During Problem Gambling Awareness Month, Tulalip Family Services and the Problem Gambling Program will be hosting and co-sponsoring several upcoming special events throughout the month of March. These events include the 'Community Fun Run/Walk' at Tulalip Heritage H.S. campus on Saturday, March 11th from 1:00pm – 3:00pm and the Youth Dance that night from 6:00pm – 9:00pm. There will be an Elders Luncheon March 24th from 11:30am – 1:00pm at the Elders Center with guest performer Star Nayea. Concluding the month, there will be a Movie Night for the youth on March 31st at 5:00pm, where the youth will share a special educational presentation on problem gambling awareness.