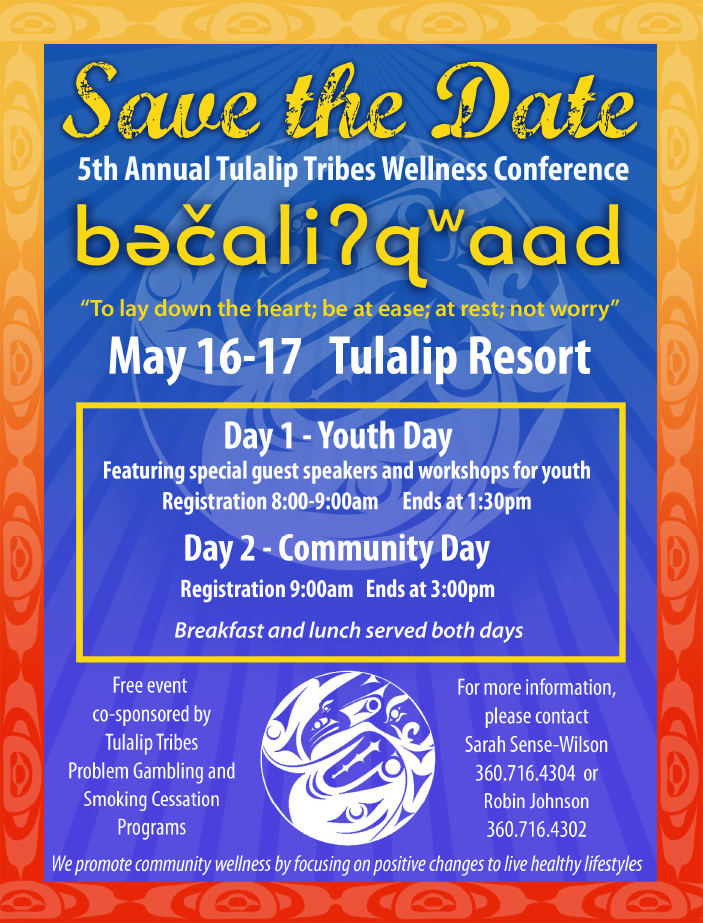 By Micheal Rios, Tulalip News
The 5th Annual Tulalip Tribes Wellness Conference will be taking place at the Tulalip Resort Casino conference rooms on May 16 and 17. The entire community is welcome to attend this free event sponsored by the Problem Gambling and Smoking Cessation programs. Breakfast and lunch will be served on both days, along with a variety of speakers, activities, and workshops that focus on positive changes to live a healthy lifestyle.
"The Wellness Conference is such a good opportunity for our people to come together, visit, and enjoy each other's company while learning new ways to live healthy," says Frieda Williams, Tulalip elder and Community Relations Coordinator. "There will be so many good speakers and health experts there to answer any questions you might have about health related services the Tribes offers. Many services you may not be aware of so here's the chance to learn about them."
The conference's second day, May 17, has been dubbed 'community day'.
"Our Wellness Conference has confirmed a bevy of nationally acclaimed artists, leaders, performers and activists for our community day event," stated Sarah Sense-Wilson, conference coordinator. "In addition, we will be offering 'Essential Self-Care' activities on day two of the conference with over 14 health enhancing, fun, rejuvenating and relaxing workshop stations."
"We're hoping to get a great response from the community and see many people attend," adds Frieda. "There will be plenty of entertainers and activities planned, along with cultural workshops by Inez Bill and Virginia Jones from Hibulb and a healing circle by Deborah Parker. I can't emphasize enough that the whole Tulalip community is welcome to come, registration is free the day of, so please come and enjoy our Wellness Conference."
For Tulalip Tribes employees, the GM has approved the conference as a training eligible event. Meaning with supervisor approval you can submit a training and travel request to attend the Wellness Conference during work hours.