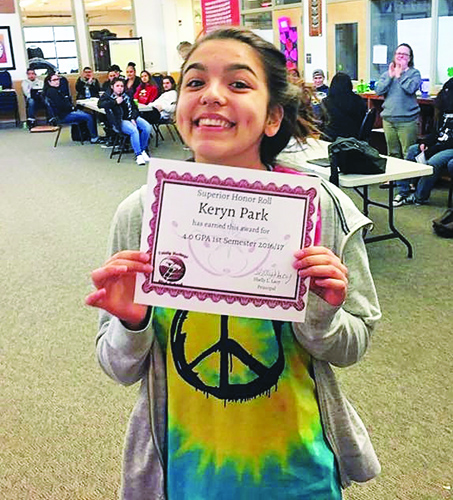 By Micheal Rios, Tulalip News. Photos by Micheal Rios and courtesy of Keryn Parks
Resilience is a term used to describe a set of qualities that foster a process of successful adaptation and transformation despite risk and adversity. Individuals who are resilient have the capacity to withstand, overcome, and recover from threatening conditions. Simply put, resilience is the ability to bounce back from adversity.
As it relates to Native youth, resilience is exemplified by certain qualities possessed by those who are subjected to undue stress and adversity, yet do not give way to school failure or juvenile delinquency. By those standards 16-year-old Tulalip tribal member Keryn Parks is resiliency personified.
The Tulalip Heritage High School junior has experienced things many couldn't even begin to comprehend, but she didn't surrender to the adversity. Instead, she conquered it with success.
"With everything that's happened over the last few years, I just feel way more comfortable in a smaller setting. That's why I loved Heritage from the first day I transferred during my sophomore year," says Keryn on her changing of high schools. A former student at Marysville Pilchuck, she first transferred to Lakewood before finding her academic home at Heritage. "I feel way more comfortable in a setting where I know every single person in the room. It's a friendlier setting that's both family and culture oriented."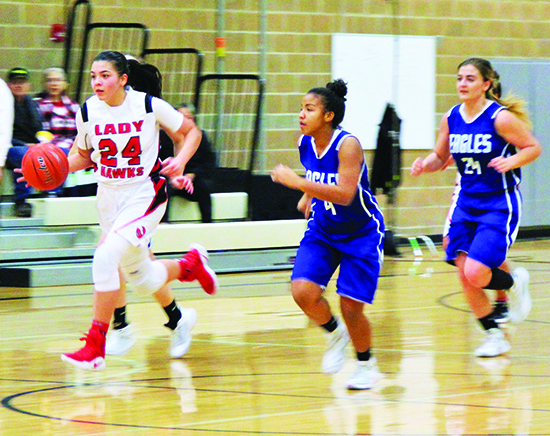 The change of scenery not only provided Keryn with a much more comfortable learning environment, but it also gave her the opportunity to engage with her cultural roots, excel in the classroom as a student, and flourish on the hardwood as an athlete.
At Heritage, she received traditional teachings like fundamental beadwork from Bubba Fryberg and learning some of the ancestral language of her people under the guidance of Lushootseed language teacher Michelle Myles.
"I've learned that I really enjoy beadwork. It's something I've gotten good with and look forward to getting better and learning new techniques. I actually love doing it," admits Keryn. "Lushootseed was really cool to learn and hear about, especially from Michelle because she's such an awesome teacher. Hearing her tell us the importance of passing our language down to younger generations so it doesn't vanish motivated me to learn more."
Keryn also seized the opportunity to take classes at Marysville's Arts & Technology High School to bolster her student profile for future college applications. Though the course load was challenging at times, she excelled as a student of both Heritage and Arts & Tech. Using the student tracker application Skyward, Keryn was able to stay on top of all her assignments from both schools to ensure she remained ahead of the curve.
"She's one of our star students. Her dedication to getting her classwork done and commitment to helping her classmates definitely stands out," beams Principal Shelly Lacy. "For example, when she sees students in her class who might be having trouble with an assignment she's always willing to help them. She has such a warm smile and friendly demeanor, so her classmates are open to her assistance. Also, her attendance is great. She's always here at school and attends all her classes."
Keryn's commitment to her education yielded amazing results. In fact, she was recognized for being the only Heritage student with a 4.0 GPA at the end of the 1st semester grading term.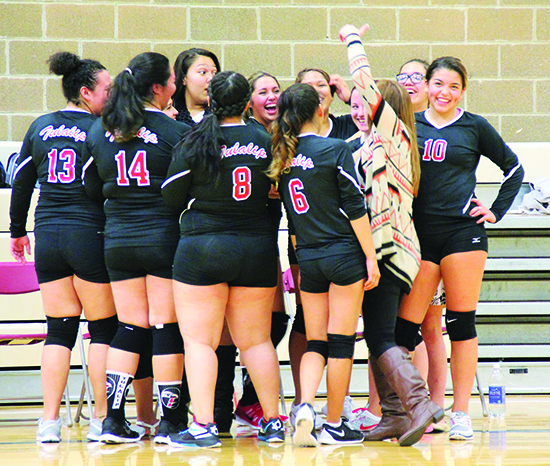 Excelling in academics and athletics can be a daunting task for most, but Keryn found a way to successfully balance the two. Her success in the classroom was also being echoed with athletic achievement. During this past volleyball and basketball seasons she grew into her team's go-to playmaker. She admits that basketball is her true passion and volleyball was more for fun, yet she reluctantly accepted a leadership role in both.
"She was chosen as a team leader by [her teammates] on and off the court. It took her time to adjust to that role because she didn't want it at first," points out Tina Brown, Athletic Director and volleyball coach at Heritage. "It was obvious to us that Keryn's energy was contagious. When she was in the zone and encouraging her teammates, the whole team's play would go to a new level. Eventually, she embraced the leadership role and accepted the responsibility to encourage her teammates at the right moments to keep the momentum going. The whole team benefited because of it."
With Keryn embracing the leadership role, the Lady Hawks volleyball team found unprecedented success. They started off the year (5-0) and made their first ever appearance in the Tri-District Tournament. The Lady Hawks' success carried over to the basketball season, where Keryn continued to develop as a key playmaker and clutch shot maker. She averaged career highs in nearly every statistical category, while shining in the biggest moments. The team finished with an astonishing (20-6) record including a deep postseason run that ended at Regionals. Recognizing her efforts, Keryn was named to the All-League 1st Team.
The end of basketball season marked the end of the athletic year for Heritage sports. Refocusing all her efforts towards her education, Keryn understands the significance of making the most out of opportunity while still in high school. For her upcoming senior year she intends to enroll in Running Start, a program that allows high school students to take college courses at community colleges. She'll be earning both high school and college credit for courses taken at Everett Community College.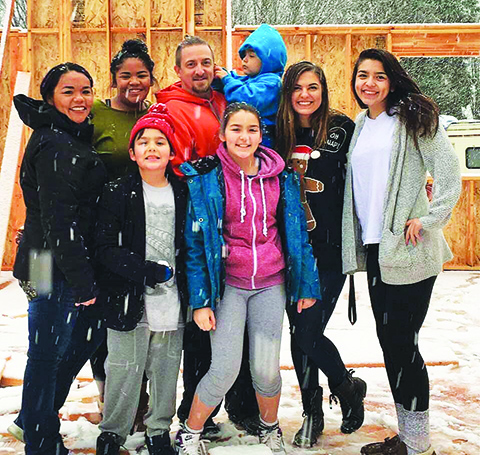 "I'm more excited than anything. I know it's going to be challenging and a lot of hard work, but I'm ready for it," says Keryn a few days after testing into the Running Start program. "I want to make the most out of my senior year by earning college credits. It'll be really beneficial in the long run. Educationally, I want something more for myself and I hope to show my friends and family what's possible."
Of Keryn's decision to do Running Start during her senior year Principal Lacy adds, "I'm really excited for her. Our goal is to get our students to see what they are capable of and to promote the pathways to college the best we can. The first year of college is always the hardest, there's so much the students have to adjust to, but through Running Start we get to support them through the process. It's been wonderful to witness Keryn grow into the person she is. I'm confident that with her dedication she'll succeed with Running Start."
Continuing to raise the bar with her education and succeeding at every step helps to change a culture and breaks the stereotypes of Native youth in the academic realm. The stats show that overwhelmingly Native students have difficulty succeeding at college. However, as with basketball in the biggest moments, Keryn has a knack for delivering in the clutch. And thus far, her ability to turn adversity into success through sheer force of will is what makes her so unique.
"I'm proud to be Native American, I'm proud to be Tulalip. In everything that I do and achieve I'm representing my family. Parks, Fryberg, Gobin, and Joseph, all those family names I represent. That's the weight I hold on my back, that's who I am," proclaims Keryn. "While growing up my dad would tell me, 'Don't drag our name through the mud, Keryn.' Now that I'm older I understand what he was getting at. Holding myself accountable, being successful, and focusing on what's best for me is totally within my control. When people see me doing well and achieving, I want them to think of my parents and grandparents because they are the support system that makes me who I am."
Lastly, to her peers and fellow Tulalip community members Keryn has this advice, "Know your worth. Know how much your success helps everyone around you. If you're bettering yourself, then you're bettering your siblings and little cousins. In this community, you are always going to be a role model know matter what. There are people looking up to you and you don't even know it. So try to set the best example you can and be that positive role model for the younger ones because it matters to them. It matters to us all."