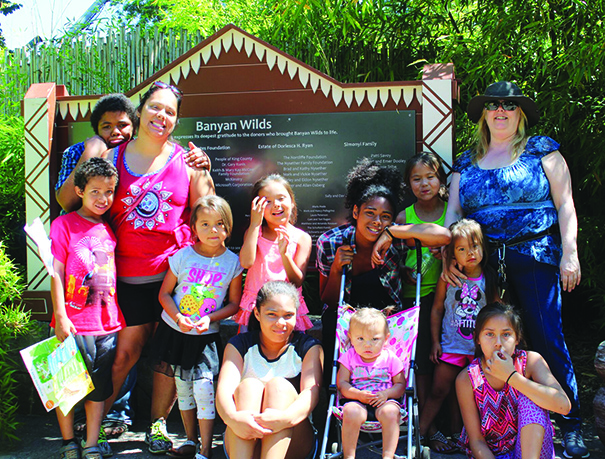 By Kalvin Valdillez, Tulalip News 
On a sunny July 14 afternoon, students of the Betty J. Taylor Early Learning Academy traveled with their families to Seattle to visit with the animals of the Woodland Park Zoo. Each summer Early Learning provides a free zoo pass to each enrolled student and one accompanying adult. The Academy encourages families to join the students at the annual zoo trip and provides lunch to the students and each family member.
As the kids explored the zoo map alongside their instructors and families, they admired the gorillas of the Tropical Rainforest, the wolves of the Northern Trail and the red pandas of the Temperate Forest. Among the countless creepy crawlers, rattling reptiles, flying feathered-friends and many majestic mammals throughout the zoo, the most popular exhibit was in the African Savanna, home to animals such as lions, monkeys and zebras. The crowd favorite, however, were the giraffes.
This past June, the Woodland Park Zoo announced the birth of a baby girl giraffe and she spent this past weekend bonding with her father, whom she just met days prior to the Academy's visit. Several students were overwhelmed with excitement upon seeing the yet-to-be-named three-week old giraffe.
"It's really good to see the kids in a different environment," states Betty J. Taylor Early Learning Academy Instructor, Stella Moreno. "They see that [the teachers] are excited and that we love the animals, so they get excited too. The zoo trip encourages them to want to learn about the animals and they really enjoy it. I think it's a great interaction and a lot of fun, its memorable and we will never forget it."