By Kalvin Valdillez, Tulalip News 
In May of 2015, the Tulalip Tribes empowered their youth by creating the Tulalip Youth Council. The Youth Council meets regularly to discuss issues within the community as well as plan events, working closely with Tulalip Youth Services. Most importantly, the Youth Council presents a platform for future leaders to use their voice to communicate and present ideas to the Tulalip Board of Directors. The Youth Council gives young tribal members insight to how the Board operates, providing leadership tools and also preparing the youth for the day when they're at the helm.
Now in its second year and fourth term cycle, the Youth Council continues to inspire and teach young tribal members how to run a sovereign nation. Youth Council elections were held in the Chinook Ballroom of the Tulalip Resort and Casino on November 1. Over thirty future leaders, grades sixth through twelfth, ran for a seat on the council and fourteen tribal youth were selected as Youth Council and Junior Council.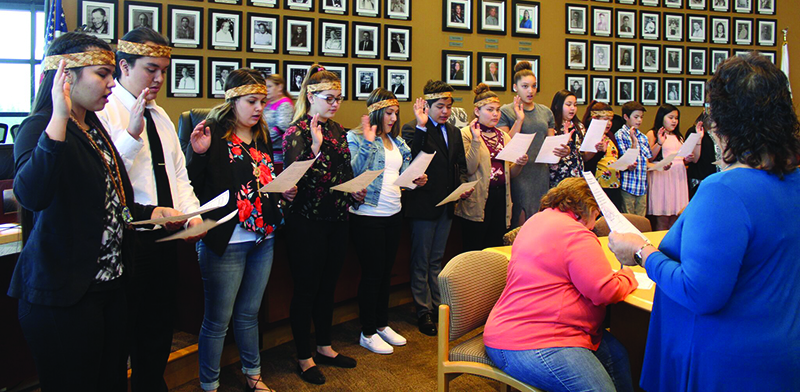 JLynn Jospeh (Chairwoman), Arnold Reeves (Vice Chairman), Eddie Reeves (Secretary), Evalea Cortez (Treasurer), Elizabeth Edelman (Officer I), Kaiser Moses (Officer II) and Irista Reeves (Media Coordinator) make up the Youth Council; and the Junior Council is Jacynta Myles-Gilford (Chairwoman), Shalana McLean (Vice Chairwoman), Ocean Reeves (Secretary), Damon Pablo (6th Grade Rep.), Kendra McLean (7th Grade Rep.), Angel Cortez (8th Grade Rep.) and Taysha Napeahi (Media Coordinator).
On the morning of Saturday November 4, the newly elected Youth and Junior Council members were officially sworn into office by the Tulalip Board of Directors in the Board Room of the Administration Building. After the fourteen council members traditionally introduced themselves, they were presented with shawls and drums by Youth Services; as well as congratulations, encouragement and advice from all seven Board members.
"You're stepping up to the plate in a good way and learning how to make a difference," stated Board of Director Mel Sheldon. "Remember, in your leadership position you'll have a lot of your friends who look up to you, and if there's a chance to help them along their journey, you're going to have that opportunity. By standing here today you made that pledge not only to yourself, but to our greater community about our culture, our history, education and about what you can do for those who take the wrong journey towards drugs and other substances."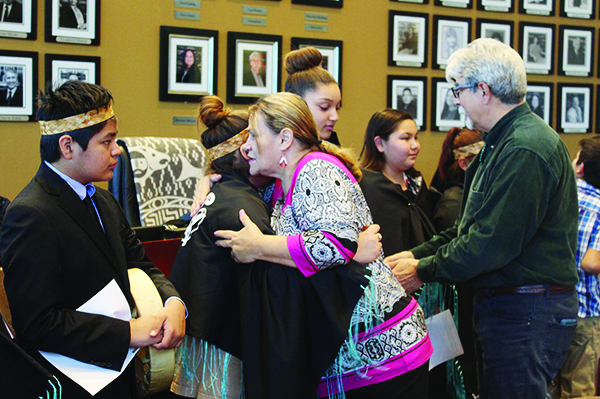 Board of Director Bonnie Juneau is excited to begin working with the new council stating, "Youth Council holds a special place in my heart because the first time I was sworn in was with the first Youth Council. I see some familiar faces and I see new faces, which gives us all hope. We know that we have a great future to come. We know that you'll take that leadership and you'll lead your peers. We need that right now. A lot of your peers are struggling with a lot of loss and grief so we look to you to help us think of those ideas of how we can help you help others. I just want to say that we're here, we're so proud of each and every one of you and I love you all and I look forward to the next year of leadership, congratulations."
Fellow Board Members, Marie Zackuse, Teri Gobin, Theresa Sheldon and Les Parks gave emotional, heartfelt advice to the youth. Before presenting the youth a traditional song, Jared Parks also offered guidance as the youngest member of the Tulalip Board of Directors.
"I just want to tell you all that I love you," he expressed. "I have somewhat of a personal connection with almost every single one of you, I've watched you grow. I want to tell you that I'm very proud of you because it takes a lot to put your name in the hat. It took me ten years to get that seat. Hard work and dedication pays off. This tribe has 4,758 people in it – [ages] zero to thirty years old is sixty-one percent [of the tribe], that's you. You're the majority of this tribe and you have a different mentality to bring us home. It's a new day in Tulalip Bay, so it makes me feel really good to see these young people stepping up and doing these good things."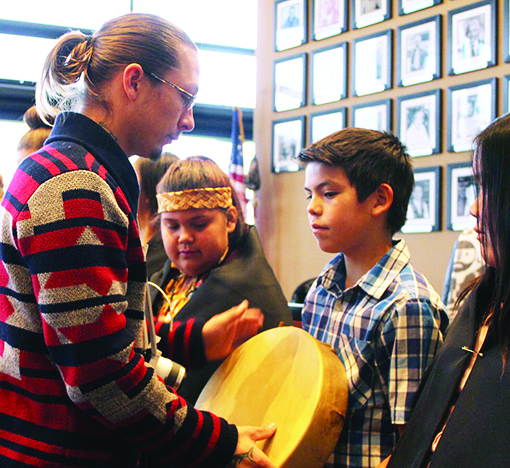 Youth Council Chairwoman JLynn Joseph was reelected as Chairwoman and is eager to learn how to progress as a leader amongst her peers today, in preparation to become a strong leader for her people in the near future.
"I'm super excited and ready for what's to come. Ready to progress as a youth but also ready to progress as a Youth Council and ready for the future," JLynn stated before leaving the Board Room to begin planning for the future with her fellow council members, by reviewing the Youth Council's constitution and bylaws for the remainder of their Saturday.
For the latest news and updates from the Tulalip Youth Council be sure to like their Facebook page and for further details please contact Youth Services at (360) 716-4909.