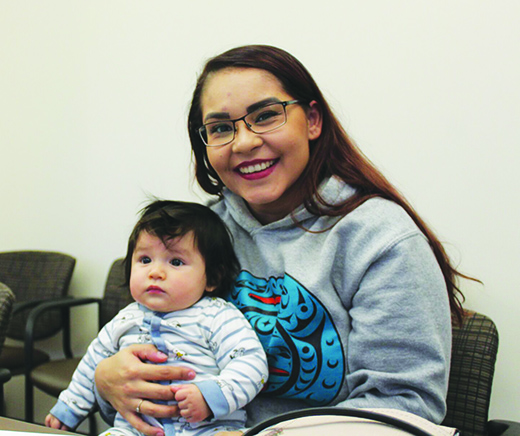 By Kalvin Valdillez, Tulalip News 
Recent studies show that executive function skills begin to develop in children between the ages of birth to five. Although executive function skills aren't fully developed until the age of twenty-five, the foundation for these skills are strongest when trained at a young age.
You might be wondering, what are executive function skills? By definition they are a set of cognitive processes that are necessary for cognitive control of behavior, selecting and successfully monitoring behaviors that facilitate the attainment of chosen goals. In other words, they are skills we use day-to-day to manage our lives and accomplish our goals. Executive function skills include impulse control, working memory, organization, task initiation, metacognition, stress tolerance, time management, planning/prioritization, emotional control, response inhibition and sustained attention.
The Betty J. Taylor Early Learning Academy hosted a two-day workshop informing parents about executive function skills on January 10 and 11. During the Parent Café, attendees were treated to snacks and beverages while viewing videos showing studies of executive function skills in early childhood as well as a presentation by ECEAP Manager Stephanie Pitman.
"I wanted to give a presentation on executive function skills because so often parents are concerned about their kiddos not knowing the ABC's, their colors or shapes. But really for true life success, they need to have impulse control, working memory and mental flexibility. That is the basis for all other learning in the future," says Stephanie.
During the training the parents openly talked with one another about these skills and how they pertained to their children, asking and offering parent-to-parent advice. At the end of the seminar the parents took a quiz in which they learned a little bit about their personal executive function skills strengths and weaknesses and discussed how to improve them.
"This class taught me that it's the little things that are taught over time. I think it's important because anything you can do to help better your children is great," expressed Early Learning Academy Parent, Mary Cameron Perillo.
"It's more engrained when you can get them [during ages] birth to five," states Stephanie. "Executive function is what they're going to have to learn in life. I may not need to know my colors or algebra in my daily life but I am going to have to know how to get along with others. I am going to have to know how to exercise impulse control and how to deal with stress. Adults use this every day, that's the skills we need for lifelong success."
For more information, please contact the Betty J. Early Learning Academy at (360) 716-4250.