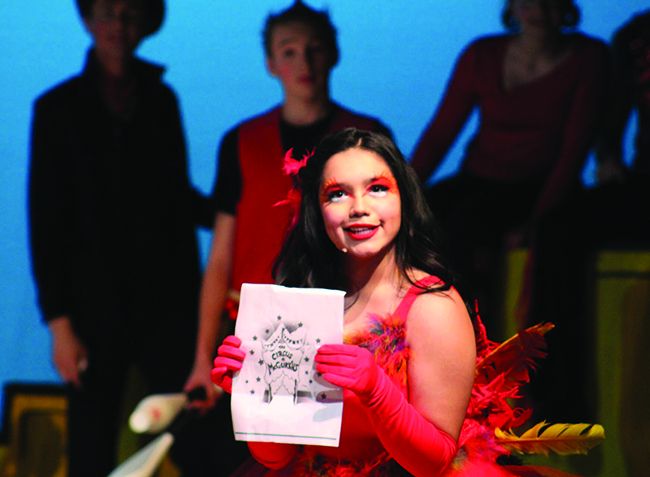 By Kalvin Valdillez, Tulalip News 
It was a near sold-out show at Arlington High School as the Drama Club prepared for the opening night of Seussical the Musical on March 2. The play's inspiration draws from the great imagination of Dr. Seuss and features a number of his famous characters, such as the Cat in the Hat, the Grinch and Horton the Elephant. The cast of young high schoolers awed the audience with their amazing talents, belting out a number of tunes accompanied by the school band. One of the standout performances of the play is Arlington High School sophomore and Tulalip tribal member, Izabella 'Bella' Fryberg, who plays a feature role as Mayzie LaBird from the book Horton Hatches an Egg.
"I sing at home a lot. I started acting my freshman year but I've been singing since fifth grade," expressed Bella minutes before the start of the show.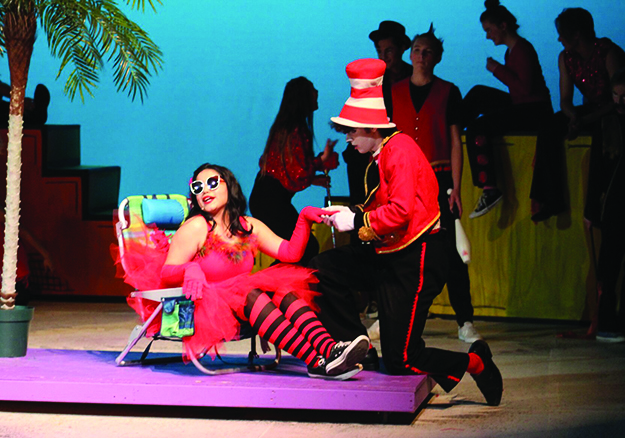 Bella is no stranger to the spotlight. At the young age of fifteen, she's been in Tae Kwon Do competitions and ballet recitals, as well as jazz dance performances. In the addition to Seussical the Musical, Bella is preparing to sing in a cabaret this April with her choir who meets every day before school to rehearse. It was during her freshman year that she was cast in the school's rendition of Guys and Dolls: The Musical and fell in love with the performing arts.
"This is important to me because it's a great way to express and show my creativity and honestly it's a lot of fun," she says. "It's a good way to get out your creative juices. It's great hanging out and getting to know everyone, you get so close because you go through rehearsal, makeup and the stress together. I want to go to a performing school in New York. While I'm there, I want to pursue a degree in music, but also be auditioning for shows because I want to be on Broadway – that's my main goal."
"Bella is like a ball of energy," says Drama Director Scott Moberly. "She's got an incredible voice and stage presence you can't really teach. I think it's her greatest attribute because she is so natural and comfortable on stage. If it's a matter of raw talent, at this age, she's solid. She is naturally gifted. What will make a difference is the training she will get. The natural talent will get you so far and the training will get her a little bit further. My guess for Bella is that she'll make her break, she'll create that for herself. She has a way of just drawing people to her and that is really special."
Just before show time, Bella's father and Tulalip tribal member Georgie Fryberg shared his excitement as the crowd began to take their seats.
"I'm totally nervous for her," he exclaimed. "But, she's been in the spotlight all of her life and done a lot of stage work before, so she's ready for it. This is the start of her career, she wants to do this for the rest of her life. She's still got a couple years in high school to work hard at it and I'm excited to see what she's going to do."
From the moment the curtains rose, to curtain call, the audience was completely engaged and thoroughly entertained, many surprised by the singing talents of the young students. Bella sang a number of solos, which blew the crowd away, including Amayzing Mayzie, How Lucky You Are, Mayzie in Palm Beach and Amayzing Horton. At the end of the play as she approached the stage to curtsy before the crowd, she was met with enormous applause from the audience.
"Wow, she was phenomenal wasn't she? Such a great voice," stated Arlington community member and theater lover Sharon Richardson who brought her mother, a huge Dr. Seuss fan, out to the show.
"She was so good," expressed Karen Fryberg, Tulalip tribal member and Bella's grandmother. "I can't believe that she would get up there in front of so many people, she's always been like that though. She wants to study theater after she graduates. She did an amazing job tonight, I'm so proud of her. It's neat that she's got these goals and is actively working towards them. She's a great student and I'm excited for her future."
"You just got to shoot for it," stresses Bella. "People will tell you that your dreams are too big – they're never too big. Just go for it and work towards it. It's a lot of hard work but it's always worth it."
You can catch Bella in Suessical the Musical on March 9 and 10 beginning at 7:00 p.m. at the Byrnes Performing Arts Center, located at Arlington High School. There will also be a special matinee performance on March 10 starting at 2:00 p.m. Tickets can be purchased at the door or online at www.ByrnesPerformingArts.org.