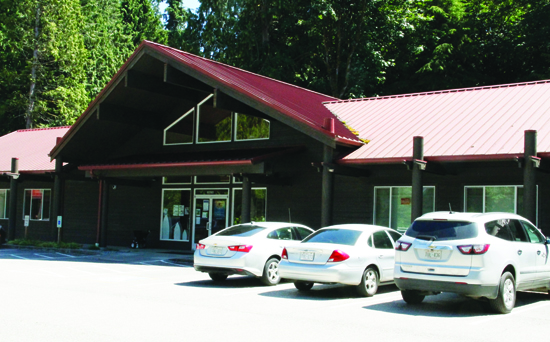 By Kalvin Valdillez, Tulalip News 
Did you know that the Child Advocacy Center, the Legacy of Healing and the Family Advocacy building, home to beda?chelh and Family Haven, are considered 'safe zones'?  The programs, which are all departments of Tulalip Family Advocacy, wanted to spread the word about the safe zones to help the community get a better understanding of what the zones are and why they were established for the protection of their clients. 
"There are three properties out here that have a safety zone policy through the tribe," explains Jade Carela, Tulalip Child Advocacy Center Manger. "Soon I'll be getting signs that say Safety Zone, so people know that they're entering a safe zone. Basically, what safety zone means is people with certain things in their background will not be allowed on the property. And that's for the safety of our children and clients we work with." 
Jade further explained that beda?chelh and the Legacy of Healing both had safety zone policies in place with the tribe for a number of years. According to the policies, the purpose of the safe zones is to provide a safe environment at each of the Family Advocacy sites. The policies vary depending on the program but are similar in that they prohibit persons convicted of crimes against children, domestic violence and sexual offense from the property; as well as those subject to an ongoing investigation of a sexual offense. 
Since the policy's establishment at the Child Advocacy Center, she has seen a positive impact on the kids, who often worry about their security when at the center, reassuring them that they are safe and out of harm's way. 
The Child Advocacy Center, the Legacy of Healing and beda?chelh all work with survivors of sexual and domestic abuse in a certain capacity. The safe zones help assure their clients that their abuser and anyone convicted of domestic or sexual assault are not allowed on the property at any given time. All properties took extra precautions in providing client security, requiring visitors to meet certain credentials before granting entrance at each site. People with a history of domestic or sexual violence will be asked to leave the property, if they refuse to leave or the situation escalates, the authorities will be contacted to remove them from the premises.  
Jade is spreading awareness about the safe zones to survivors, to let them know that the programs provide a safe space. And to those who have been previously convicted of a crime, Jades states their services are still available to them, and they can meet with those clients off-property. 
"Because someone has something in their background doesn't mean we won't help them," says Jade. "This policy is in no way stating that we won't help you, it is strictly to ensure our children and adult victims feel safe. I work with these victims daily and I see how important it is to them, how safe these places are. I personally know that people can change and can grow, I get that, but we need places on this reservation for our victims of crime to feel they are completely safe and know that no one, no matter how long ago their crime was committed, will be allowed on the property."
For further details regarding the safe zones and what services the programs offer please contact the Child Advocacy Center at (360) 716-5437; the Legacy of Healing at (360) 716-4100; Family Haven at (360) 716-4402; or beda?chelh at (360) 716-3284.