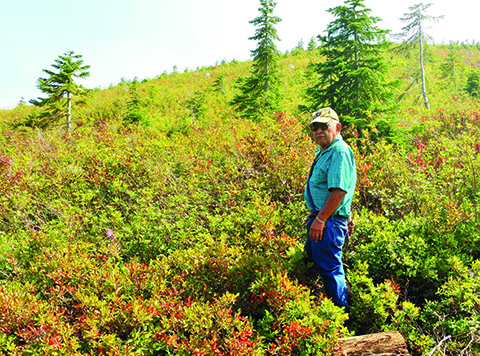 By Micheal Rios, Tulalip News 
The Harvard Project's Honoring Nations program has announced the selection of 18 semifinalists for the 2018 Honoring Nations awards. Among those selections are a variety of outstanding programs exemplifying self-governance and resource management, which includes the Tulalip Tribes ongoing demonstration of sovereignty through stewardship. 
Honoring Nations identifies, celebrates and shares excellence in Native American tribal governance. At the heart of Honoring Nations are the principles that tribes themselves hold the key to generating social, political, and economic prosperity and that self-governance plays a crucial role in building and sustaining strong, healthy tribal nations
Since 1999, Honoring Nations has endeavored to spotlight successful governmental programs across Indian Country. This year's applications included nearly 70 outstanding tribal programs representing 51 tribes. Of these, 18 were selected as semifinalists. These programs have demonstrated incredible impact in their communities, evidenced by their effectiveness, significance to sovereignty, cultural relevance, transferability, and sustainability – the criteria by which Honoring Nations assesses applicant programs.*
"Each year we are blessed with the gifts of Indigenous peoples' resilience and perseverance reflected in their response to the challenges our people and nations face. They rise to the same levels as our forefathers did in their time to define the inheritance of the next generation," stated Regis Pecos, Chairman of the Honoring Nations Board of Governors. "We are proud to share their wisdom and their vision."
swədaʔx̌ali: Sovereignty through Stewardship"
Tribal communities in the Pacific Northwest have long-standing relationships to ancestral lands now managed by federal land management agencies. Generally speaking, during the centuries before colonial expansion, Indigenous peoples were profoundly connected with their natural surroundings. These cultures approached the natural world with an attitude of reverence and stewardship rather than dominion. In recent years, federal and state governments have increasingly recognized tribal rights to cultural resources on public lands and to participate in their management.
In the summer of 2009, three Tulalip staff accompanied the Skykomish District Ranger to a remote high elevation area of the Mt. Baker-Snoqualmie National Forest (MBS). This 1,280-acre area located 5,000 feet up in the mountainous highlands is now referred to as swədaʔx̌ali, a Coast Salish Lushootseed word for 'Place of Mountain Huckleberries'.
"Over the last seven years, since the area's formal designation, Tulalip has guided the management of this special area based on tribal values and ecological knowledge, and in direct support of the treaty, cultural, spiritual, subsistence and educational needs of our membership and our future generations," explained Libby Nelson, Senior Environmental Policy Analyst for Tulalip's Treaty Rights Office. "For example, rather than allowing continued encroachment of conifers that would eventually shade out huckleberries and other associated plants, Tulalip staff will remove many of them to stall natural succession in certain areas at swədaʔx̌ali. This will allow us to maintain productive berry fields and other cultural plants of importance, and enhance habitat for wildife that forage in open meadows.
"The swədaʔx̌ali co-management area did not happen easily or overnight," continued Libby. "Instead, it was the result of a committed and sustained effort initiated by Tulalip to get the attention of our federal trustee, the U.S. Forest Service. Dialogue over three years culminated in the signing of the first tribal Memorandum of Agreement (MOA) on the Mt. Baker-Snoqualmie National Forest in 2007. As our relationship with the Forest Service grew under our MOA, so too did the breadth of projects undertaken."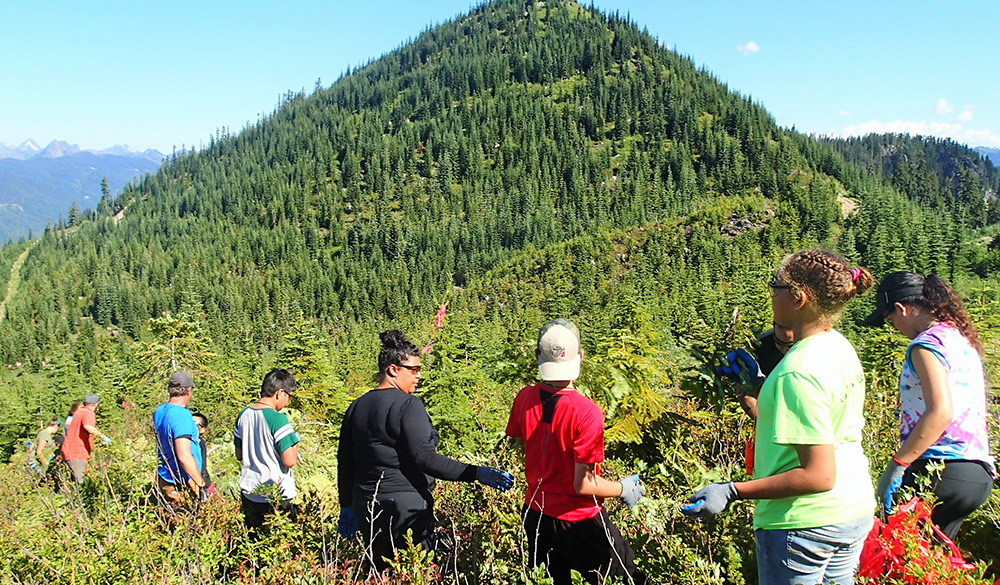 Tulalip Mountain Camp began in 2015, providing an annual weeklong, overnight natural resources and culture camp for middle-school tribal youth at σωəδαʔξ̌αλι This outdoor program seeks to connect youth to nature in a remote setting, teach them about their ancestral lands in the mountains, and engage directly with elders and our natural resources staff in huckleberry enhancement. This camp program has had a very positive impact on youth participants, as measured by camper surveys, feedback from families, and the significant number of return campers each year.  
This initiative at swədaʔx̌ali is not only relevant to Tulalip culture, but is designed specifically to help sustain it. Continuation of tribal lifeways is dependent on having the resources that support these lifeways, access to them, and opportunities to transfer tribal knowledge and traditions to our youth. The 1,280-acre mountain area that constitutes σωəδαʔξ̌αλι, offers not only a diversity of habitats, plants and animals, but also remoteness, solitude and a relatively pristine environment needed for many cultural activities.
"We view our MOA and our work at swədaʔx̌ali as a strategic and dynamic government-to-government collaboration, with benefits directly proportional to the time and resources we invest in it," reflected Libby. "The swədaʔx̌ali co-stewardship area most benefits Tulalip by providing an area for treaty gathering of high elevation resources, and for huckleberries in particular. It's a place for our membership to connect to their ancestral mountain lands in a quiet, pristine, private setting, that is accessible to elders."
The Harvard Project selected Tulalip's ongoing stewardship of swədaʔx̌ali as a semifinalist for the 2018 Honoring Nations awards. As such, Tulalip's commitment to stewardship is an active exercise in self-determination and implementing effective solutions to common governmental challenges in the areas of environmental research and resource management.
"Every day, tribal nations are solving complex issues in meaningful and effective way," stated Director of Honoring Nations, Megan Hill. "Their work is inspiring, and holds examples for other governments, Native and non-native, to learn from."
*Source: Honoring Nations press release, 3/28/2018