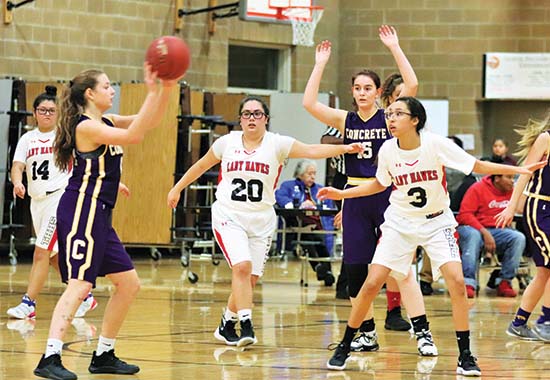 By Micheal Rios, Tulalip News 
The Tulalip Heritage girls' basketball team returned for the 2018-2019 season with a bunch of new faces, both on the team and on the coaching staff. Marc Robinson is the new head coach, while Jeff Monsegur and Adiya Jones join him as assistant coaches. Only three girls from last year return; junior guard Deachae Jones, Tavionna Jones, and sophomore Krislyn Parks. They are joined by newcomers Jacynta Myles, Hazel Black-Tomahawk, and sophomore Anndraceia Sicade. 
Knowing a new team identity has yet to be crafted and several players need in-game experience to develop confidence, Lady Hawk players and coaching staff went into the season with realistic expectations.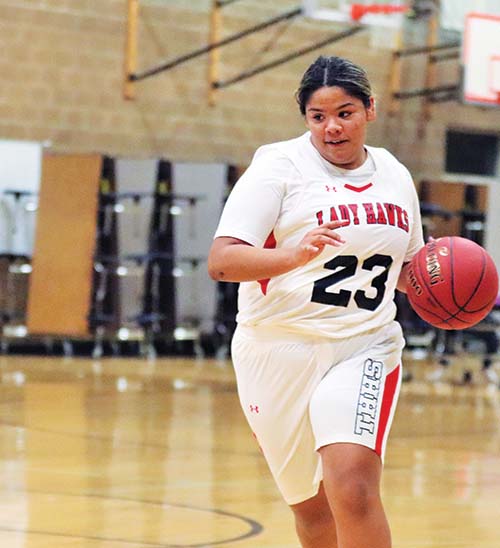 A home-opener played on Tuesday, November 27 versus Shoreline Christian gave Heritage spectators their first look at the new group. Krislyn put on a show, displaying her point-forward capabilities, while scoring a game-high 17 points. The rest of her teammates combined only managed 4 points however, as the home team lost 21-39.
Two days later, Tulalip hosted the Concrete Lions and quickly put their home-opening loss behind them. Veteran Deachae was out with injury, so the Lady Hawks had to play Iron-5 style, which they did valiantly. Krislyn's again played as the primary ball handler, while managing to score 13 points. This time she got big contributions from her teammates. The freshman duo of Jacynta and Hazel both got hot from the floor at opportune times. Jacynta led all scorers with 17 points and Hazel chipped in 14 points. Tulalip earned their first W of the young season with a 48-31 victory.
"The biggest difference from our first game was that we played much better on defense by communicating with one another," said Jacynta after the win. "We played as a team and didn't let any bad plays get down."
Next up, the Lady Hawks travelled to Lopez Island and faced off against an undefeated Lobos team. Nothing on offense was clicking, and the defense struggled to matchup against a Lopez starting unit that moved the ball really well. Tulalip was on the wrong end of a lopsided score, 20-48.
Returning to their home court in front of a large audience, Tulalip hosted Lummi Nation on Saturday, December 8. In the first half, the Lady Hawks jumped out to an early 13-5 lead behind a series of 3-point buckets. Lummi adjusted their defense and full court pressed Tulalip, who were once again playing with only one primary ball handler in Krislyn. Against the press defense that forced the ball out of Krislyn's hands, the Lady Hawks were thrown completely out of their game. As a team, the Lady Hawks turned the ball over 32 times, which led to easy transition buckets for Lummi. That difference would be too much to overcome as the girls lost 32-42, dropping to (1-3) on the season.
"We will continue to work hard at getting our players to feel more comfortable on the basketball court," explained assistant coach Adiya of the team's biggest area for improvement. "We have players who are very shy on and off the court, so working with them and helping them find their comfort zone is a work in progress. We knew coming in it would be a slow start for us, but after more practice and a few more games we'll be better."