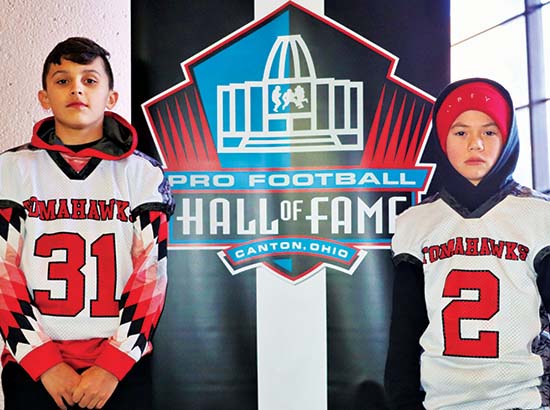 By Micheal Rios, Tulalip News 
The recent big buzz around the reservation surrounded the Tulalip Hawks 12-u team and their performance at the Pro Football Hall of Fame World Youth Championship. However, they weren't the only Tulalip tribal members vying for a national title. Youngsters Joseph Davis and Jacoby James were also in Canton, Ohio at the same time playing under the Marysville Tomahawks banner.
Marysville Pilchuck's feeder team, the 11-u Tomahawks, won-out in their age bracket at Northwest Regionals and in doing so earned an invitation to the Hall of Fame tournament. The Tomahawks feature Joseph at lead running-back and middle linebacker, while Jacoby plays special teams and back-up safety. 
"It's been really fun traveling with the team and just exciting to be here in Ohio," said Joseph at his team's Media Day. "We've been practicing in the cold weather back home to get ready for the games here. We've gotten used to it and I'm looking forward to having fun and kicking some butt."
"It's good to get our program on the map and make it so we get more good football players," added Jacoby. "I'm excited because it's a once in a lifetime experience to play football in Ohio."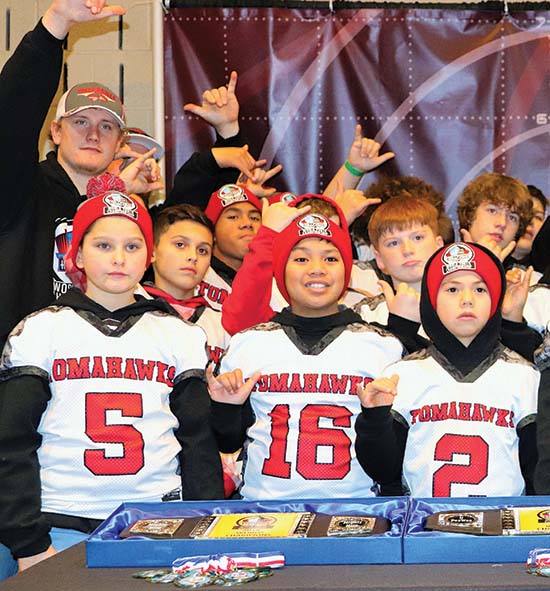 From December 11-16, Joseph and Jacoby, along with their families, got in on the Hall of Fame experience both on and off the field. Their first game was played against the Louisiana Knights. The 1st half was all defense as neither team found the end zone, leaving the score tied 0-0 at intermission.
At halftime, Jacoby's grandmother Verna Hill shared her thoughts on what Ohio meant to their family. "For both boys to represent their family name and their tribe is a wonderful thing," she said. "I have twenty grandchildren and Jacoby is the only athlete out of all of them. Watching him play is amazing! He is one of the two smallest players on the team, but his energy and quickness give him an edge."
Moments into the 2nd half, tragedy struck for the Tomahawks when their do-it-all player Joseph absorbed a helmet to helmet hit that knocked him out of the game with concussion-like symptoms. Without Joseph his team wasn't able to compete at the level they are used to. The Tomahawks went on to lose to Louisiana, and struggled again without Joseph in their next game versus the Columbus Bucks.
  Off the field, the Davis and James families made the most of their time in Ohio, no more so than when together they toured the Hall of Fame museum and were awed by Native American sports legend, Jim Thorpe's exhibit and bronze statue.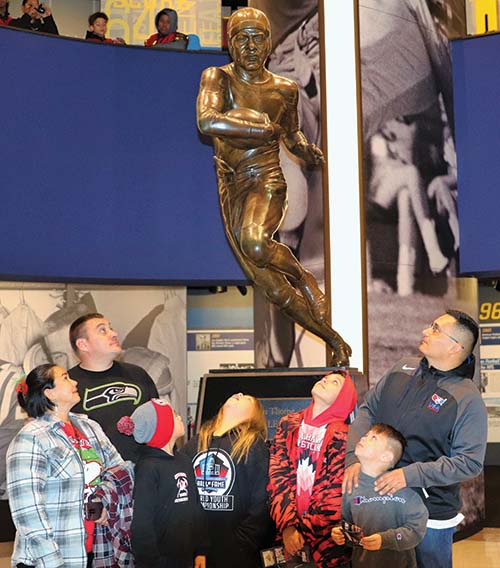 "It was an amazing trip and I'm thankful to spend the time with my boys," reflected Joseph's father, Sam Davis. "Ohio was something they'll remember for the rest of their lives. It meant a lot to Joseph to travel with his team and play on the national level. It was a proud dad moment for me to watch my son lead his team because he works so hard all year round to be in that position. Football has allowed him to grow not just into a well-rounded athlete, but a leader as well. Even injured, he was on the sidelines with his teammates cheering them on and keeping his guys pumped as best he could."
Joseph's final message before departing Ohio was, "Thank you to everyone back home for all the support in getting us here." He's already looking forward to next season and coming back to lead his Tomahawks team to victory.