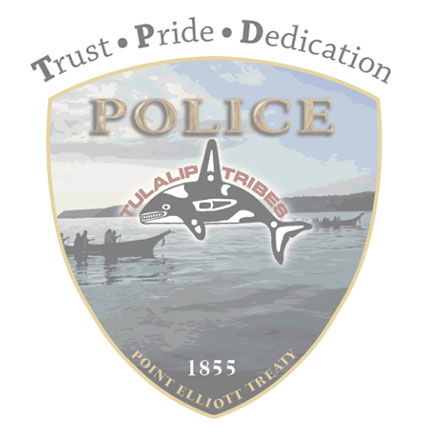 Dear Tulalip Community Members,
As the Chief of the Tulalip Police Department, I am sorry. During a recent emergency overdose response call for service one of our Sergeants made the call to arrest the reporting party. In my review of this situation, this arrest should not have occurred. It violates the spirit of the Lois Luella Jones Law, a Good Samaritan law that Tulalip created in order to save lives.
Every day our officers make hard choices. I can only assure you that the Sergeant on duty, who is both a longtime veteran of the Tulalip Police Department and a Tulalip citizen, believed that the arrest would prevent more loss of life. However, we also understand that the arrest damaged your trust in us. We know that our community must trust that the Lois Luella Jones Law will be upheld if you make the call to save a life during an overdose.
It is my duty to ensure fair, objective, and lawful delivery of police services to all members of our community. I take this responsibility very seriously and hold myself accountable and will work to repair and establish the community's trust in your Police Department.
Following this incident, I was informed that the person who had been arrested required hospitalization for detox symptoms. I requested the Tulalip Prosecutor's Office work with the Tribal Court to gain a release from custody once the person was medically stabilized.  The Prosecutor's Office also worked with Family Services to secure inpatient treatment for this person.
Since this incident, Tulalip Police staff has received refresher training on the Lois Luella Jones Law. The Police Department is coordinating with Family Services and other Tribal services departments to hold an open community discussion forum being scheduled in early January, 2019.  As your Chief of Police, I invite any community members who would like to discuss this situation or their concerns to call, email, or schedule a time to meet with me. I truly care about the welfare and safety of the Tulalip community and will work to repair the community's trust in your Police Department.
Sincerely, Chris Sutter
Background
Emergency medical and police staff responded to a reported overdose incident that occurred at a Tribal residence in the late evening hours of December 12, 2018.  This was the third overdose call on this date and in each case the anti-opiate medication Naloxone was used to save lives.  The Tribal Member who had overdosed was saved by the prompt actions of Emergency Medical Services (EMS) first responders and transported to an area hospital for treatment.
Because of information from an open and ongoing narcotics distribution investigation, the responding police supervisor had reason to believe that a fatal combination of heroin laced with Fentanyl was being distributed on the Reservation. The Police Department supervisor also believed the reporting party was associated with the source of the drugs. The supervisor made the decision to arrest the reporting party. This person was arrested on a Tribal Court arrest warrant. The supervisor explained that he felt the Tribal Court arrest warrant was serious, not minor, and his intent was to prevent further Tribal members from overdoses and lives being lost by this deadly combination of illicit drugs.