By Kalvin Valdillez, Tulalip News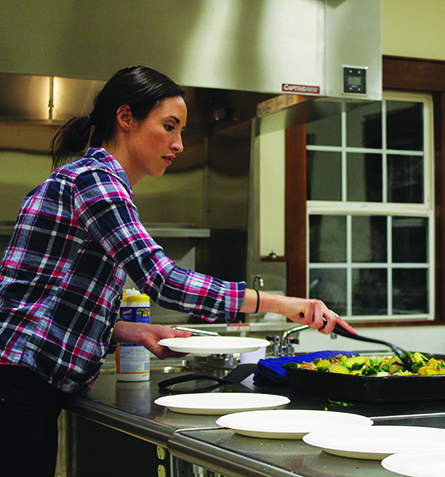 As we welcome a new year, many of us look to begin anew. Whether it's reading more, meeting new people, learning a foreign language or picking up a hobby, people across the globe look at the start of the new calendar year as an opportunity to work on themselves. One of the most common goals individuals set is bettering their overall health, which includes creating healthier eating habits and incorporating exercise into their daily routines. Although we begin each year with our best intentions, after the motivational 'new year, new me' phrase loses its luster a few weeks down the road, we tend to slip back into our old ways and think, 'meh, maybe next year'. One of the many challenges people face when setting resolutions is sticking to them. 
The Tulalip Health Clinic offers a variety of programs and classes throughout the year in which community members can participate to help stay true along their health journey. Programs like Diabetes Prevention and Care offers cooking and gardening classes, encouraging citizens to grow their own produce and prepare their own meals to limit sugar and sodium intake. The Eat Smart, Be Healthy course, offered by the Tulalip SNAP-ED program, teaches about the nutritional value of food as well as how to budget, shop and prepare tasty meals to enjoy at home. SNAP-Ed Nutritionist, AnneCherise Jensen recently sat down with Tulalip News to offer ideas and tips on how community members can set and accomplish their New Year goals for 2019.
It's a new year. A lot of people are beginning their health and fitness journey, any tips for those just getting started?
What I usually recommend for people who are starting out their new year is to set realistic expectations and set small feasible goals that will eventually lead up to big goals. If their goals are to reverse diabetes or lose weight, it's good to meet with professionals to set small realistic goals by changing your lifestyle in order to get there. 
People like to work on their physique this time of year, what are a few recommendations for getting back into shape? 
Getting at least thirty minutes of exercise a day, that's a really great way to do it. I know many people don't have access to gyms. One recommendation I like to give is find what you like to do, whether it's Zumba, yoga, fitness or weight training, and just watch YouTube videos. YouTube is a really easy way to have a gym at your house without having to go somewhere,you can have your own space and privacy. It's a lot about lifestyle changes and mostly exercise and slowly modifying your diet. 
What are the benefits of exercise and why is important for our bodies?
Muscle is the organ of longevity. The more muscles we have, the longer our bodies are going to stay physically strong and active. Really focusing on, not getting buff or anything, but just maintaining healthy muscle mass is important. Muscles are one of our main calorie burning sources, having more muscle keeps us thriving for a longer period of time, prevents osteoporosis and overall exercise keeps our bodies active for more years in our life. I recommend trying to increase muscle mass, even if it's just with small weights. 
Other benefits of exercise are it helps with depression and anxiety. It gets rid of all the toxins in our body. We all probably have a diet high in sugar and caffeine, some of us smoke cigarettes or drink. That stuff can last in our bodies for a couple of weeks, and if we continue to put those toxins into our bodies, overtime it can damage our DNA synthesis. They're carcinogens and if we don't flush those out of our system every now and again it could eventually lead to cancer. It's always good to have phases in our lives where we eliminate those from our body and we include more exercise and more water because it does give us more mental clarity, it helps with our emotions and our moods and it helps make our bones stronger so we don't have osteoporosis later on in life. I consider daily exercise our daily form of medicine because it does so many things to our body; it's good for the mind, body and soul.
You mentioned water. Can you talk about the significance of staying hydrated and ways to increase your daily water intake?
At our house we always have a big glass of water in the morning and one before we go to bed. I encourage myself to have a glass with every meal. It can be a little challenging because today, we have all these fun drinks and nobody wants to drink water. But water is chemically one of the most unique compounds because it's comprised of hydrogen and oxygen and it could dilute or dissolve more compounds than any other acid in the world. It really helps keep our organs healthy, because if our organs are dehydrated and our brain is dehydrated, we don't absorb our food as well, we don't digest our food as well. Drinking water helps increase our metabolism and also helps flush out any toxins in our body. If you're looking to get into yoga, water helps with flexibility. Water helps a lot with gaining muscle, you can't gain muscle unless you're fully hydrated. 
In the winter months where we have a tendency to get sick, water is good to keep our immune system going, keep the white blood cell count high and get rid of bacteria and viruses. Including fruits and berries into your water is a great way to add more flavor and more phytochemicals to help fight off those diseases and bacteria. If you have a hard time drinking water, what I like to do is drink ice with La Croix or some kind of sparkling water, that helps, especially if you're a pop drinker. If you replace one glass of soda a day with water, it's going to help with your mental clarity, weight and overall biochemistry.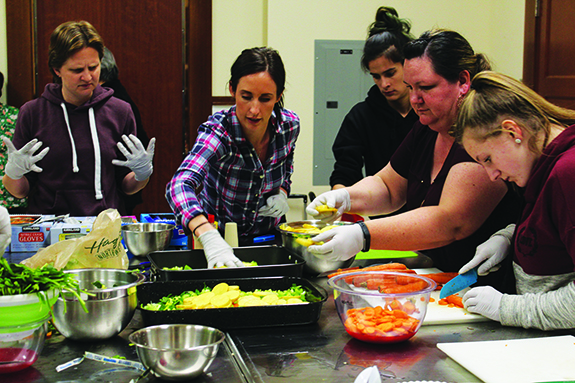 Any advice on where to start for those who are looking to switch up their diet and make healthier eating choices?
Make breakfast your most important meal of the day because that's what kick starts your metabolism. Try to focus on three meals a day with snacks in between. It can be overwhelming because there are a lot of diet crazes out there. What I recommend for people who may feel overwhelmed with nutritional information is stick to whole foods. If the food you're eating was around 100 years ago, it's probably good for you. 
You really want to step away from the processed foods and fast foods. I call them sometimes foods, where you only have them on occasion instead of a daily basis. Also using herbs and spices and the natural foods found out here on the reservation like nettles. Using what you have available for flavor instead of salt and sugar can help against diabetes and hypertension, which are two of the major killers in the United States.
Meal prepping is really big right now. What are your thoughts on meal prep? Is there any downside?
The weeks when I meal prep, my week goes by much smoother. I spend a lot less time thinking about what I'm going to eat, I save money and it decreases the chances of me going through a drive-through. Because you have a guaranteed meal, you don't have to worry about what you're going to eat. Many prepare all their food for the week on Sunday, the downside to that is the meals can get boring. What I like to do is make a few meals on Sunday and then again on Wednesday to add a little variety.  There are a lot of health benefits to meal prepping, you just have to stay consistent. It might be a little hard and challenging but it's developing a habit that will lead to positive change.
Tulalip SNAP-Ed is gearing up for a big year, hosting several new classes including Mindful Movements, a yoga class offered to elders at the Senior Center on Tuesdays in February; the Food Smart class, similar to the Eat Smart, Be Healthy course but less intensive. SNAP-Ed will also continue their fan favorite programs this year like the Walking Club, Family YMCA Nights and of course the Eat Smart, Be Healthy course. For further details, please contact SNAP-Ed at (360) 716-5632.
Healthy Fruit Smoothies
Pick a Fruit: Frozen Mixed Berries, Mango, Pineapple, Peaches, Kiwi, Strawberries, Blueberries, Bananas, Pears, Grapes
Add Some Greens: Spinach, Kale, Avocados, Chard, Mixed Baby Greens, sprouts
Choose a Base: Milk, Almond Milk, Soy Milk, Low Sugar Fruit Juices,

 

Coconut Water, Water, Coffee, Iced Green Tea

 

Thicken It Up: Greek Yogurt, Peanut Butter, Almond Butter, Cottage Cheese, Coconut, Oats, Ice Cubes
Power Boost: Protein Powder (casein, whey, vegetable), Ground Flax Seeds, Chia Seeds, Fish Oil, Vitamin Powder, Probiotics, Bee Pollen, Wheatgrass,

 

Flavor Savors: Cinnamon, Honey, Coco Powder, Nutmeg, Vanilla Extract, Ginger
Creamy Raspberry Coconut Smoothie  
1 cup almond milk

 

1 cup fresh raspberries

 

Zest and juice of 1/2 lemon

 

2 tablespoons shredded coconut

 

¼ cup raw cashews

 

3-4 ice cubes

 
Berry Banana Oat Smoothie 
1 banana
1/4 cup gluten-free oats
2 cups frozen mixed berries
1 cup light coconut milk or low fat milk.

 

1 Tbsp. Peanut Butter

 

1 tsp. ground flax seeds

 

1 scoop protein powder

 
Spinach Pineapple Green Smoothie
2/3 cup low-fat vanilla Greek yogurt
1 banana
1 cup pineapple
1 cup fresh baby spinach, packed
¼-1/2 cup coconut water or low fat milk
3-4 cubes ice

 

1 Scoop Vitamin Powder