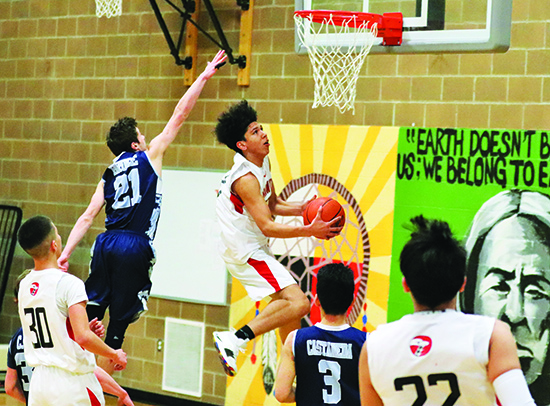 By Micheal Rios, Tulalip News
After an impressive regular season showing, the Tulalip Heritage Hawks took 2nd at the 1B District Tournament. Now, with an (18-3) overall record, the boys earned the right to host an opening round game of the Tri-District Tournament.
On Thursday, February 14, Tulalip hosted the Mustangs of Rainier Christian at Francy J. Sheldon gymnasium. It was a sluggish start for the home team, as the Hawks fell behind 0-8 in the early going. Coach Cyrus "Bubba" Fryberg called a 1st quarter timeout to fire up his team and they responded in a big way. Led by guards Leno Vela and Paul Shay Jr., Tulalip righted the ship and went on an impressive 29-10 scoring run to take a 29-18 lead midway through the 2nd quarter.
With the defense clamping down and forcing turnovers left and right, Heritage was able to transition into their fast-break offense and score easy buckets. Being at the Tri-District stage, every team was more than capable of game changing scoring barrages to shift momentum. Early in the 3rd quarter the boys took a 42-29 lead only to watch it slowly fade away. Rainier Christian didn't buckle and starting knocking down contested shots. What was once a 13 point lead was whittled to only 4 points, 46-42, with two minutes to go in the 3rd.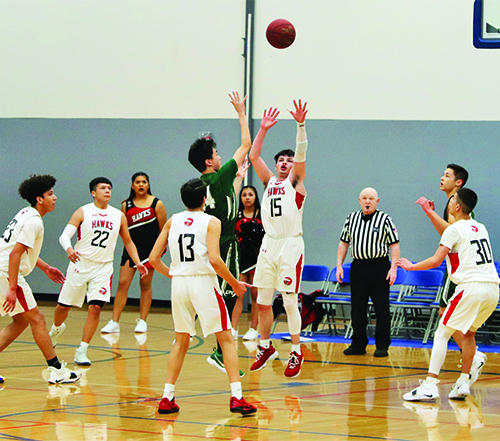 In a pressure filled situation, in front of a raucous home crowd, the boys responded yet again. Shay, Jr. caught fire from long range to hit three consecutive 3-pointers, while Alonzo Jones was attacking the rim and finishing multiple acrobatic shots. A 27-11 run gave the Hawks a 20 point lead, up 73-53, with only four minutes remaining. The big lead allowed Coach Bubba to sub in his bench and let the team's youngsters get a taste of the Tri-District playoffs.
Tulalip won 84-65. The team was led by Shay, Jr.'s game-high 20 points, while Alonzo and Isaac Comenote scored 17 points each.
"Our defense sparked on our offense in both halves," reflected Coach Fryberg postgame. "Sometimes we get too comfortable shooting 3-point shots when we could be driving more and feeding our post players. When we force turnovers and are playing aggressive defense it carries over and allows us to be aggressive and attack the basket, like we did in the second half."
Due to the snow days and resulting school district closures, Tulalip didn't get any days rest like the Tri-District Tournament usually calls for. Instead, they hit the road the very next day and travelled to Port Angeles for a highly anticipated matchup with Neah Bay. 
The Hawks offensive momentum carried over from the day before, as they took a 15-13 lead after the 1st quarter. But everything changed in the 2nd quarter. One foul call after another quickly mounted and threw Heritage off their game. They only managed to score 6 points in the quarter and trailed 21-26 at halftime.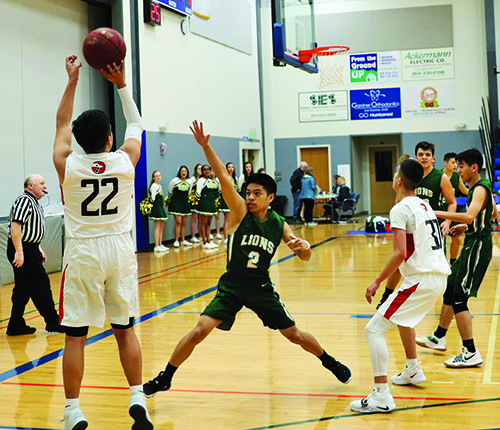 In the 2nd half, Tulalip bounced back early. Alonzo Jones and Josh Iukes combined to score 13 of the team's 17 points in the 3rd quarter. They held their team afloat but still trailed 38-45 going into the final quarter. Neah Bay took complete control in the 4th, while Tulalip struggled again to put up an offensive fight. The Hawks were outscored 6-21 in the game's final minutes, resulting in a 44-66 loss. The 44 points marked a season-low in scoring for the Hawks. 
The loss to Neah Bay pitted Tulalip in a high-stakes matchup with league foe Cedar Park Christian in a 3rd round Tri-District game. A high seeding and berth in Regionals was at stake. The game took place Saturday, February 16 in Mount Vernon. 
Knowing the stakes and having confidence from beating Cedar Park decisively three times this season already, the Heritage Hawks (19-4) steamrolled for big time victory in front of a large Tulalip crowd that made the journey to cheer them on.
In the 1st quarter, Heritage jumped out to a 15-4 advantage thanks in part to a patient offense that probed Cedar Park's zone defense. The patience led to uncontested jumpers from the outside or easy buckets at the rim. Leading by 11 points at the halftime, Tulalip hosed Cedar Park in the 3rd quarter by holding their opponent to a measly 2 points. Meanwhile, Paul Shay, Jr. once again caught fire from deep and made three triples to push his team's advantage to 51-20.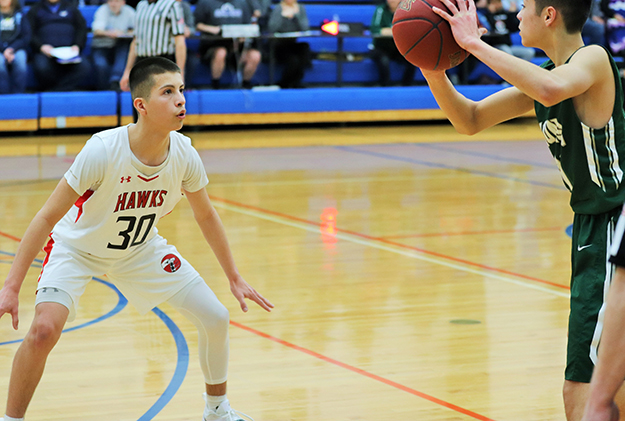 With a comfortable lead, Coach Bubba was able to get his bench players some run in the 4th quarter en route to a 61-31 blowout victory. Tulalip was led by Shay, Jr.'s game high 16 points, while Alonzo Jones scored 15 and Rodney Barber added 14.
"My team's season is going great so far," said senior guard Shay, Jr. following the win. "In the middle of the regular season we did struggle a bit with our mindset by letting little stuff get us down, but now that playoffs are here we've been playing really well again. We took a tough loss to [Neah Bay] that has us more than ready to chase a State title. We've come together as a team and a family. The mindset of us seniors is getting back to State and winning it all this time!"
The quality showing at Tri-Districts has boosted the Hawks to the #4 spot for all 1B schools in the state, according to the WIAA rankings. Next up, the Hawks will matchup with fellow tribal school Muckleshoot in a Saturday showdown at Jackson High School in Mill Creek.