By Micheal Rios, Tulalip News
During last month's General Council, tribal members Glen Gobin and Misty Napeahi received the two highest vote totals in a very closely contested Board of Directors election. The pair were sworn in officially as Tulalip Tribes Board of Directors and began their three-year terms on Saturday, April 6. 
In front of a jam-packed Board Room audience, Misty and Glen were sworn in by Reservation Attorney Michelle Sheldon. The two are replacing longtime Board member Marie Zackuse and one-term incumbent Bonnie Juneau. 
"I'd like to acknowledge and thank the membership of the Tulalip Tribes who have supported me through the years," reflected exiting Chairwoman Marie Zackuse. "I'm truly grateful for the two tribal members who asked me in 1990 to run for Board. Collectively, the different Boards I've been a part of gave a lot of insight, knowledge, and truth, while always reminding all of us we cannot forget where we came from with the early leaders who set the foundation for us all." 
Marie was the first elected Chairwoman in the history of the Tulalip Tribes. Previously the Vice Chairwoman, she had served on the Board of Directors since April 1990. Marie also holds the distinction of longest serving female in Board history.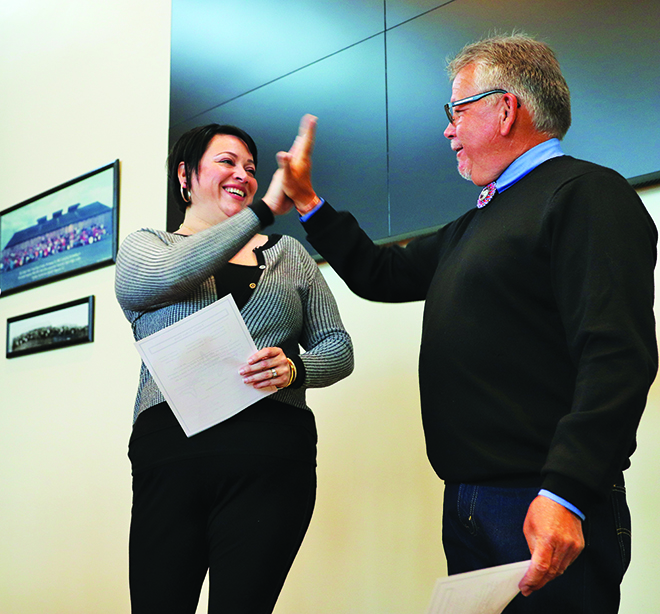 "When you go into election time, sometimes you're running for election against people that you care about. It makes it difficult, but we all want what's best for our tribe," said Glen, now serving as Vice Chairman. "The elders want us to help the community and bring us back together in a good way, to work as one people in the best interests of our next generation."
Glen has owned and operated a successful construction company for many years, and also continues a lifelong tradition of commercial fishing and staying active in many cultural and community activities. He is married with four children and four grandchildren and resides on the reservation.
Misty has spent her career dedicated to the Tulalip Tribes, holding various positions at both tribal government and the casino. She holds a bachelor's degree in Business Administration from Columbia College. Misty brings more than twenty-three years of experience in tribal government processes and systems.
"I have a deep sense of responsibly to my community and I'm grateful for the opportunity to serve in this capacity as a Board of Director," stated Misty, now serving as Treasurer. "I'm very thankful to my grandpa, Herman Williams Sr., for signing my petition, mentoring me, and being my rock. A lot of things have happened in a very short time. Some of those things have been good and some have been painful, but I look forward to us moving forward together in the best way for all of our membership. I'm truly dedicated to honoring our membership by keeping them informed and part of the process."
In year three of her Board of Director term, Teri Gobin is now serving as Chairwoman. After taking her new seat as Chairwoman, Teri said, "We look forward to moving ahead in a positive way and bringing the community back together. We have a lot of work to do from housing to healthcare to the opioid addiction, but we are going to get through this together and in a positive way."