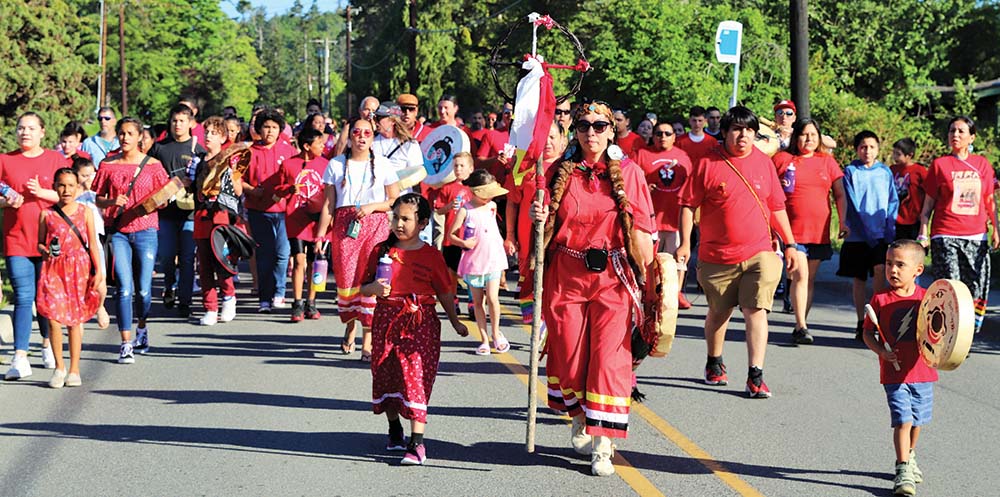 By Micheal Rios, Tulalip News
"It is an honor to be here today. We raise our hands to the Tulalip Nation for welcoming us," said Earth-Feather Sovereign (Colville Confederated Tribes). "We are here in honor of our missing and murdered Indigenous women and girls, and all missing and murdered people, including two-spirits. We are here to bring community together and to hold a space for healing and awareness."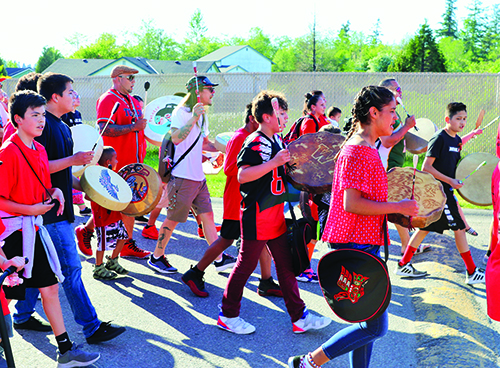 Earth-Feather's opening remarks struck a chord in every one of the nearly two-hundred Tulalip citizens and community members who gathered at Greg Williams Court on May 10th for an evening of unified support. The vast majority of supporters wore red to symbolize the violent dangers faced by many throughout Indian Country. Numerous reports detail the severity in which Native American women face a disproportionate amount of violence, and the degree to which victims' cries are silenced, when compared to others in the United States.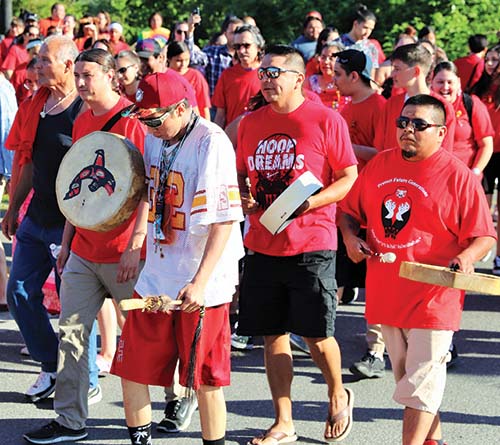 The National Crime Information Center reports that, in 2016, there were 5,712 reports of missing Indigenous women and girls, though the U.S. Department of Justice's federal missing persons database only logged 116 cases. The Center for Disease Control and Prevention has reported murder is the third-leading cause of death among Native American women between the ages of 10 and 24, and rates of violence on reservations can be up to ten times higher than the national average.
The Tulalip Tribes hosted the sixth stop of an eight city journey from Olympia to Blaine, organized by Earth-Feather and the MMIW Washington group to further awareness for all missing and murdered Indigenous people. Supporters of the cause were greeted at Greg Williams Court and given a red t-shirt that read 'Prayer Walk 2019' along with a special cedar rose wrapped in red ribbon to commemorate the occasion.
After a welcoming, prayer, and drum circle set the mood, the large contingent of red-wearing community members began their march through Tulalip. Led by the Sacred Riders, the crowd resembled a sea of red as they walked from Tulalip Bay to the Battle Creek neighborhood.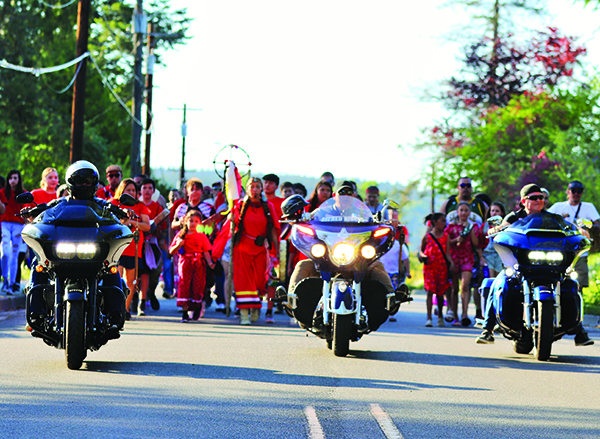 "Our Sacred Riders motorcycle club was honored to be here today and support this important cause," explained Tony Hatch. "The organizers welcomed us and our motorcycles because it draws more attention to the march itself, and we're able to lead the way by keeping the road clear for the marchers and their prayers."
During the march, many prayers were offered for anyone in need, songs were sang to keep spirits uplifted and tobacco was dropped to honor spirit helpers. It was a powerful demonstration made possible only through a strong sense of purpose and shared mission.
"This march means raising awareness for our Native women. The ones who have been murdered or gone missing," shared Winona Shopbell-Fryberg as she walked alongside her father and daughters. "I was taught how sacred our Native women are, that we are the life givers of our people. When these things happen to our women, along with the domestic violence, it's very disrupting to our way of life."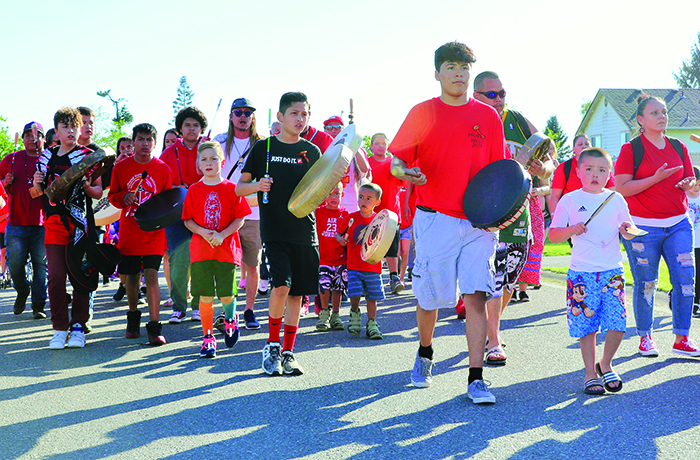 "There's a lot of us doing our work in our own lives, but we don't often come together," added Bibianna Ancheta while taking in the moment. "We've been trying and trying to unify our people. This has been a long time coming, a good opportunity for our people to come together."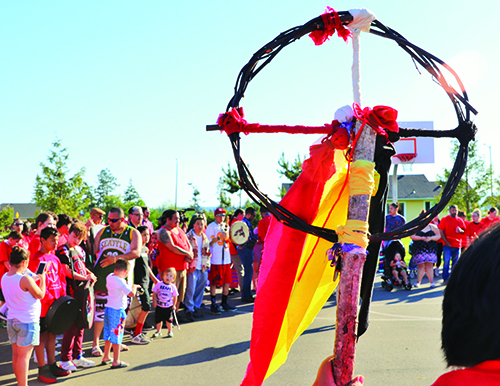 Deep, rhythmic drumbeats from the march could be heard all around the bay. Many people stood outside their houses to take in the scene, while others felt the calling to join in. The distinctive sound acted like a locator beacon for those drawn to the drum, like Monie Ordonia who hopped in her car and followed the sound to the march.
"I was in my bedroom and heard loud drums. I wondered what was going on, so I jumped into my car and drove down Marine until I saw all the red," she described.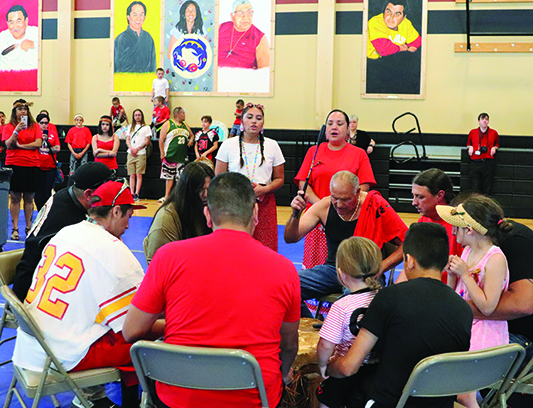 The march continued to the Battle Creek park, where the group formed a large prayer circle and dropped more tobacco, before heading back to Greg Williams Court. Earth-Feather greeted every single participant as they entered the gym with a handshake and thank you.
Back at the gym, a delicious dinner was served followed by a coastal jam.
"It's amazing that as a community we're coming together to embrace one another, to support a movement and help bring a spotlight to an issue that for far too long has only received a blind eye," said Jade Carela, Legacy of Healing Director. Jade and Josh Fryberg, on behalf of the Tribe, presented MMIW Washington with a donation to help further their cause as the group makes their way to the international Peace Arch situated near the Canadian border.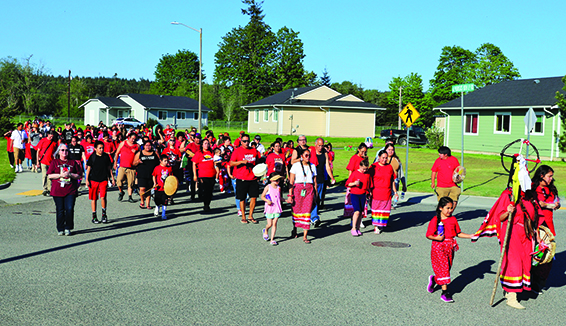 "We've really enjoyed the Tulalip hospitality and felt so much love today with our march," reflected Earth-Feather at the event's conclusion. "This isn't something that only happens in the Pacific Northwest, it's a pandemic happening to all our Indigenous people across Turtle Island. Bringing prayers and resolutions to the issue, while raising continued awareness to missing and murdered Indigenous women, creates protection now and for generations to come."