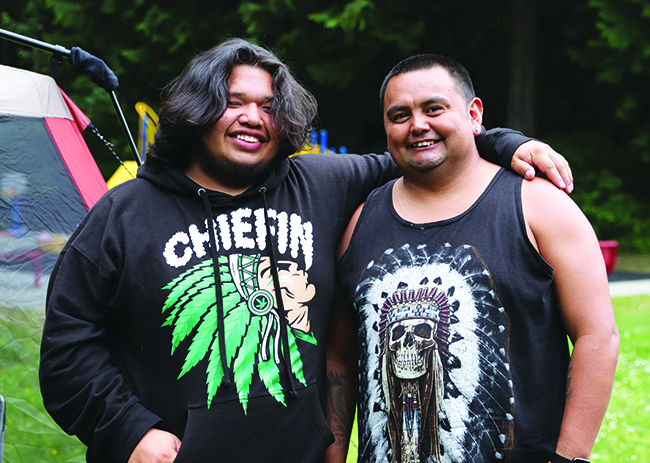 By Kalvin Valdillez, Tulalip News
On the evening of June 26, a small gathering occurred behind the Tulalip beda?chelh building. Laughter filled the air as people visited with one another in celebration of achievement in honor of the Family Haven program, Young Men's Team Outreach. In the middle of the mix was Outreach Worker, Cody Monger, fondly reminiscing with his young clients about their successes over the past few years.
"We're celebrating the end of our mental health grant from the North Sound BHO (Behavioral Health Organization)," said Cody. "It was a good three-and-a-half-year experience. It was a great grant that opened up a lot of doors for me to explore, to be a part of and help out our community."
The outreach program was designed to provide support to Tulalip youth, helping teens who are facing hard times accomplish their goals and get life back on track. Through Cody's guidance, the young men learned how to set, prioritize and accomplish both short and long term goals and were also provided assistance with recovery, physical and mental health, legal issues, obtaining a driver's license, money management and resumes. The program also assists adolescents by promoting academics, helping dropout students re-enroll into school in order to obtain their high school diploma or GED, as well as providing a space to study every Wednesday.
Cody meets one-on-one with each of the young men on a weekly-basis, allowing them the chance to vocalize any current difficulties they are experiencing as well as celebrate any new victories. He also meets with his clients where they are most comfortable, whether it's at the Family Haven office, home, school, a coffee shop or a restaurant. And due to the success of the young men's outreach program, Family Haven recently established a Team Outreach for the young ladies of the community.
"Before the program, I noticed there was a lot of kids who were not being helped," expressed Cody. "I wanted to try to make a difference in the community by helping them out in any way that I could. Now I work with the young guys, the ones who are suicidal, not connected with school or in need of services. I meet with them individually three to four times a week and also take after hour calls or texts."
Perhaps it's because of his young age, his sound advice or his intentions, whatever it may be, Cody has received a great response from the young Tulalip men who confide in him on a regular basis. Thanks to the funding from the North Sound BHO, the program assisted upwards of forty young men during the grant's three-year period. This year alone, Cody managed a large caseload of about twelve clients while also keeping in contact with approximately ten more young adults, routinely checking in to make sure they are doing okay.
One client, Darrian Solomon, expressed his gratitude for the program during the event stating, "This program and Cody helped me out a lot. He's been a reliable friend; somebody I can always talk to. He's really helped me get through a lot."
As one door closes, another one opens as recently the Tulalip Tribes announced they would take over the funding for the Young Men's Team Outreach program. The transition from a grant to hard dollars allows Cody to work with larger caseloads and broader age groups as well as plan more activities and events, one idea being a weekly father's group meet up.
"We're really thankful that the Tribe picked this program up because otherwise it would go away," stated Alison Bowen, Family Haven Program Manager. "Some of the things and the growth that these young guys have gone through has been really amazing to witness. Ranging from getting back into school, getting jobs, getting connected with the community and culture, it was a group of individuals who weren't really involved with anything before and it's exciting that this is going to continue for them."
"It's important for our kids to know that there is somebody out there willing to go above and beyond for them, to help them through their darkest times," said Cody. "I know sometimes it's hard to reach out to ask for that peer support, or help in general. It's a good feeling for them, knowing that there are people who are genuinely looking out for what's best for them and their future."
For more information, please contact Tulalip Family Haven at (360) 716-4402.