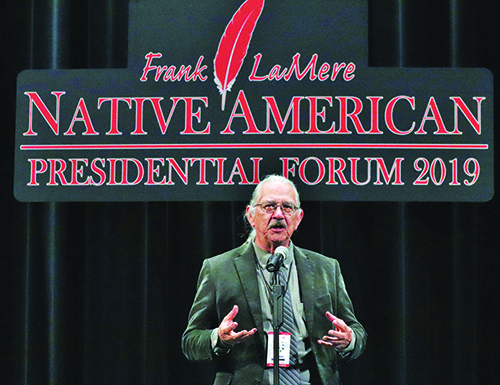 By Micheal Rios, Tulalip News
History was made on August 19 and 20 at the Frank LaMere Native American Presidential Forum as eleven presidential candidates took part in a first-of-its-kind political convention focused entirely on concerns of Native Americans.
Originated by the Native American voter engagement organization Four Directions and hosted by Four Directions and Native Organizers Alliance, the Forum was named to honor Frank LaMere of the Winnebego Tribe. LaMere was a well-respected and beloved civic rights leader and member of the American Indian Movement who passed away in June.
"Frank always said, 'nothing changes unless someone is made to feel uncomfortable.' Well, the Native people of America have an opportunity here to share our issues and it'll get uncomfortable for the candidates, but that's how change is made," said O.J. Semans executive director of Four Directions. "We are here representing many tribes, but speaking as one Native voice. The topics and history we'll be discussing here aren't taught in history books or schools. This is Indian Country 101 for America."
Four Directions is the nation's preeminent Native voter engagement organization and plans to launch the most aggressive voter engagement program in history for the 2020 General Election, focused on increasing turnout among approximately one million First Americans of voting age in seven battleground states with a combined 77 electoral votes.
"We can make a difference in 2020 by making our voices heard by voting, especially in key swing or battleground states," explained CEO Kevin Allis of the National Congress of American Indians (NCAI). "As of today, there are 5.2 million Native Americans. We are 1.7% of the total U.S. population, but Indian Country is the fastest growing group of people in the nation. We matter. Our issues matter. Our votes matter."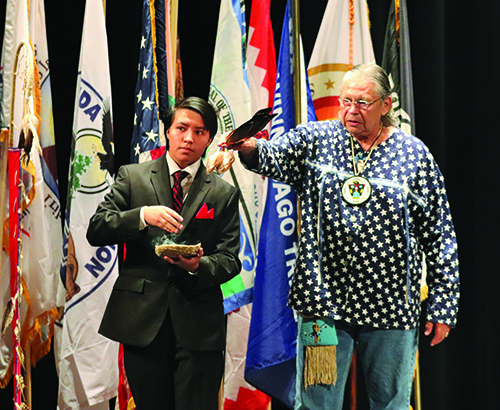 Iowa was chosen as an ideal location for its immense political influence during presidential elections and is home to 28 federally recognized tribal nations. The two-day event featured multiple panels of tribal leaders, sovereign tribal nation citizens, advocacy group representatives, and Native youth from across the country asking questions of the presidential hopefuls. Each panel was moderated by Mark Trahant, editor of Indian Country Today.
In April and May, Four Directions invited all major candidates from both parties to participate in the groundbreaking Native forum. No Republican representatives opted to participate.
The candidates who descended upon Sioux City to elevate Indigenous issues included 10 Democrats – Senators Bernie Sanders, Elizabeth Warren, Amy Klobuchar, and Kamala Harris, former Secretary of Housing and Urban Development Julián Castro, author Marianne Williamson, retired Navy Admiral Joe Sestak, Montana Governor Steve Bullock, former Representative John Delaney, and New York City Mayor Bill de Blasio. They were joined by Independent candidate Mark Charles, a member of the Navajo Nation.
The 2020 contenders each fielded questions in a series of thoughtful, hour-long discussions with all-Native panelists about traditionally ignored critical issues facing millions of Native American voters. Each candidate was individually questioned by six to eight panelists. They assembled on a stage lined with tribal and U.S. flags, before a theatre filled with tribal members from around the country.
In a sight to be seen and heard, nearly each tribal panelist introduced themselves and offered greetings in their traditional languages. They then shifted to English to ask about topics of much concern to Native people, many related to historic injustices: the protection of sacred sites threatened by resource extraction, protecting Native children's right to stay in their families and communities, upholding voting rights, importance of federal-tribal consultation and lack of modern infrastructure on reservations. Other high-priority topics were economic development, healthcare, climate justice, and the missing and murdered Indigenous women crisis (MMIW).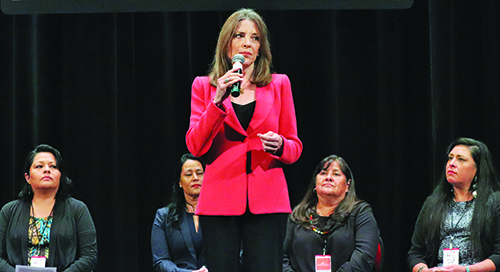 Tribal leaders detailed the federal government's long history with failing to honor the government-to-government relationship guaranteed by treaties and denying tribes the right to meaningful consultation on projects that have an impact on tribal land, resources and sacred sites.
Democratic candidate and internationally acclaimed author Marianne Williamson, who was noted as the first individual to commit to the Forum, responded eloquently about the history of injustice.
"For Native Americans there's the genocide, then there is the cultural annihilation, then there is the geographical displacement, and because of all of this there is a spiritual displacement," she said. "On an external level there are deep and systemic injustices to be addressed, from unfairly negotiated and broken treaties to MMIW to lack of healthcare. I want to help this country reconcile with a horrific chapter of our past. If I am President, from the depth of my heart and on behalf of the American people, I will apologize and ask you to join in a new era of American history as partners on this sacred land."
When Navajo tribal member and second-ever Native American citizen to run for President, Mark Charles, hit the stage the crowd erupted seeing a political hopeful who looked like family. When asked a similar question about tribal consultation Charles answered as only a Native person can.
"One of the challenges we face with tribal consultation is our United States foundations were written with the understanding that Natives are savages," he asserted. "The issue with tribal sovereignty is it defines and has defined the relationship with tribes as domestic dependents. As Native peoples, it feels like we're sovereign over our lands like a teenaged child is sovereign over their bedroom.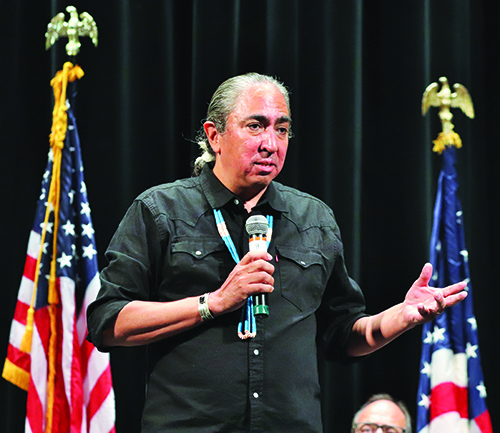 "When land titles are propped up by a dehumanizing doctrine of discovery then white supremacy becomes a bipartisan value," continued the Independent candidate. "This is why consultation is not taken seriously because the foundation for land titles in this country is still dependent upon us being domestic dependents and savages. If we want to fix this, then we don't need Presidents who commit to consult with our Native nations. We need a President who is willing to change the basis of our laws so our land titles are no longer based on our dehumanization."
A perceived media-created tension with Elizabeth Warren and Native people quickly proved to be inconsequential when she opened her candidate monologue with a heartfelt apology. "I know I have made mistakes. I am sorry for harm I have caused. I have listened and I have learned," she said, stopping short of specifically mentioning her widely criticized use of a DNA test to prove Cherokee ancestry. The Native panelists and attendees did not make it a point of contention, instead they greeted her with a standing ovation.
Missing and murdered Indigenous women was a topic that most candidates were asked about. According to the U.S. Department of Justice, Native women are 10x more likely to be murdered than the national average, 4 in 5 Native women will experience violence in their lifetimes, and homicide is the third leading cause of death for Native girls between 10-24 years of age. Indigenous women and children have become invisible within American's landscape, something that Warren spoke passionately about.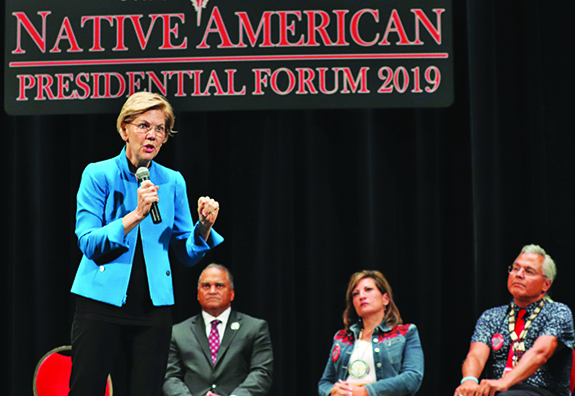 "Over and over I am struck by Native women who go missing or who are murdered and it never makes a headline. A problem that is not seen is a problem that is not fixed" she said. "I think of the solution in two ways. First, the importance of the federal government getting serious about collecting data and making that data publicly available so the public can know the scope of this problem. Second, it is powerfully important we have the tribal nations adequately resourced and on the front lines so they can provide the safety and security that our women and children need.
"Under the current administration, the Violence Against Women Act (VAWA) has been allowed to lapse," Warren continued. "We got to be pushing back and make sure that VAWA is reauthorized with adequate and expanded protections."
In a continuing topic of discussion at the Forum, many candidates were asked whether or not they'd support the "Remove the Stain Act" (H.R. 3467) introduced June 25 to officially rescind 20 Medals of Honor given to U.S. soldiers responsible for the brutal 1890 Wounded Knee Massacre. That incident led to the deaths of more than 200 Native Americans in South Dakota.
Audience members listened as one after another the democratic presidential candidates insisted they'd fully support the house bill if elected President. However, Independent Mark Charles took this concept of rescinding medals even further and offered a larger perspective that reaches beyond just Wounded Knee.
"If you research Medals of Honor for battles between 1839 and 1898, you will find that the U.S. awarded 425 Medals of Honor for soldiers who participated in the Indian Wars," Charles explained. "We awarded 425 medals for the ethnic cleansing and genocide of Native peoples. We absolutely have to rescind those 20 medals for Wounded Knee, but there are 425 Medals of Honor that have no place in our union.
"These medals have no place in a nation that claims to value freedom, equality and diversity," he continued. "These medals are not only a stain, they are blood dripping from the clothes of this nation."
Charles' strong declaration about the Medals of Honor given out during the Indian Wars era emphasized concepts that were mentioned by others candidates as well, and that's the notions of historical and generational traumas. Indian Country understands well the long-lasting effects of America's colonization and how it directly resulted in many of today's most pressing concerns. For those looking for solutions and hoping for change through a Presidential regime change, well they got multiple glimpses at candidates who took the time to listen and understand the Native voice.
In the audience, too, prominent officials and Native elders from communities across the country were able to meet, share ideas, and trade notes on issues of concern to their people. One of the most common subjects talked about was the federal government's need to uphold treaty rights and fulfill its trust responsibilities. However, a shared cynicism about the current Trump Administration's lack of effort to respect the tribes' point of view, let alone uphold treaty rights, gave even more credence to why it's so important for Native citizens to cast their ballots in 2020.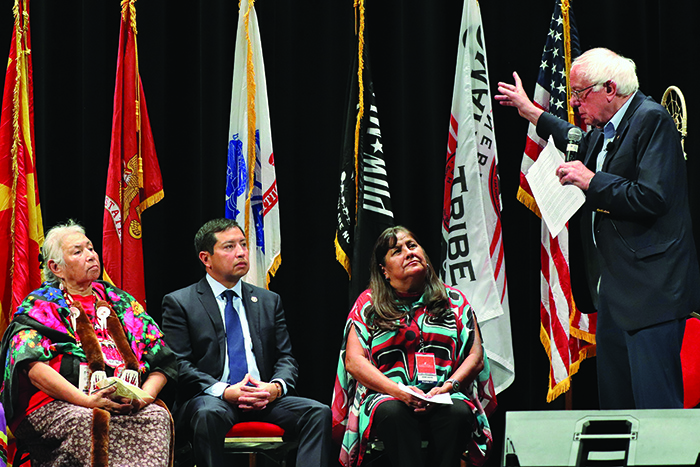 After nearly two full days of listening and learning by both the hundreds of tribal members who filled the Forum's seats and 10 presidential hopefuls who detailed their platforms and showcased their knowledge of Indian Country, only one candidate remained, Democrat Bernie Sanders. He was the final candidate to hit the Orpheum Theatre stage on August 20.
The Vermont Senator walked out to a huge standing ovation from a Forum crowd that had grown in both size and anticipation, reaching its largest capacity just to hear from the self-described progressive, democratic socialist. His proposed policies to rescind pipeline permits, combat global warming by restricting the seemingly free reign of oil companies, strengthening tribal sovereignty, and ensuring equal access to voting were all well received by a routinely applauding audience.
"I know how important it is to protect the sovereignty and sacred lands of Native Americans. That is why together we must do everything we can to address the existential crisis facing this planet in terms of climate change," said Bernie Sanders. "Together we are going to take on the fossil fuel industry and tell them that their short term profits are not more important than the future of our planet.
"In my administration it's not a matter of listening to the Native American people, it's having you up front teaching us how to work with nature and not against nature," continued Sanders. "I need you to play a leadership role in terms of sustainably. Native Americans, more than any other people, can teach us about sustainability. Your people did not nearly kill off the buffalo nor have they destroyed countless acres of tress through deforestation because you understand they give us life. We need your wisdom because we need to radically rethink our relationship to nature."
Voter suppression was a topic each candidate was asked about, since there have been multiple laws enacted under Trump that restrict our democracy by limiting access to voting. This is especially felt on Native American reservations where infrastructure is already lacking and in some areas with a high Native populations one has to travel long distances in order to cast their ballot. Sanders explained how such actions are designed by politicians controlled by wealthy people to suppress voting, particularly by people of color.
"We have a corrupt political system designed to protect the wealthy and the powerful," he declared. "Voter suppression is happening all over this country. You've got a Republican Party that really understands they cannot win elections based on their policies, so they make it harder to vote. They target people of color and young people. The answer to have a President and Attorney General who ensure every eligible voter in this country is able to vote. We are going to take on voter suppression in all its forms."
With Indian Country's electoral power growing, the Native American Presidential Forum came at an opportune time and was a huge success. Eleven presidential hopefuls pledged to honor treaties and enact structural change, but most importantly they listened and learned from tribal leaders, elders, and youth who spoke as the Native voice. A history making tribal forum for tribal people that developed a means of communication with, potentially, the next President of the United States.