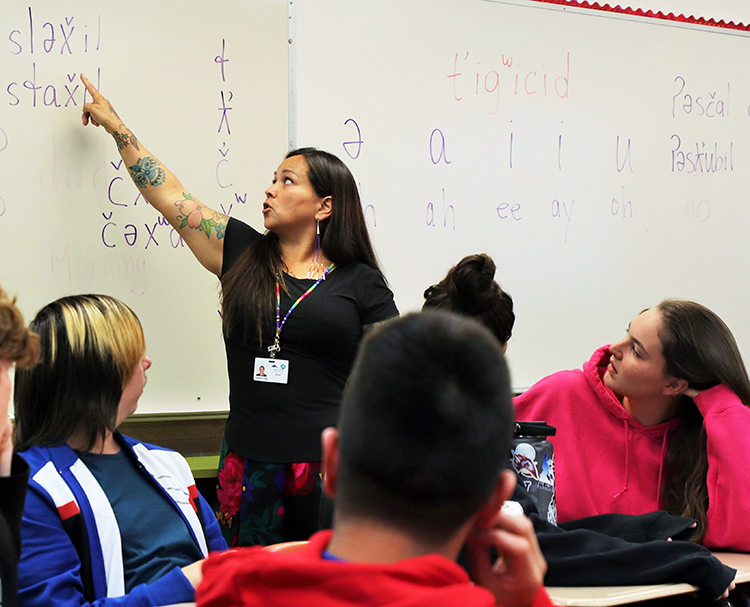 By Micheal Rios, Tulalip News
After nearly a two decade hiatus, the Lushootseed language has finally returned to the classroom as an official program taught at Marysville Pilchuck High School for the 2019-2020 school year. 
The tireless dedication of longtime Indigenous education employees and Native student supporters Matt Remle and Ricky Belmont, who made it their mission long ago to bring the Coast Salish language to the high school, has brought a swift sense of excitement to the MP campus.
"For years my co-worker Ricky Belmont and I worked to find ways to bring Native language learning opportunities to Marysville Pilchuck. Last year, the stars finally aligned when we reached out to our administration about developing a Lushootseed class on campus and they agreed," explained Matt Remle, lead Indigenous education liaison. "When it came time to register for classes this year, Ricky and I reached out to our current students and incoming freshman and told them they better sign up after all that hustling.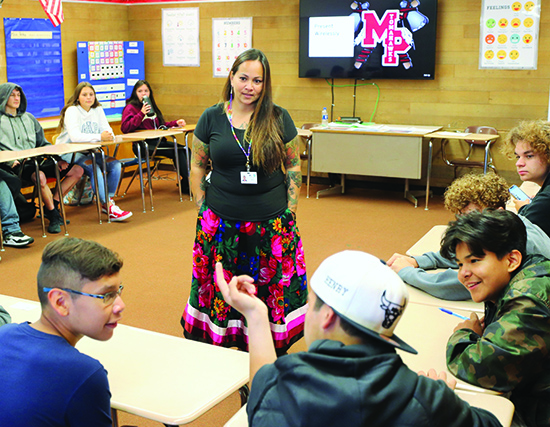 "Because demand was high we now have the amazing Natosha Gobin teaching two classes on campus," he continued. "Students are already being [heavily] influenced. Yesterday, I was speaking to a senior about her post high school plans and she said she wanted to be a Lushootseed teacher!"
A Tulalip tribal member, Natosha has spent the last 19-years learning, teaching, and helping to revitalize the traditional language of her ancestors. She has come full circle after graduating as an MP high school student 20 years ago to now reentering the MP halls as a certified teacher and Lushootseed instructor.
"Toby Langen and Tony Hatch taught Lushootseed classes at MP in the early 2000's, which were the classes that I sat in on along with Eliza Davis when we first started in the language department," recalled Natosha. "It is exciting to be back on the campus as the lead teacher. I hope that I can keep the students engaged and speaking, giving them tools to use the language daily both in and out of the classroom.
"The work that Michelle Myles has done the past two years at Heritage has sparked the interest for high school youth to start learning and speaking our language," she continued. "We have high hopes that the youth taking these classes will be able to see themselves as the next group of teachers to keep the work moving forward."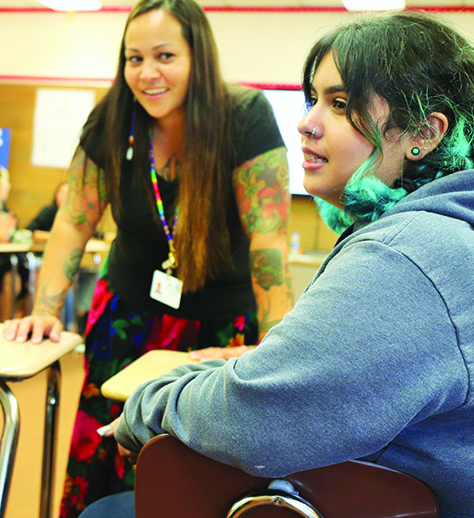 The Lushootseed course was offered to all interested students from all grade levels and quickly filled up. It comes as no surprise that the majority of her students are Tulalip tribal members who jumped at the opportunity to learn  their traditional language and history from an actual Tulalip culture bearer.
"It's already one of my favorite classes," shared 10th grader Shylah Zackuse (Tulalip). "After finding out Lushootseed would be offered, I planned my daily schedule perfectly in order to take it. Being taught by a tribal member, there's a real connection because Natosha is family." 
Currently offered during 2nd and 3rd period only, 34 out of the 52 enrolled students are either Tulalip tribal members or have lived in the Tulalip community their whole lives. The remainder of the students are a mixture of other Native and non-Native students who are eager to learn about the traditional lifeways of their neighboring Tulalip people. 
"I don't know a lot about my Native culture, so taking Lushootseed is a new opportunity to learn about my background," explained 9th grader Jesse Lamoureaux (Tsimshian from Metlakatla, Alaska). "This class teaches me about my past. What we are learning is thanks to our ancestors from way back who documented their teachings on audio tapes. My favorite phrase so far has to be ηαʔɬ δαδατυ (Lushootseed for 'good morning') because we can say it every day."
The Lushootseed coursework will focus on relevant conversation lessons that can be used throughout the day. These include talking about daily routines, weather, describing feelings and states of mind, as well as many more topics to keep students engaged.
The course will also feature a great many references to Tulalip ancestors and elders who laid the foundation for where the Tribes are today, such as Harriet Shelton Dover, Martha Lamont and Lizzie Krise to name but a few. And best of all the MP students won't be reading about these iconic individuals from colonial textbooks either, instead they will be hearing their powerful words spoken from a combination of archived video and audio resources.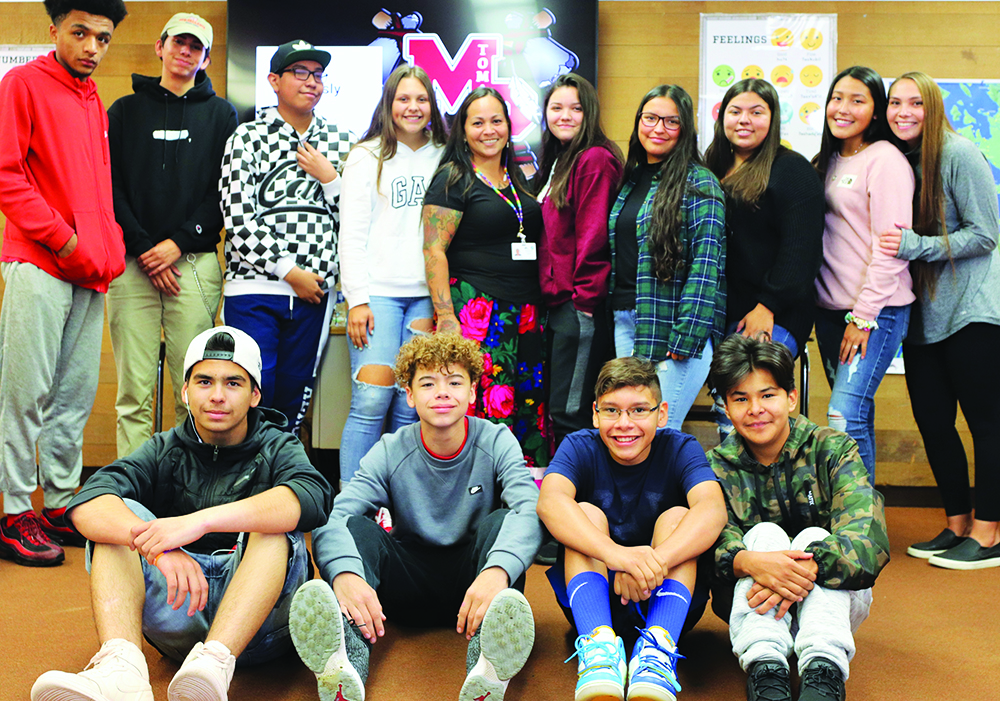 "Some of my greatest inspirations are the speakers who had the foresight to document and record our language, enabling us to speak and teach it today," said Natosha. "We want to ensure our community is aware of the ancestors who played key roles in preserving the language. Through passing on their stories, some of our youth are able to recognize their connection to the speakers and deepen their desire to participate."
With both Lushootseed classes at full capacity and a waiting list with students hoping to transfer in if the opportunity arises, Marysville Pilchuck is already looking to build on the early successes of having more culturally relevant classes available for their diverse student population.
"It's so wonderful to be able to offer Lushootseed to our students," explained Principal Christine Bromley. "We have Native students, non-Native students and students with disabilities all taking Lushootseed. From all perspectives of this, it's a great opportunity to build relationships.  
"Partnering with the Tulalip Tribes to bring Lushootseed here to the high school is a critical piece to build upon the relationship between the school district and the Tribes," she added. "I can't wait to see us grow Lushootseed into a level 2 and 3 program to get more and more students involved."
Future plans also include offering a Native art class, such as an introduction to carving taught by a tribal member. The class space is currently available and only requires a willing artist to teach it. Until then, Natosha and her collection of Indigenous wisdom intend to teach and inspire the culturally oriented young minds of Marysville Pilchuck High School.