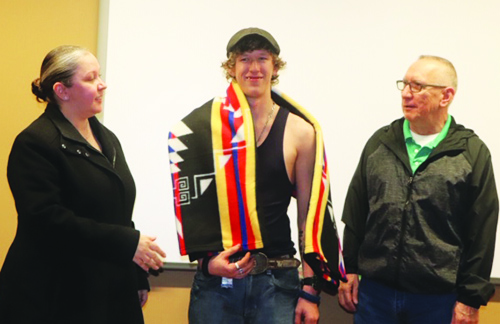 By Cullen Salinas-Zackuse, Tulalip News
Leaving the reservation is never an easy thing to do. Embarking on a journey far away from your home, friends, and family to chase something bigger than yourself is what 25-year-old Andrew Henderson is doing. As Andrew prepares for basic training his mother surprised him with a send-off party. The Tulalip Veterans hosted the gathering at the Hibulb Cultural Center on Friday, January 31st.
Andrew joined the United States Navy to learn aero mechanics, a trade where he will work hands-on fixing airplanes. His ambition came from wrenching on cars with his dad. "I always liked working with my hands. My most recent project was fixing up a 2011 Camaro," said Andrew.
This ambition will take him to see the world, with his first two stops being basic training. He is traveling to Illinois and Florida, then wherever else the Navy will take him.
Sending off our Tulalip tribal military members in a good way is very important to the Tulalip Veterans department. They want tribal members who leave the for the military to feel appreciated and to know they have a community to come home to when done serving.
During the farewell gathering, two cedar rings were blessed; one to protect Andrew when he leaves and one to wash away the bad energy when he returns home.
Once Andrew serves his time with the Navy, he plans on returning home to open his own mechanic shop.