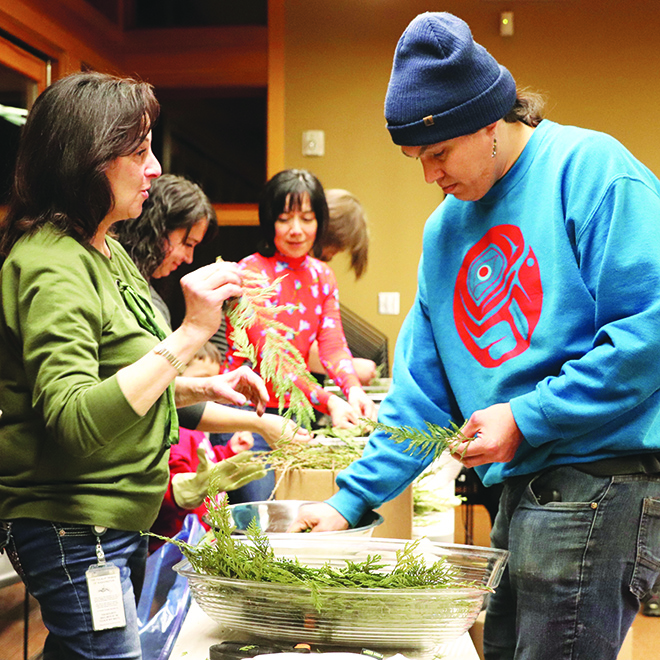 By Kalvin Valdillez, Tulalip News
"Each of these plants, they all have different purposes," said Tulalip tribal member Shane McLean. "The sage is good for individual work, for personal prayers, and the cedar is good for clearing out bad energy. Understanding the medicine that these plants carry, and building that connection with those plants is important work. All of these medicines have an everyday use and now I have a deeper relationship with these plants and the healing that they can bring."
For hundreds upon hundreds of years, the Salish tribes of the Northwest have thrived off of the land's natural resources, always sincerely repaying Mother Earth for her generosity by nurturing and protecting those resources and ensuring they remain accessible to their people for years to come. In fact, many Native communities base their decisions of today by how it will affect their tribe seven generations in the future. Several of the teachings we learn and practice today are to preserve the Indigenous way of life, so our children's children can experience the essence of the culture in its entirety and understand how everything is connected.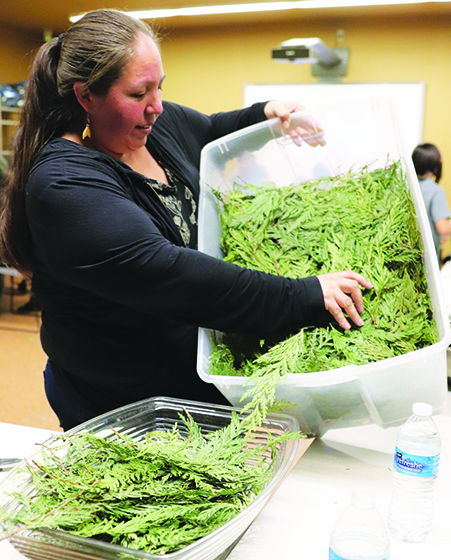 Aside from fishing, hunting and partaking in cultural ceremonies, a large piece to the Coastal Native identity is the gathering aspect. Many Natives have perfectly encapsulated the feeling of that spiritual work through a number of creative mediums. The sensation of balance that occurs when you know you are serving your life's purpose, i.e. the prayer before the harvest, the songs and stories that occur when filling your basket with various foliage, and the laughter, energy and good intentions you set while collecting those plants from the natural world, knowing your efforts will be of service to, and appreciated by, a member of your community.
In today's world, however, it is becoming increasingly difficult to learn, feel and share that cultural experience of gathering. Due to the conveniences of supermarkets and pharmacies, it may seem easier to purchase cold medicine than it is delve into the science of ethnobotany when feeling ill.
"It was an eye-opening experience, for sure," expressed Tulalip member Bradley Althoff. "Now that I've come to the realization that these plants are all around me, all of these trees are literally surrounding my house, I'm definitely seeing the world a little differently now. I want to learn more so I can incorporate more of these traditional medicines into my life."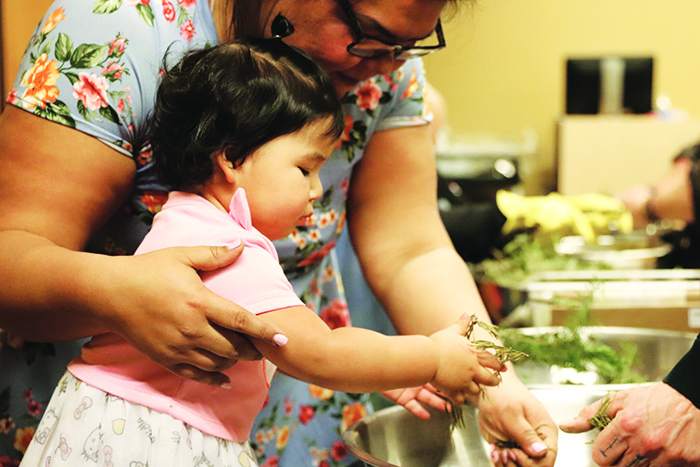 A delightful outdoorsy aroma permeated the Hibulb Cultural Center (HCC) on the evening of February 10. Approximately fifty Tulalip tribal members showed up for some fun, hands-on learning during this year's first Native Plants class led by the HCC and Natural History Preserve's Rediscovery program.
"The Rediscovery program has been providing first aid kits for a few years now, for participants who go and travel on Canoe Journey," explained the Native Plants Instructor, Virginia Jones. "In some of these classes we'll focus on building those kits to give people more exposure to Native plants so they can really get an understanding of how they work and begin to incorporate them into their lives. Hopefully they'll be able to replace some of the other items that they typically buy, and find more natural methods to provide some healing. Some of that healing happens by just coming and getting your hands on the plants and spending a little time with them, learning what you can do with them and then going home to share that knowledge with your family."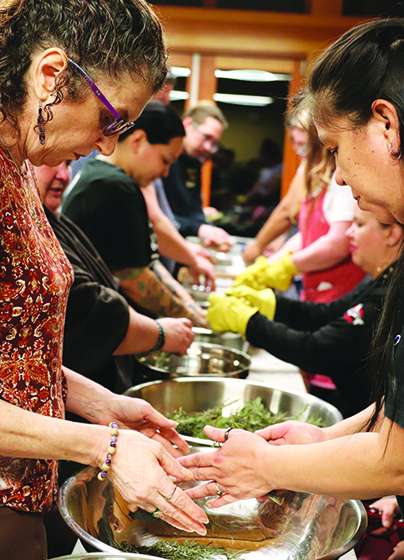 Multiple harvesting stations were setup throughout a HCC classroom and were designated by the type of plant that was being extracted including cedar, fir and lavender. The harvesters filled large bowls with leaves, flowers and nettles and exported them across the room where they were carefully measured and mixed into Ziploc baggies labeled 'smudge blend'. In addition to the sacred potpourri, the students also worked on creating a concoction to cure headaches and provide relief from sinus pressure with oils extracted from assorted plants such as lavender, rosemary, peppermint and birch.
"I'm just thankful that I can help those people going out on the water this summer for Canoe Journey," stated Shane. "Working with the different plants, I know a little more about the medicine they contain and I know that it will be helpful for the people at Journey. The cedar alone has many, many functions that are beneficial to us as a people."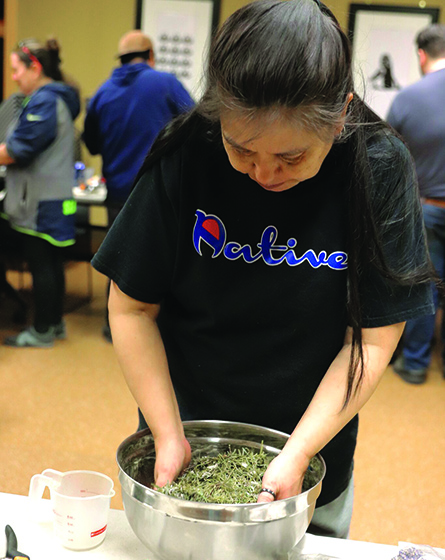 For three hours, the group worked together in high spirits, knowing their energy and thoughts would be forever intertwined with the work they were conducting, all while gaining new skills and first-hand knowledge about local trees, flowers, shrubbery, and herbs, as well as the history of the plants indigenous to the Sduhubš territory. Whether by burning, extracting or consuming, natural plants like cedar, stinging nettles, sage, Nootka Rose, horsetail, blue camas, devil's club and huckleberries, have long served as traditional remedies for ailments like the common cold, as well as provided relief from inflammation and numerous diseases for coastal Natives since time immemorial.
"It feels good to see the people show up and want to do the work," Virginia said. "It's nice to see people from each family come together and pick up different parts of this knowledge. Some people will be drawn to learn from the cedar, others will be drawn to work with the fir. Whatever they're drawn to, they're picking up what they want to learn from the class, and collectively everyone has different knowledge that they walk away with. As a community, all of that knowledge together is powerful. One of the main teachings we want to emphasize this year is the importance of reciprocity within a tribal community. Although they come to spend a little bit of their time with us, a lot of the work they do is going to go a long way. And in turn, that work spreads through other communities while on Journey because they all receive those gifts [at each landing]."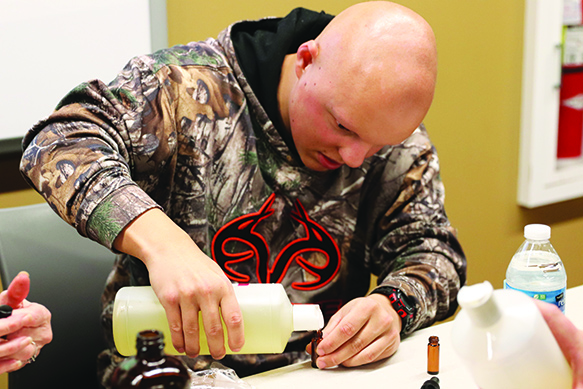 After all their hard work, each harvester took home one smudge blend and one sinus and headache oil, in addition to their newly acquired knowledge of Native plants. The Rediscovery program plans on hosting at least one Native Plants class per month leading up to this year's Tribal Canoe Journey: Paddle to Snuneymuxw 2020. For more information, please contact the Rediscovery program at (360) 716-2634.