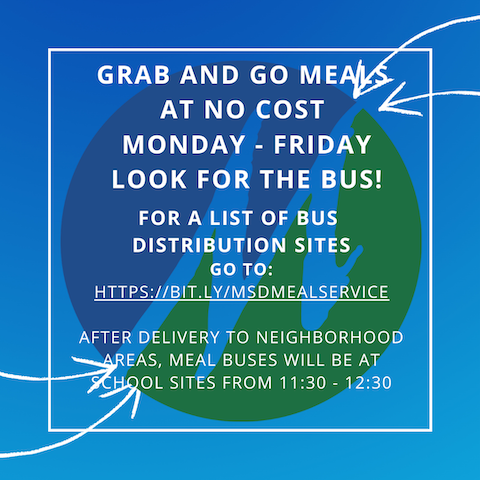 Below are Marysville School District food distribution routes and times, for the Quil Ceda Tulalip area, for delivering food (breakfast and lunch) to students. Matt Remle, Marysville Pilchuck High School Native Liaison, will be on the Quil-Ceda Tulalip route. Matt and fellow volunteers delivered over 3,500 meals on Monday, March 23.
Visit www.msd25.org for more information.
Grab and go meals from the bus locations will continue to be at no cost and for all youth ages 1-18 and those enrolled in the 18-21-year program.
Quil Ceda Tulalip Area
Route: 21
10:12 AM MARINE DR NW @ EDWARD BEATTY RD
10:18 AM 8208 MARINE DR NW
10:19 AM MARINE DR NW @ 83RD PL NW
10:28 AM MARINE DR NW @ 115TH ST NW
10:33 AM 12015 MARINE DR NW – PORT SUSAN
10:38 AM MARINE DR NW @ 126TH ST NW
10:46 AM 135TH PL NW @ MARINE DR NW
10:50 AM 135TH PL NW @ MARINE DR NW
10:51 AM 12702 MARINE DR NW
10:52 AM 12610 MARINE DR NW
10:57 AM 12518 MARINE DR NW
10:58 AM 11710 MARINE DR NW
11:02 AM MARINE DR NW @ 115TH ST NW
11:08 AM MARINE DR NW @ TULALIP SHORES RD
11:14 AM 8226 MARINE DR NW
11:18 AM HERMOSA BEACH RD @ SHOEMAKER RD
11:25 AM HERMOSA BEACH RD@77TH PL NW
11:40 AM 77TH PL NW @ 42ND DR NW
11:44 AM 42ND DR NW @ 78TH PL NW
11:53 AM WALTER MOSES JR DR @ 28TH DR NW
12:01 PM LARRY PRICE LP RD@EZRA HATCH RD
12:18 PM 7330 LARRY PRICE LP RD
Route: 56
10:10 AM 140TH ST NW @ 76TH AVE NW
10:15 AM 140TH ST NW @ 63RD DR NW
10:15 AM 140TH ST NW @ 58TH AVE NW
10:20 AM 140TH ST NW @ 52ND AVE NW
10:21 AM 4500 140TH ST NW
10:28 AM 138TH ST NW@ 36TH DR NW
10:35 AM 3520 140TH ST NW
10:39 AM 140TH ST NW @ 34TH AVE NW
10:43 AM 3018 140TH ST NW
10:51 AM 12TH AVE NW @ 134TH ST NW
10:56 AM 13218 12TH AVE NW
11:01 AM 13030 12TH AVE NW
11:06 AM 12TH AVE NW @ 130TH ST NW
11:15 AM 12TH AVE NW@128TH ST NW
11:20 AM 12616 12TH AVE NW
11:24 AM 12512 12TH AVE NW
11:29 AM 908 124TH PL NW
11:33 AM 8TH DR NW @ 125TH PL NW
11:42 AM 129TH PL NW @ 8TH DR NW
11:46 AM 8TH DR NW @ 131ST ST NW
11:54 AM 131ST ST NW @ 10TH AVE NW
Route: 74
10:24 AM 22ND DR NE@22ND DR NE
10:29 AM 22ND DR NE @ 21ST DR NE
10:36 AM 21ST DR NE @ 67TH PL NE
10:40 AM 21ST DR NE @ STURGEON DR
10:45 AM 65TH ST NE @ 20TH DR NE
10:58 AM 20TH DR NE @ 66TH PL NE
11:05 AM 19TH DR NE@20TH DR NE
11:12 AM 19TH DR NE @ 70TH PL NE
11:22 AM 72ND ST NE@19TH AVE NE
11:31 AM 6832/6828 19TH AVE NE
11:37 AM MARINE DR NE @ 14TH AVE NE
11:38 AM 905 MARINE DR NE
11:39 AM MARINE DR NE @ 7TH AVE NE
11:45 AM MARINE DR NE @ 2ND AVE NE
11:50 AM 715 MARINE DR NW
11:51 AM 4431 PRIEST POINT DR NW
12:00 PM PRIEST POINT DR NW @ GAYS DR
12:05 PM MERIDIAN AVE N@PRIEST POINT DR NW
12:09 PM MERIDIAN AVE N @ 4425 MERIDIAN AVE N – SNUG HARBOR
12:19 PM 4425 MERIDIAN AVE N
12:25 PM 928 MARINE DR NE
12:26 PM 1118 MARINE DR NE
12:26 PM 1718 MARINE DR NE
12:27 PM MARINE DR NE @ 23RD AVE NE
Route: 92
10:14 AM 5710 MERIDIAN AVE N
10:19 AM 5802 MERIDIAN AVE N
10:19 AM 5933 MERIDIAN AVE N
10:24 AM 60TH ST NW@6TH AVE NW
10:25 AM 6TH AVE NW @ 57TH PL NW
10:25 AM 6TH AVE NW @ 56TH ST NW
10:26 AM 5408 6TH AVE NW
10:31 AM 5028 67TH AVE NW
10:32 AM 905 MARINE DR NW
10:37 AM MARINE DR NW @ 56TH ST NW
10:37 AM MARINE DR NW @ 62ND ST NW
10:51 AM LLOYD HATCH SR DR @ ALPHONSUS BOB LOOP D
11:01 AM TOTEM BEACH RD@70TH ST NW
11:18 AM TOTEM BEACH RD @ 28TH AVE NW
11:19 AM 6700 TOTEM BEACH RD – FITNESS CLUB
11:25 AM MISSION BEACH RD @ MISSIONS HILL RD
11:30 AM 5916 MISSION BEACH RD
11:34 AM 3213 MISSION BEACH DR
11:35 AM 3409 MISSION BEACH DR
11:42 AM MISSION BEACH DR @ 39TH DR NW
11:44 AM MISSION BEACH DR @ MISSION BEACH HTS RD
11:50 AM JOSEPH CHARLES JR LP @ JOSEPH CHARLES LP RD
11:56 AM 6518 JOSEPHE CHARLES JR LP
12:05 PM 64TH ST NW @ MISSION HILL RD
12:08 PM MARINE DR NW @ 12TH AVE NW
12:14 PM 905 MARINE DR
12:14 PM 600 MARINE DR NW
12:15 PM 320 MARINE DR NW
12:16 PM 918 MARINE DR NE
12:23 PM MARINE DR NE @ 23RD AVE NE
Route: 102
10:00 AM 4TH ST @ QUINN AVE
10:00 AM 1926 4TH ST
10:04 AM 4724 64TH ST NE
10:12 AM 1909 3RD ST
10:18 AM 2ND ST @ ALDER AVE
10:23 AM 2ND ST @ QUINN AVE
10:29 AM 2ND ST @ UNION AVE
10:40 AM 4922 61ST ST NE
10:44 AM 61ST ST NE @ 51ST AVE NE
10:50 AM 61ST ST NE @ 52ND AVE NE
10:56 AM 61ST ST NE @ 54TH AVE NE
11:04 AM 61ST ST NE @ 54TH DR NE
11:09 AM 4919 61ST ST NE
11:12 AM 1ST ST@COLUMBIA AVE (NE CORNER)
11:19 AM 115 CEDAR (STOP ON 2ND 1ST BLDG ON LEFT)
Route:106
11:05 AM 27TH AVE NE @ 81ST ST NE
11:15 AM MARINE DR NW @ EDWARD BEATTY RD
11:19 AM 7911 WATER WORKS RD
11:24 AM 3006 TURK DR
11:26 AM TURK DR @ 26TH AVE NW
11:30 AM 2228 TURK DR
11:32 AM TURK DR @ 16TH AVE NW
11:32 AM TURK DR@ 82ND ST NW
11:32 AM 8325 TURK DR
11:33 AM 8727 TURK DR
11:38 AM TURK DR @ PERCIVAL RD
11:38 AM TURK DR@VAN NESS
11:39 AM TURK DR @ PERCIVAL RD
11:39 AM TURK DR @ TURK RD
11:40 AM TURK DR@ 82ND ST NW
11:41 AM TURK DR@21ST AVE NW
11:53 AM WATER WORKS RD @ 86TH ST NW
11:58 AM 9131 WATER WORKS RD
12:01 PM 9530 WATER WORKS RD
12:01 PM 9430 WATER WORKS RD
12:03 PM ELLISON JAMES DR @ STEVE WILLIAMS DR
12:13 PM 36TH AVE NW@BOYS&GIRLS CLUB
12:24 PM 27TH AVE NE @ OLD TULALIP RD
12:25 PM 27TH AVE NE@SANDRA MADISON LP
12:25 PM 27TH AVE NE @ 81ST ST NE
12:25 PM 8326 27TH AVE NE
12:25 PM 8502 27TH AVE NE
12:26 PM 2909 QUILCEDA WY/ 88TH ST NE