Honoring our fallen warriors
By Micheal Rios, Tulalip News
Native American men and women have always been defenders of their lives, traditional homelands, and cultural lifeways. The call to serve in the United States military has been strong for Native people since the country's founding, long before being officially recognized as American citizens in 1924.
In fact, the Department of Defense recognizes that today's military successes depend heavily on Native Americans. Thirty-one thousand Native men and women are on active duty today, serving in Iraq, Afghanistan, and elsewhere around the world. In total there are 140,000 living Native veterans. And the best stat of all, Native Americans serve in the Armed Forces at five times the national average while serving in the military at the highest per-capita rate of any other demographic.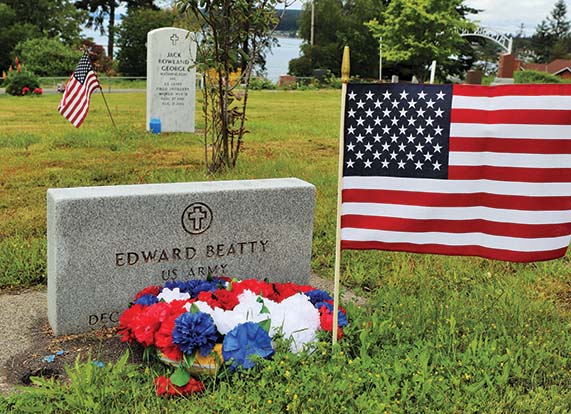 While the warrior mentality to protect the sacred has a long and prideful history, simultaneously Native communities have never taken a loss of life lightly. Paying homage to fallen warriors as heroes with reverent memorials filled with ceremonies and prayers is a traditional teaching that unites tribal members of all 574 federally recognized tribes.
On Memorial Day, the last Monday in May, the Tulalip Tribes citizenship didn't allow a typical Washington downpour nor a coronavirus pandemic stop them from uniting as a community to honor their fallen warriors.
"It's heartfelt to see all the flags on bedsides of veterans who served, especially for those who paid their life, the ultimate sacrifice," expressed Tulalip board member and Vietnam veteran, Mel Sheldon. He co-hosted the Memorial Day services at Mission Beach and Priest Point cemeteries along with fellow Tulalip veterans William McClean III and Rocky Renecker.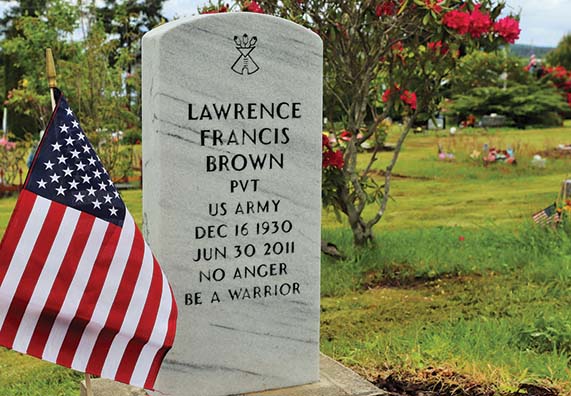 "Memorial Day means honoring those who have passed or sacrificed the ultimate price for our country," said Rocky. He represents the third consecutive generation of his immediate family to serve in the military. "It's a time to reflect on the men and women who have served before me and set the examples."
A parade-like caravan of tribal member filled vehicles rolled through both reservation cemeteries. The caravan allowed families and friends of fallen warriors to pay their respects while still adhering to social distancing protocols put in place by Governor Inslee and tribal leadership.
As he has for nearly every year since 1993, Tulalip veteran Cyrus Hatch III read aloud roll call for the 225 veterans buried on the reservation's most hallowed grounds.
"I come from a family that has a long history of veterans on both sides that influenced my decision to join the military," shared caravan participant and Tulalip veteran Angela Davis. "My father, Calvin Taylor, was my first influence because he was continuing to serve while I was growing up. When I would go with him to events like today I remember him standing with the other veterans for roll call. I felt so much pride.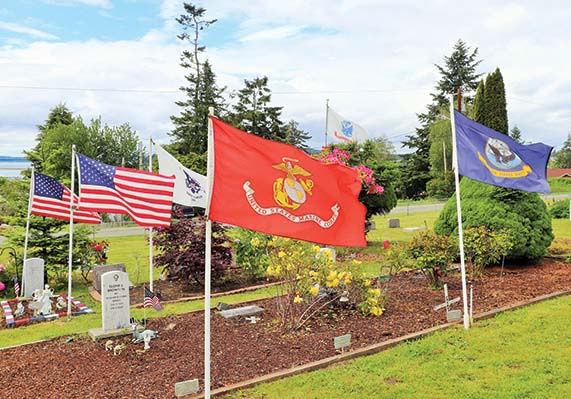 "As a veteran, what Memorial Day means to me is a day of remembrance and honor," she continued. "It is our community taking the time out of our busy lives to remember the service men and women who sacrificed their life in the line of duty serving our country, and honoring their legacy they left behind by showing the families that their sacrifices have not been forgotten."
Tulalip veteran Art Contraro was acknowledged multiple times for his heartfelt contribution and method for honoring his fallen brethren. While the majority of tribal government employees are furloughed, the 72-year-old took it upon himself to volunteer time and equipment in order to ensure the gravesites looked their best. Otherwise unattended and left to be covered in weeds and shrubbery, each grave was edged up and treated with the dignity it deserves.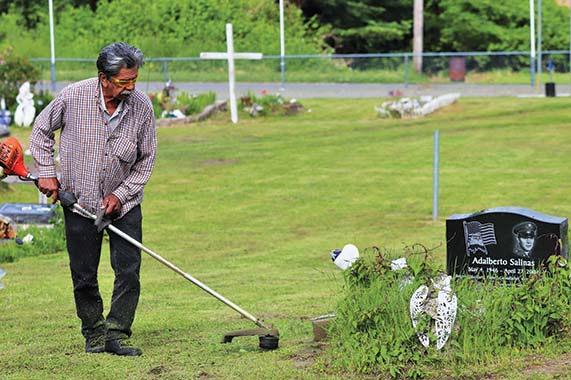 "Art really cares for our veteran's graves and is setting an example that hopefully we can carry on and pass on to the younger generation," explained Rocky Renecker. "Art enjoys doing what he can, when he can. He has lots of knowledge of the veterans that have passed on and knows which ones don't get visitors and which ones do."
Every veteran tombstone was freed from overgrown shrubbery so they were clearly visible and honored with a new mini U.S. flag to denote their status as honored soldiers. A welcomed sight shared by the many veterans and their non-military family members.
Among the 574 federally recognized tribes, each with their own cultures, traditions, and belief systems, military service remains remarkably consistent. No matter the conflict, Native American men and women continue to risk their lives and make untold sacrifices in the name of freedom.
 For the bravery and heroism embodied by each of the 225 Native veterans buried at Mission Beach and Priest Point cemeteries, a 21-gun salute rang out to conclude the Memorial Day services.