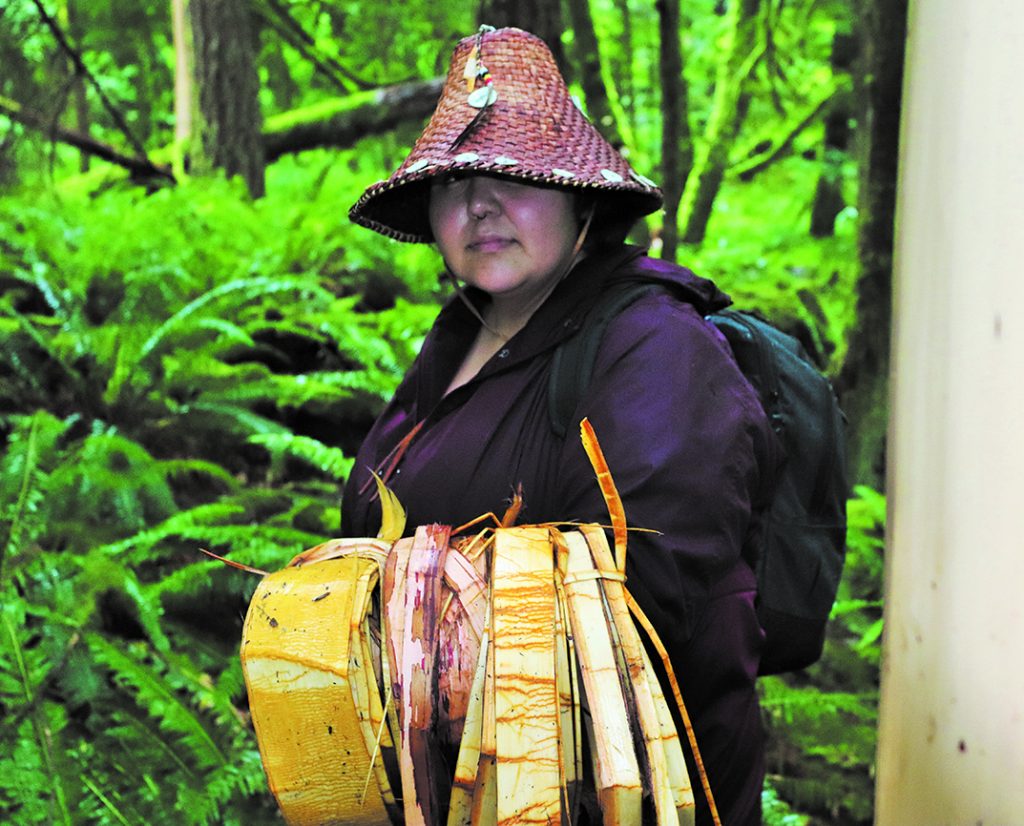 By Micheal Rios, Tulalip News
Since time immemorial, Native peoples have lived in an interdependent relationship with the green forests and blue waterways of the Pacific Northwest. Treating the natural environment as a shared resource revolving around the needs of community make it impossible not to have a deep respect for cultural traditions and Mother Nature's many gifts.
These teachings have survived genocide, colonialism, forced assimilation and untold traumatic experiences. Even now, amongst a global pandemic, many tribal members look to their cultural foundations for hope and strength. Armed with ancestral knowledge, they know regardless of the adversary, tradition will always persevere.
"I love being in the forest because it's my second home," said Tulalip tribal member and virtuoso weaver, Jamie Sheldon. "As Tulalip, nature is our number one priority. Being in the forest gives me calmness and all the sights and sounds bring a peace of mind like no other."
After 20 years of perfecting her basket weaving craft, Jamie still speaks about learning the intricate basket making process from her mom and aunties like it was only yesterday. Similar to a beloved holiday, she and her family look forward to Tulalip's yearly Cedar harvest coordinated by the tribe's Forestry Division and Washington's Department of Natural Resources (DNR).
"Tulalip Forestry has initiated and continued to nurture an ongoing relationship with Washington's DNR, the U.S. Forest Service, and private industrial timberland owners for over ten years now," explained Ross Fenton, Tulalip Forestry. "We collaborate with State, Federal, and private landowners in order to ensure treaty rights as they pertain to gathering.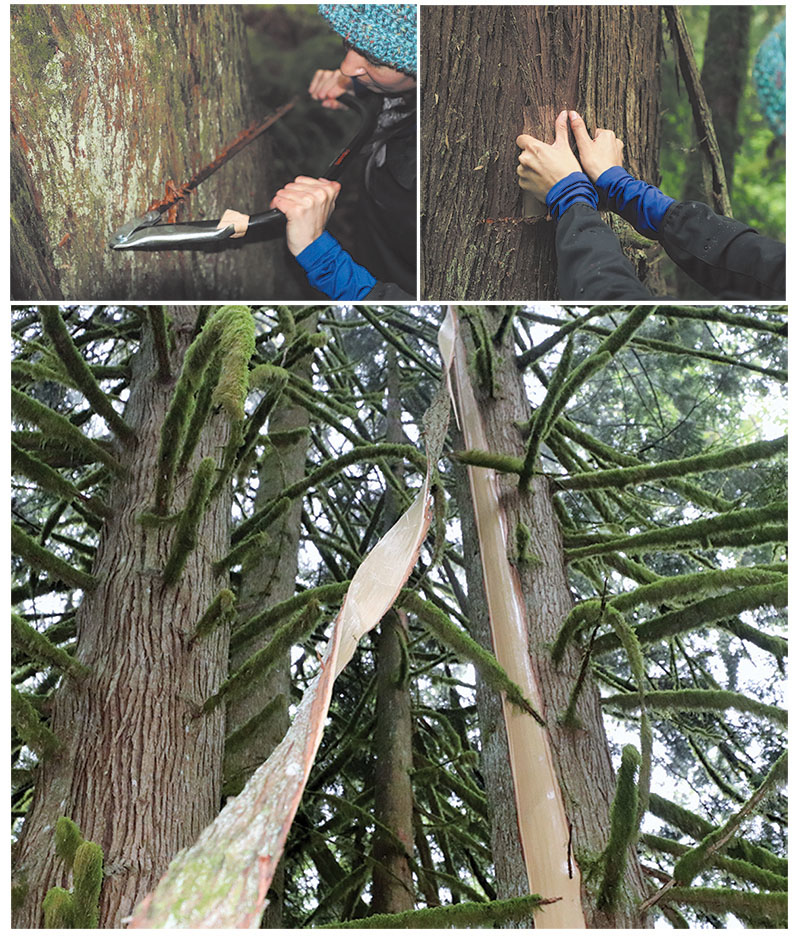 "Different ownership and property boundaries are also of great importance; we don't want people accidentally pulling on adjacent properties that could affect successful working partnerships," he continued. "These particulars are where meticulous communication and collaboration with outside agencies take place, often months in advance before the annual Cedar events are announced to Tulalip membership."
Although the circumstances may be different in summer 2020, the expectations are the same – those whose lifeblood is woven with Cedar must have their time in the forest to harvest.
After extensive time and resources invested into finding the ideal setting, Ross and his colleagues notified the tribe of this year's harvesting details weeks ago. The location was a woodland oasis located in Startup, between Kellogg Lake and Wallace Falls.
A 45-minute drive southeast of the Tulalip Reservation, a caravan of tribal members eagerly made the most of their harvest opportunity on the weekend of June 27th. Amongst the spirits of the trees, the culture-bearers found refuge from fearmongering news cycles and the pervasive clutches of social media.
"It's beautiful getting out of the house, getting out into the woods, and listening to the forest. Hearing the rain fall, the gentle breeze rustle the tree leaves, and the birds chirping just calms my spirit and makes me be able to continue on," described Sara Andres. She plans to use her harvested materials for future naming ceremonies and as donations to Hibulb Cultural Center's weaving Wednesdays.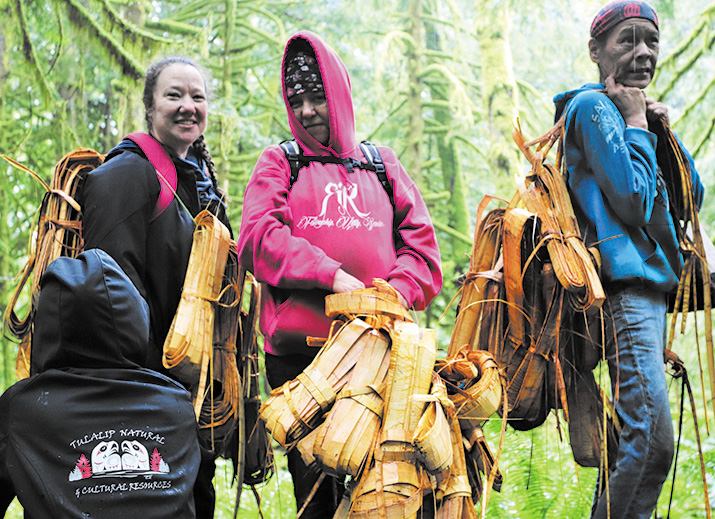 The relationship Coast Salish peoples have with Cedar cannot be understated. Their ancestors relied on the magnificent tree as an integral part of life on the Northwest Coast. From birth to death, the powerful cedar provided generously for the needs of the people – materially, ceremonially and medicinally. Those teachings have not been lost.
Master weavers, elders, and youth alike all echo the very same Cedar harvesting technique employed by their ancestors. With a small axe and carving knife, they skillfully remove strips of bark from designated trees. They then shave off a small section of the rough bark, revealing a smooth tan inner layer. After harvest, the Cedar strips are typically laid out to dry for a year before being made into baskets, hats, or ceremonial regalia accessories like capes, skirts, and headbands.
"To witness tribal members performing an ongoing cultural activity that has taken place over millennia is like stepping back in time," reflected dedicated Natural Resources employee, Ross Fenton. "There is much singing, drumming, teaching, and praying all throughout the woods. This is immensely important, and I feel blessed to be a part of it."
Those who replenished their sprits in the luscious green forest and grounded themselves among the 120-160 foot tall, towering Cedar trees were sure to offer many thanks for the gifts they provided.
"It's eco-therapy. Being connected to the Earth is so good for our mental and spiritual health," shared 24-year-old Kali Joseph. She harvested while bonding with her siblings Jay Anderson and Tisha McLean. "As Native people, it's necessary for us to accept the gifts of the land and say thank you to the trees. Harvesting is an activity that is both culturally responsive and healing, especially during these challenging times."
The weekend-long reprieve from contemporary life proves cultural teachings and tradition still triumph over all.