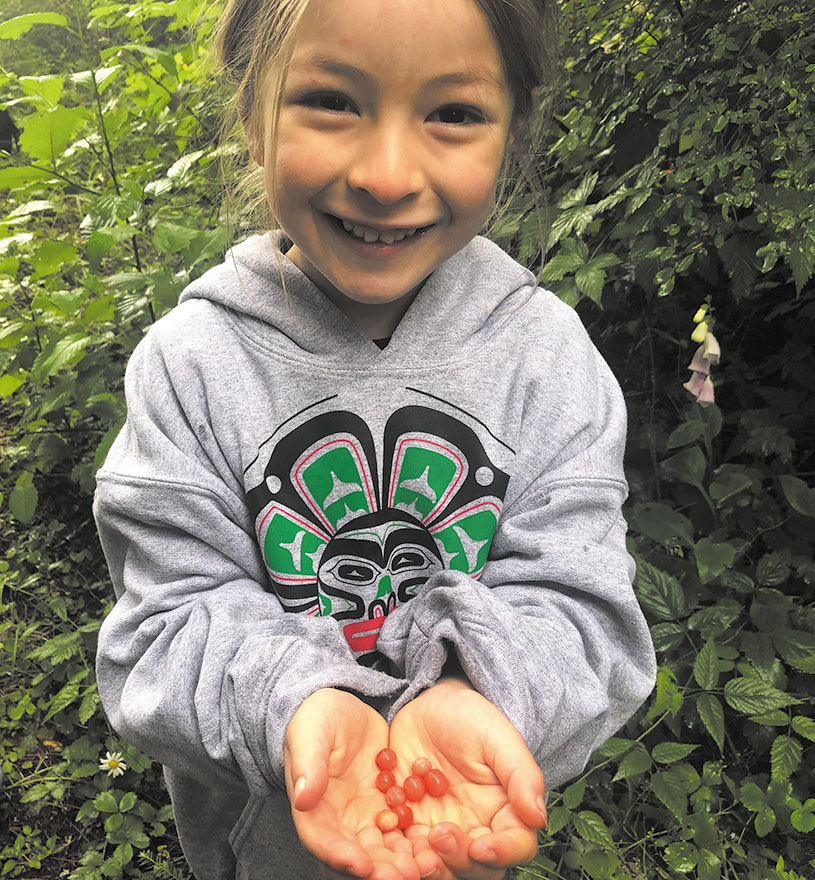 By Kalvin Valdillez, Tulalip News; photos by Natosha Gobin
"Doing this work has always meant a lot to me," expressed Tulalip Lushootseed Language Warrior, Maria Martin. "I got to learn when I was at Montessori at a young age. Growing up, I committed myself to learning everything I could with the language; summer camp, anytime they had an event I could attend, I'd always check out the website. I took it on myself to be a part of it. And being able to share that now, it's awesome because I have direct relatives that put in work to save the language. And it's an honor to inherit that."
The traditional language of the sduhubš is strong in modern day Tulalip and COVID-19 can't do a thing about it. When Tribal government shut down daily operations to help flatten the curve and decrease the spread of the novel coronavirus, many people were glued to their smart phones, searching for updates about the disease, learning how to adequately protect themselves, and adapt to a more slow-paced, Zoom-led world.
During the very first week of the Tribal government closure, when the number of deaths by COVID-19 were spiking, good news was hard to come by. An evening scroll through the timeline was often accompanied by despair and a general fear for the health of you and yours. And then one day a slew of videos began to pop up and take over people's newsfeeds.
"With everybody being forced to stay home, we still wanted to connect with our community so we had to get creative," said Natosha Gobin, Language Instructor. "I knew that a lot of people were on social media, so we decided to throw some language out there. At such a time of unknown, here's something positive, let's take the opportunity to learn a couple words or hear a story together, connect with your kids, connect as a family. Most of the videos were geared to be just a couple minutes long. If a parent is scrolling through Facebook and their child is right next to them, then it's as easy as 'boom, let's listen to this or let's look at this real quick'. We really viewed it as a not only a way for us to stay connected with the community, but to reinforce that relationship with a parent and child learning together."
Over the course of the school year, the Lushootseed language warriors develop a strong connection with their students as they are in the classrooms weekly, some teachers daily. When schools began to close, naturally the instructors began to miss their students, as well as preparing lesson plans and growing the minds of future Tulalip. When Lushootseed Program Manager, Michele Balagot, instructed her team to produce online language videos, they wasted no time. Videos of language warriors singing traditional Tulalip songs, sharing popular Salish stories and providing lessons in counting, colors, animals and shapes flooded the social media timelines of Tulalip families and citizens.
"That was new to us, we started with one person doing a video and then we built off of that," explained Michele. "A week later we decided we needed to do some interaction, so the kids could practice and identify a shape or a color in the language. And then we started doing traditional stories, so the kids could still hear Lushootseed while they're at home and be able to speak it, be interactive with it."
A majority of the Lushootseed speakers work with younger children, thanks to a partnership with the Betty J. Taylor Early Learning Academy (TELA). The idea is that kids are more susceptible to pick up the language during the early childhood development stages. Out of a shared interest of providing Tulalip children with a strong cultural foundation and understanding, TELA developed the language immersion curriculum in which Lushootseed Warriors frequent the classrooms of the Early Head start and Montessori and pass on the language through fun activities, songs, and interactive stories.
"They [videos] were originally for TELA, but we posted the videos on Facebook and soon found out that the TELA kids weren't the only ones watching," Michele said. "We knew that kids of all ages were watching it because we kept getting all kinds of replies saying, 'thank you my child sat down and watched it and was speaking the language along with the video."
Maria, who mainly works with Quil Ceda Tulalip Elementary, has made a handful of videos for her students during the pandemic that inspired not only the parents who are at home learning with the kids, but also many of the QCT teachers.
"We went over greetings, feelings and their letter pronunciations, I tried sticking to the basics that the kids would know," she stated. "I'm not sure how many of my students were able to watch it but I did see that it was being posted to the [QCT] Facebook page. I've been able to catch some of the parents in passing, and even some of the staff members, who have watched the videos and they really appreciate them and greet me in Lushootseed, so having that feedback is heartwarming for sure."
Getting creative during the coronavirus outbreak, Natosha put a little extra pizzazz into her videos by incorporating other Indigenous lifeways into her lessons. For example, when participating in cultural activities as a family, such as harvesting berries, cedar or seafood, Natosha reached for her phone, hit record and watched the magic unfold.
"It's natural for me to take my kids out with me and pass that knowledge onto them," said Natosha. "We've harvested berries and harvested cedar, we also went out and harvested fireweed. A big part of what I'm teaching about is harvesting and making medicines. Involving my own kids was an important part for me because kids respond well to other kids learning. My daughter, Lizzy, she's the one that I put on the spot the most. That's because she's the closest in age to those kids at TELA. She's six years old, so it's easy for me to say, 'hey Lizzy, let's record this, or let's go for a walk and I'm going to ask you these questions."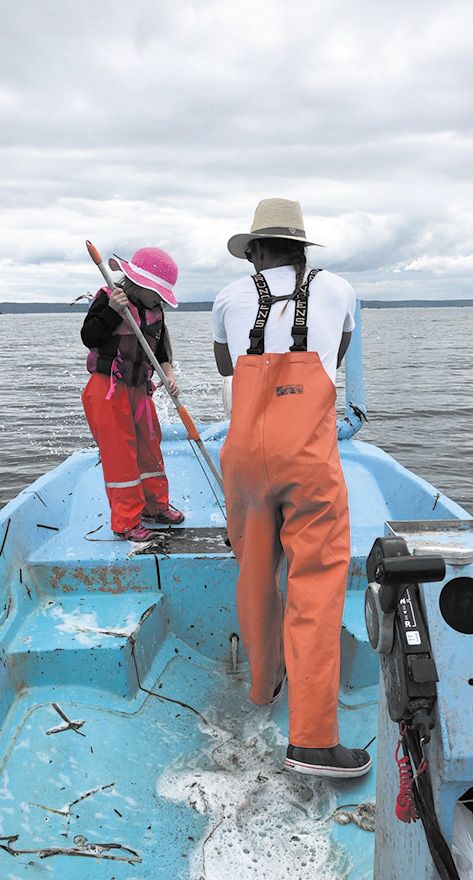 One visit to the Tulalip Lushootseed Facebook page and you'll see a charismatic Tulalip youth effortlessly leading and narrating videos in the official language of her ancestors. Lizzy, her siblings, as well as the children of language warrior Michelle Myles, have unofficially become the new faces of the verb-based language and many tune-in weekly to catch their adventures with Lushootseed.
"She's really taken on the role of teaching without fully understanding it. I've taken Lizzy out fishing and she did an entire fishing video. That video was probably the one that got the most attention, over 2,000 views. The viewers got to hear everything through her voice and it was repetitive so that you can easily learn from it. We want to take her out to dig clams and have her retell her great, great, great grandma Lizzy's clam digging story, that's one of the most popular stories that Lizzy Krise told. Lizzy Mae is actually named after Lizzy Krise. Grandma Lizzy is the one that we base a lot of our language after, we utilize everything that she passed on to us. She's one of the people that we model a lot after, along with Martha Lamont. Lizzy will retell her grandma's story through her own experience of clam digging for the first time. So, really just connecting it to what kids will respond to, what the kids will find interesting."
In addition to the lessons for tribal youth and the students at TELA and QCT, the Language Warriors also teach a college-credit course for those looking to enhance their Lushootseed skills.
"We normally have community college classes this time of year, but with COVID we can't do those," expressed Michele. "So Natosha Gobin, Michelle Myles and I started an online Intro to Lushootseed class through Zoom. We had sixty-four participants and it was a seven-week course. We had Tribal members, other Natives, students from previous years, teachers, a good mix of everybody."
We are currently living in an era where the Lushootseed language revitalization revolution is in full effect. And just like in previous eras, such as forced assimilation, the Tulalips are taking it upon themselves to ensure the language and the culture prevails long past the present threat of the global COVID pandemic.
"We hope that our community can look at these videos that we create and the online learning opportunity as a means for them to learn at their own pace during these difficult times," said Natosha. "I think that's probably the biggest thing, we want to reach our community by whatever means necessary. We'll provide the tools, we just really want to encourage our community to utilize them."
"At first, I thought nobody's going to watch this, because people are at home and COVID is happening," admits Michele. "But then everybody started sending in messages asking if we can do certain lessons or stories because a lot of parents are doing the homeschool thing. We have people telling us that when they go out, their child is naming the colors and shapes they see, and they are singing our songs. It's important for the kids to learn their language. If you don't keep hearing it and keep speaking it, then you forget it. By having these videos available, it keeps it fresh in the kid's mind."
For more information, please visit the Tulalip Lushootseed Facebook page or contact (360) 716-4499.