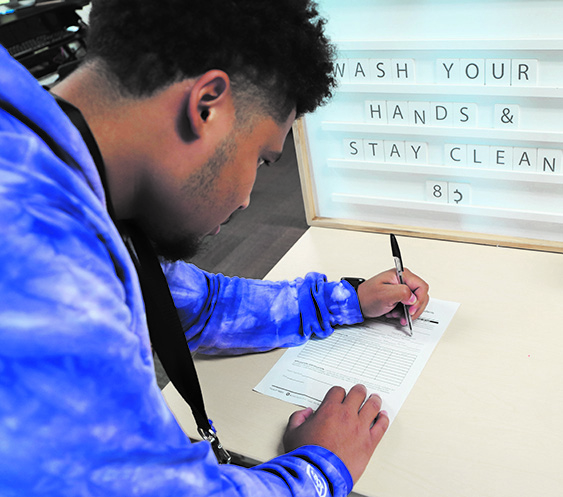 By Micheal Rios, Tulalip News
It's barely been two weeks since the Tulalip Tribes announced the availability of COVID impact funding for its K-12 students, and nearly 800 applications have been submitted already. The $350 school readiness stipend is made available as part of the CARES Act, which was signed into law back in March, and is intended to provide critical relief for students as they prepare to start the new school year learning remotely.
"Our tribes are feeling significant strain," said Senator Martha McSally. "This legislation provides immediate cash relief and strong assistance to tribal communities impacted by this so workers and families can pay their bills. I will continue to work with the Trump Administration to ensure this relief is administered quickly, efficiently and in a manner that works best for tribal communities."
With all Washington State school districts either recently starting or set to start the 2020-2021 academic year, the uncertainty of resuming education is no more. It's certain that the routine of daily education is back, but the details of that routine have changed immensely. As a result of COVID-19, Governor Inslee mandated all K-12 public and private schools remain closed to in-person learning and instead institute distance learning solutions. For the vast majority of Tulalip students this means going all digital, all the time from the comforts of home.
For students and their families lacking in the necessary resources to provide an effective learning environment for distance learning, the unexpected opportunity to receive $350 per Tulalip student can be a significant morale boost.
"Nobody was expecting this money. We're fortunate the tribe applied for relief funds from a grant to help out our students and it was accepted," explained Lisa Fryberg, positive youth development advocate. "These funds are intended to go towards school supplies and digital resources to make our children's learning experience better."
"Hopefully, all our kids will see this money be used to facilitate a functioning learning environment at their home," added fellow youth advocate Deyamonta Diaz. "What we hope not to see is this money being viewed as supplemental income and used to purchase items that really don't prioritize our kids' education."
To create a highly effective learning environment at home, here are some basic essentials local school districts suggest purchasing: a desk or mini table dedicated for an individual student, a reliable internet or WiFi connection to support multiple devices, a comfortable desk chair, personal headphones, a printer with a decent supply of paper and ink, and a white board to be used as a student planner to manage class schedule, homework assignments, and any broader academic goals. Two items left off this essential list are a cheap laptop and webcam because Marysville School District and local private schools issued their students Chomebooks with built-in webcam and internet access.
"As a mother of two students, one in 5th grade and the other in 10th grade, I plan on using their stipends to make sure they each have their own work stations," said Lisa. "The $350 can purchase a lot if used sensibly. There's no need to buy everything brand new, at full retail price. I've been searching Facebook Marketplace and other reselling apps to find work station essentials."
With so many applications turned in thus far, and many hundreds more expected in the coming weeks, Youth Services staff request patience and understanding that it takes about two weeks from application processing to stipend mail out. Each check is made out to the individual student and no receipts are required to be submitted after the fact. The deadline to submit a stipend application is October 31.
"I always felt like we took our public school system for granted. Like, there are those who are consistently critical of what public school doesn't offer or what they lack, but now we get to experience what it's like not to have this resource and already a lot of people miss what they took for granted, " reflected Deyamonta, who serves Totem Middle School as a student advocate. "We need the school districts as much as they need us. At least for the next several months, we'll see how our families and students are able to adapt to a more independent learning environment."
With many schools across the country closed and operating under remote learning or a hybrid model to prevent the spread of COVID-19, students and their families alike are bracing themselves for a fall semester unlike any other. This makes for quite the back-to-school shopping shakeup. Fortunately, the school readiness stipend can help curb costs and ease the transition to an all-digital, distance learning landscape.
The school readiness stipend application can be found at: https://www.tulalipyouthservices.com/uploads/3/9/0/8/39080369/application-_350-stipend.pdf
Additional applications can be picked up at the Tulalip Teen Center front desk.