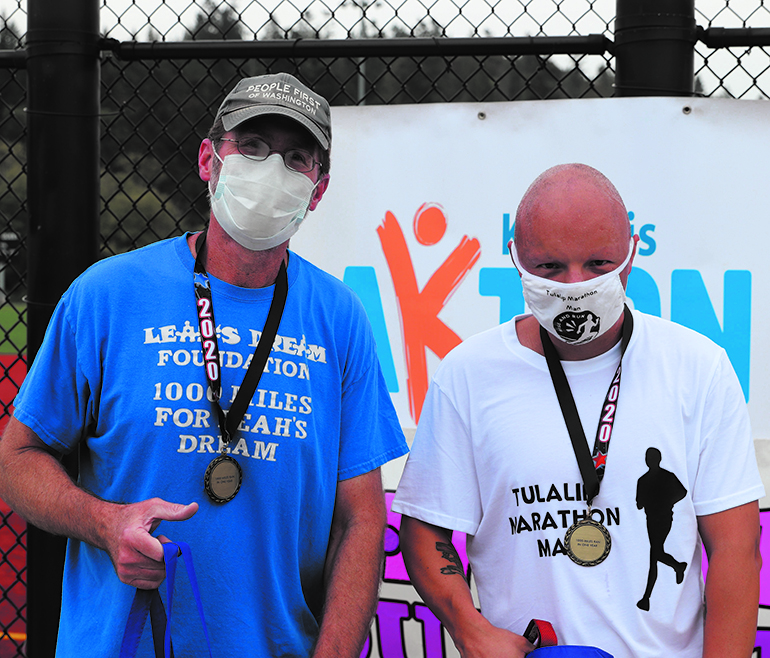 By Kalvin Valdillez, Tulalip News
"Nobody in my family was a runner," said Tulalip tribal member, Tyler Fryberg. "But once I was able to run my first three miles without stopping, that got me excited and I kept on running ever since."
Tyler's passion for running began during a big change in his life, when making the transition from middle school to high school. Knowing he wanted to participate in school sports, he signed up for cross country and track & field during his freshman year at Lake Stevens High School. He continued competing in both sports his sophomore year before transferring to Monroe High School where he completed his school career.
"When I left Lake Stevens and moved to Monroe, where I graduated, it was all new," he said. "I started there my 11th grade year and I did both cross country and track. I didn't make varsity for cross country my first year there, but I did for track & field. After my 11th grade year, I end up lettering in both sports during my senior year. That was my goal I had all along, even with knowing I had a disability and that it was going to be a lot harder than the normal person."
After lettering in cross country as well as track & field, and also receiving his diploma, Tyler set new goals to crush and kept lacing up his running sneakers every single day to begin training for the Special Olympics. Due to his hard work, Tyler medaled nearly every year he competed at the Special Olympics and even carried the Special Olympics Torch of Hope for 18 miles in 2012.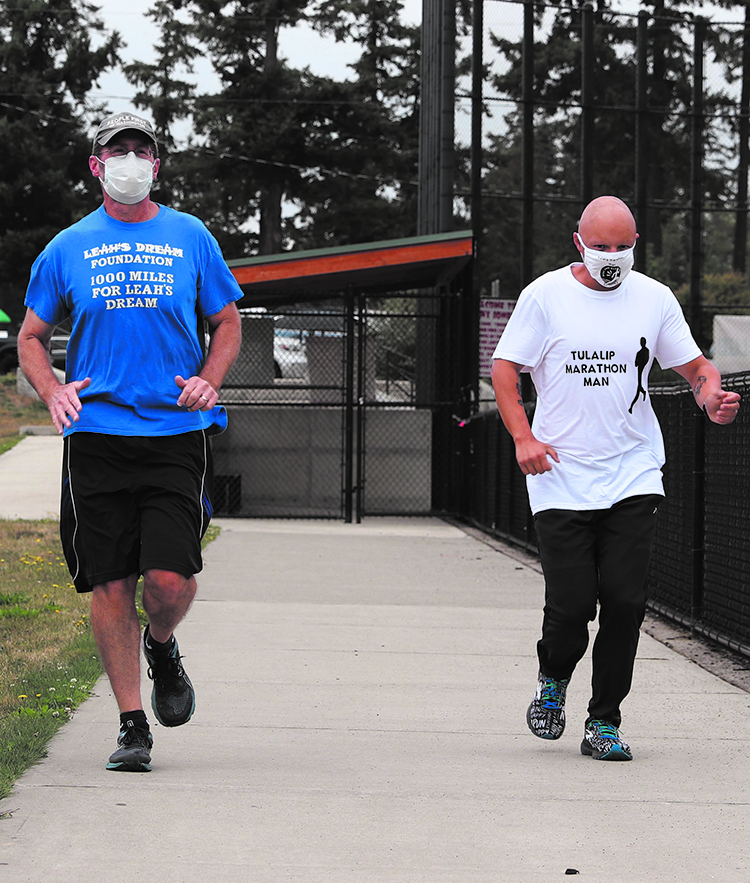 Now age 28, Tyler has run for over half of his life, with the exception of a one-year hiatus due to an injury, "that really got me thinking about my body, taking care of it better so I can run longer," he expressed.
With countless miles under his belt and several accolades to show for his love of running, Tyler is constantly looking for new challenges, new opportunities to push his limits and exceed his own personal goals. When he learned about a former teacher, Jim Strickland, partnering with Tulalip-based non-profit, Leah's Dream Foundation, to help raise money and promote awareness for children with disabilities, it was the perfect match.
"I was already involved with Leah's Dream," he stated. "So, when they decided to make the Miracle Mile Challenge, I said right away that I definitely wanted to be a part of it. When I signed-up, there was a lot of different miles you can choose from. For me, I like to make big goals so I picked 1,000 miles. That journey started January 1st and was supposed to end on December 31st, but I actually finished my 999th mile a couple weeks ago."
Finishing months in advance, Tyler ran between 3.5–5 miles for six days every week of the year, making sure to take a rest day to recover and prepare for the upcoming week. On top of the Miracle Mile challenge, Tyler has competed in Special Olympic events such as virtual races, that are held online due to the COVID-19 pandemic. Tyler also created a Facebook page to keep his fans and supporters updated during the challenge and his upcoming running endeavors.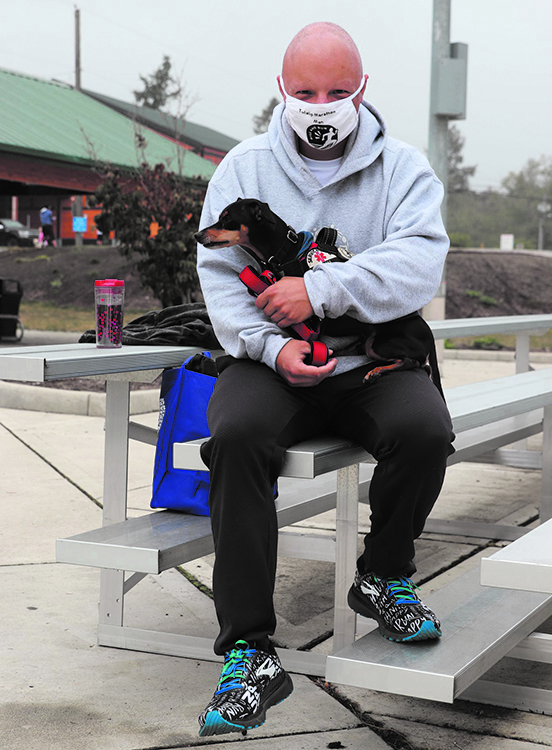 "Somedays I feel motivated, and there are times I don't feel like running at all," Tyler admitted. "But this challenge is for Leah's Dream and knowing that, it gave me motivation to run every day and it was actually something I looked forward to and was excited to do."
Leah's Dream Foundation was established in 2015 with one major objective in mind, inclusion. The foundation was started by Deanna Sheldon and family when her daughter, Leah, was diagnosed with autism. The profits that the foundation raises go towards parties, gifts and activity packages for children and young adults living with autism and special needs, to help build a sense of community amongst the youth and their families. Some of their most popular events include the Leah's Dream Foundation Annual Golf Tournament and the summertime Special Needs Field Day, complete with bouncy castles and a BBQ.
"Before the pandemic, we used to host community events where families all across our community would come together," Deanna explained. "It was always a free event; we had food, arts and crafts, activities, and events. Last year around this time, Mr. Strickland said he wanted to raise money by running 1,000 miles in one year, and wanted to offer people the chance to do it with him. He's a runner and is so inspirational."
Added Amy Sheldon, Leah's Dream Board Member and Deanna's sister, "Mr. Strickland was actually Kelsey's teacher. Kelsey's my daughter, she's 24 years old and has autism. He is the one teacher that she had a lot of comfort in, she only had two that she really liked in high school and he was one of those. He would think outside of the box to help her. He's an inspiration and goes above and beyond for our community."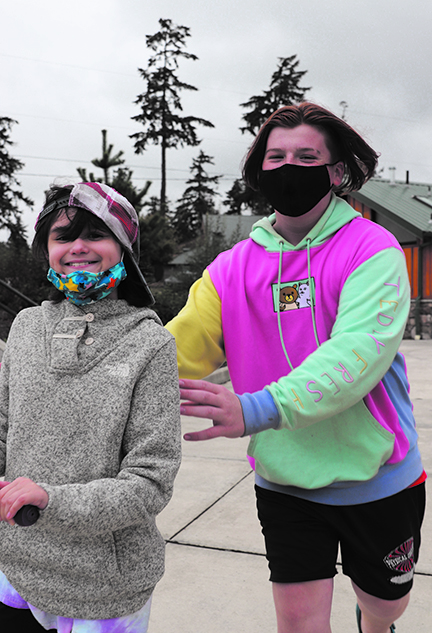 Jim Strickland is an instructor at Marysville Getchell High School and has worked throughout the Marysville School District, assisting young adults with developmental disabilities transition to a life outside of high school.
"I've worked with people with disabilities my entire career," Jim said. "I teach the transition program at Marysville Getchell High School, helping people with disabilities transition from school to active roles in their community. I always had a passion for creating a community that was truly inclusive so that everybody has a place, is valued and is able to share their skills and abilities, whatever they might be. That's my dream come true, and this played right into it. Leah's Dream is really about that."
He continued, "We were looking at a way to raise awareness for Leah's Dream Foundation and to also raise funds. A lot of my students have been the beneficiaries of the projects that [Leah's Dream Foundation] has done here in the community. Since Tyler and I both like running, we decided to do a running challenge and I set my sights high for 1,000 miles. Of course, Tyler's an animal and he's got other races he's involved with, so his running went really fast. I had to pick up the pace. Turns out we were able to finish 999 miles sooner than we expected, so we wanted to have a celebratory last-mile-run together and hopefully put the word out and get some more contributions for Leah's Dream."
On the afternoon of September 19, upwards of forty people gathered at the Tulalip Sports Complex, located outside of the Tulalip Youth Center. The two participants readied themselves in a running position and the crowd began to count them down. At 1:00 p.m. on the dot, Tyler and Jim took off and began their final mile side-by-side.
A young man practicing drills on the football field with his family learned about what was happening and immediately began jumping up and down, cheering on the runners, especially Tyler. The young man was so excited, he left his family during the middle of his training session and took a lap around the complex, hooting and hollering for the cause the entire way. Other friends of Tyler and Jim also joined in on the celebration, participating in the midday exercise by walking or running a few yards behind the 1,000 mile-dashers, including Leah herself who took her scooter for a spin along the track.
A big motivator for Tyler is when people recognize him while he is out running on Totem Beach Road. In fact, Tyler is known by many for his passion of running and has earned himself the nickname of the 'Tulalip Marathon Man' for the many years he dedicated to his sport. And of course, like almost every athlete will tell you, it's all about the gear and looking stylish while you do your thing. After many years of trial and error, Tyler has found the perfect running shoe to withstand all the miles he tracks.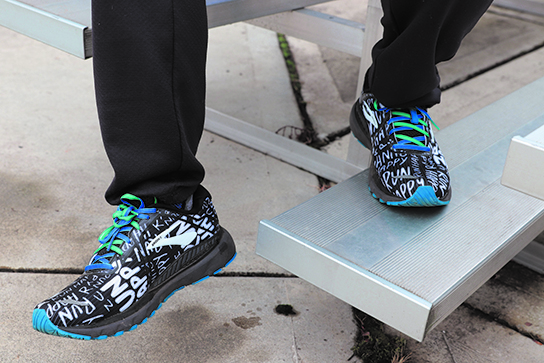 "These are them, the new ones," he exclaimed while showcasing his kicks. "Everyone's got to see the shoes. I like to wear Brooks because it's the only shoe I found to help me be successful as a runner. They are the most comfortable – and I've tried all the brands."
In addition to his fly feet apparel, Tyler unveiled his own personal brand during the Miracle Mile event. While making his strides towards his final mile, Tyler proudly displayed his new merch for all to see; a t-shirt, water bottle and a mask with his alias, 'Tulalip Marathon Man', in large text next to a silhouetted-logo of himself running.
"Running is important to me because it's something I enjoy doing," Tyler expressed. "I think it motivates people to start exercising in general. When people see me on the side of the road, it brings me motivation and excitement and it's actually really cool when it happens in your own community. It makes me feel good and it's really important to me. My advice to new runners is find something that motivates you to run and don't push yourself too hard, you have to take it easy at first when you are learning how to run. Take it one mile and one day at a time, and remember that anything is possible."
With 1,000 miles in the books and smoke-free weather, Tyler is ready to get back on his grind and is already conjuring up his next personal goal. The partnership with Leah's Dream helped raise over $1,200.00 and the non-profit is still accepting pledges for the runners, although the event finished earlier than anticipated. The foundation will now focus their efforts on creating a magical Christmas for their children and community, assembling gift-care packages that will be hand-delivered to their homes by none other than Santa Clause.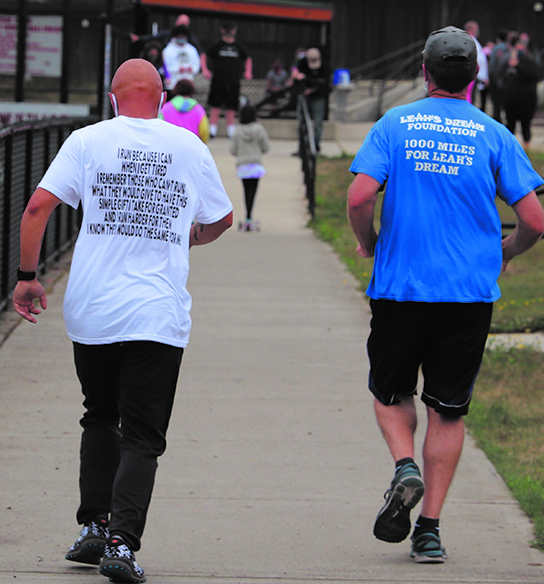 "We want our families to know that we're here, we care and we just generally want us all to be together again," Deanna said. "We're all within a community, we are all one and united, it doesn't matter what disability or non-disability you have. Creating an inclusive environment is one of the biggest things we want, love and strive for."
For more information about Leah's Dream Foundation and the Tulalip Marathon Man, be sure to follow their journey on their respective Facebook pages.