By Micheal Rios, Tulalip News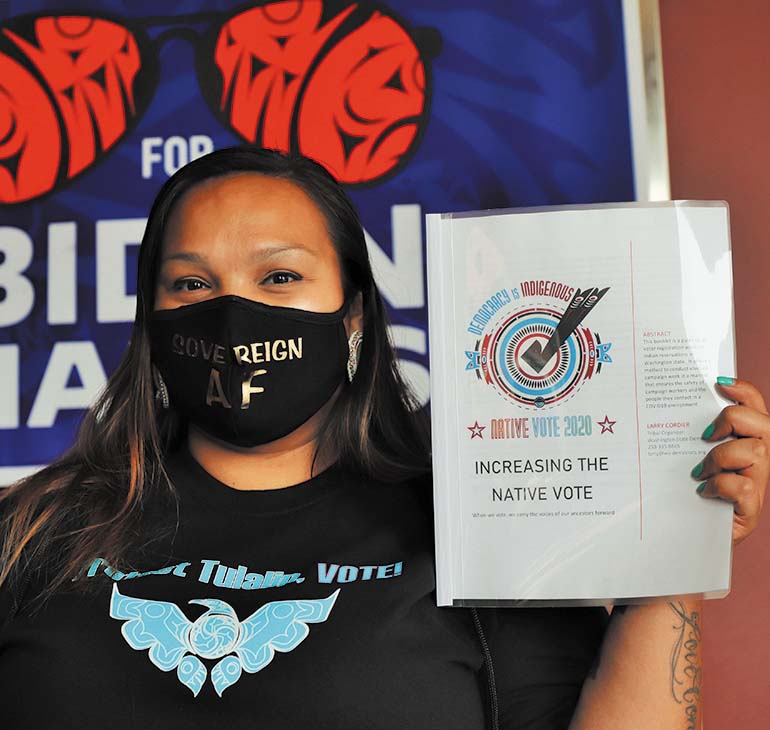 "As Native people, we are born into politics. Our ancestors fought and died, not only for our survival, but also to determine how our people would live generations into the future. As tribal members, you have rights defined by the treaties that your chiefs negotiated with the federal government," stated Larry Cordier (Lakota), tribal organizer for Washington State Democrats.
"In recent years, Washington tribes have had a resurgence of culture and tradition. The return of the canoe journey, language, and food sovereignty are examples of the priorities the tribal councils have placed in determining the future of their Nations," he continued. "That work must continue. We are working hard to elect candidates and partners who support tribal sovereignty and self-determination."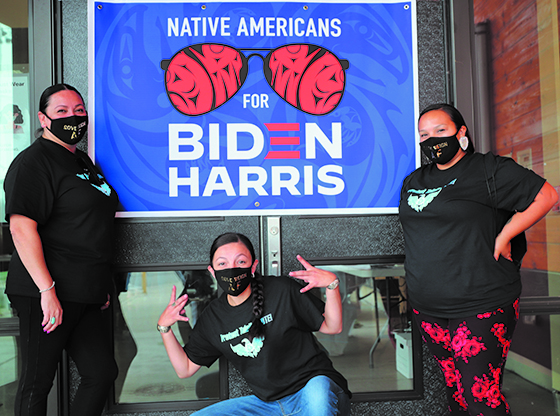 Larry's words rang out at the Don Hatch Youth Center on Friday, September 18, during a Democrat-sponsored, 'Get Out the Native Vote' community event. The mission was to make it as convenient as possible for non-registered, eligible Tulalip voters to get registered to vote in the upcoming presidential election.
Such was the case with Tulalip tribal member Jaydin Thompson Sheldon who turned 18-years-old this past summer. Becoming a full-fledged U.S. adult citizen right before a presidential election was not lost on the Marysville-Getchell graduate, as she expressed a sense of perspective few her age rarely do.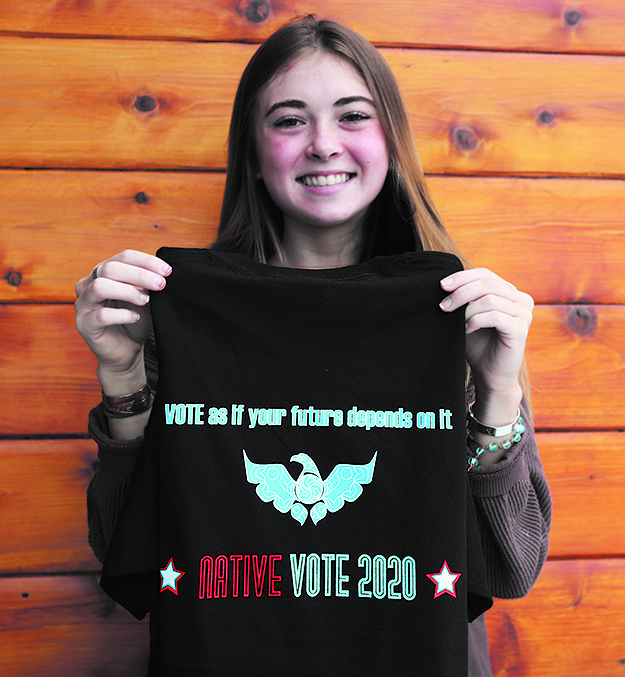 "It was important to me to get registered today so I can have a say in elections. Not just for president, but local and state elections, too," reflected an optimistic Jaydin moments after registering to vote and collecting a stylish Native Vote 2020 t-shirt. "It's become a trending topic with my friends on social media, so I'm hopeful a lot of people my age will vote. Because I'm new to politics there is a lot of research I need to do to determine which candidates reflect my values."
While voters like Jaydin aren't willing to commit to either major party or their high profiled candidates, there is a growing consensus from Tulalip leadership that a Biden/Harris ticket is the only way to go in order to protect treaty rights and strengthen tribal sovereignty.
Married couple Lavinia and George Contraro expressed something similar to the 'blue no matter who' mantra because they feel the current president doesn't deserve a second term.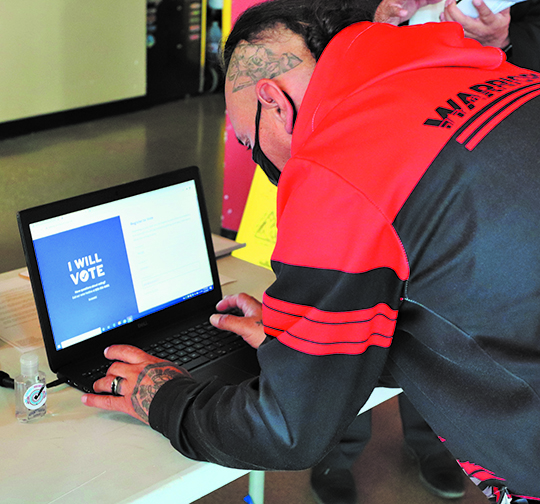 "It's been a while since I've voted," shared George. Event staff assisted him filling out the necessary forms so that he can come out of voter hibernation and cast a ballot come Election Day. "It's important I vote now because we need Trump gone."
"It's only common sense. Everyone has to vote for Biden if we're going to get Trump out of office," added his wife, Lavinia. She was able to check her voter registration and get it updated with her current address.
Concluding the afternoon event, staff noted they successfully assisted 14 tribal members get registered to vote.
"This is a huge success. If we got only one person registered it would have been a success, and to get fourteen is just that much more significant," said Board of Director Misty Napeahi. "Hopefully, everyone we got registered today will talk to other people they know who aren't registered and let them know how easy the process is.
"This election may be the most important election of our lifetime!" she continued. "Historically, we've been told our vote doesn't matter because that's how Republicans win elections, though voter suppression. When we the people get out and vote, Democrats win. That's why it is so important that this election every Native vote be counted."