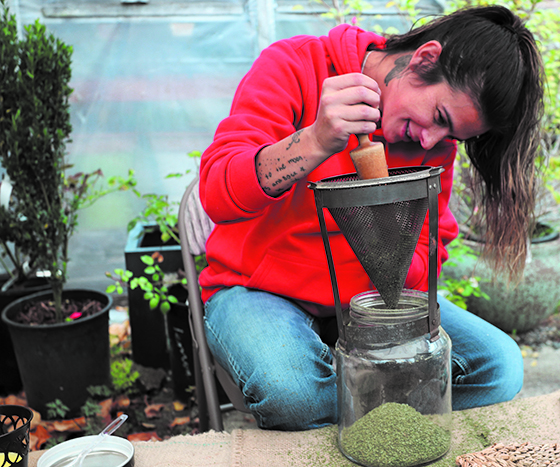 By Micheal Rios, Tulalip News
Herbal medicine is one of the oldest teachings we have. Human beings have supported holistic health and wellness with the use of plants and herbs that naturally work synergistically with our minds, bodies, and spirits since the dawn of time. What could be a more amazing way to support your optimal well-being than by using nature's gifts?
"This is what is so wonderful about herbal nutrition and using plants in a culturally appropriate and traditional way to support our wellness," marveled Veronica "Roni" Leahy, Diabetes Care and Prevention Program coordinator at the Tulalip Health Clinic. Her dedicated team hosted several plant-based craft making tables at Garden Treasurers organic farm on Wednesday, September 16. "This is such a precious opportunity to talk about plants and how important they are for the overall health of our bodies. This work truly is making an impact on preventing diabetes and other chronic diseases."
Our bodies were designed to exist with nature, which is why it should come as no surprise that herbal medicine continues to be an effective way to support wellness. For countless generations, we've incorporated herbs into our food culture and used them foundationally to create medicines to remedy the most common ailments. Whether you realize it or not, plants have a deep-rooted effect on the way we feel, both physically and spiritually. We quite literally feel better and get an energy boost by simply allowing ourselves to be immersed by plant power. It's the way nature intended.
For Tulalip families and health clinic patients who ventured to Garden Treasures and took advantage of September 16's u-pick garden day, they were treated with an opportunity to learn about plant-based crafting. Think of it as chicken soup for the soul, but instead of chicken soup its locally grown lavender, lemongrass and berry blends.
Amy King brought her two daughters, Kimberly and Grace, to the hands-on event to learn more about healthier food options and was pleasantly surprised to see the craft tables. After making their rounds through the farm and picking a wide-range of fresh produce, they took a seat and got to work making bundles of dry lavender.
"It was a little difficult because I've never made one before, but it was fun learning. I want to hang mine by my bed or put it next to my pillow," said 12-year-old Grace.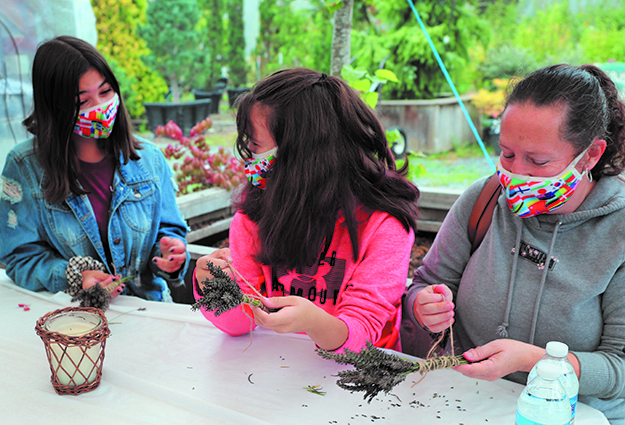 Lavender is a flowering plant in the mint family that's easily identified by its sweet floral scent and stunning shade of purple. It's commonly used for medicinal and therapeutic benefits, namely to improve sleep and reduce blood pressure. Lavender is also a great natural remedy for everyday stresses that can take a toll on your mental health. There's plenty of research that suggests the purple herb has positive effects on mood, stress, anxiety and depression.
As an aspiring chef, 15-year-old Kimberly felt her mood become more and more joyous as she finished her lavender bundle and began looking forward to some creative cooking with all her garden harvesting.
"The cooking process is more fun when you can handpick your own ingredients," she said. "Getting fruits, vegetables, and herbs straight from the garden means you're cooking with the freshest ingredients and making healthier meals. Walking through the gardens and seeing all the different options, it's easy to think creatively and get a lot of ideas. I plan on experimenting with what I picked today and making a chicken stir-fry."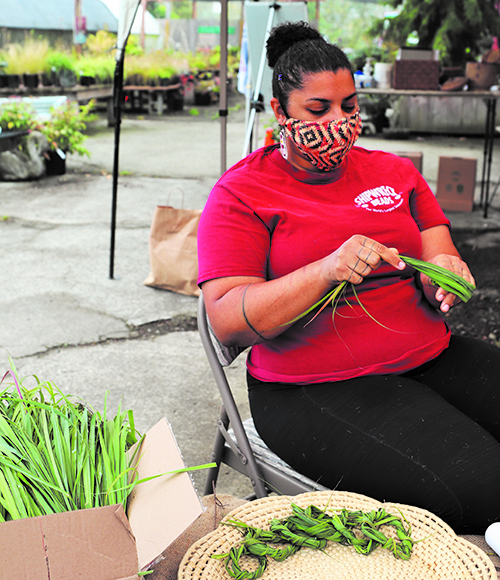 With the summer season officially over and Pacific Northwest temperatures already in the mid-60s, we're back to a near permanent weather forecast of dreary with a chance of rain showers. The quick turn in weather has brought about legitimate concern from medical experts that seasonal depression will pack some extra oomph this fall. A simple mood enhancer to help combat the effects of less sunlight and colder temperatures is a daily hot cup of lemongrass tea.
Naturally growing in these parts and conveniently found at the health clinic's Wellness Garden, lemongrass can alleviate depression and anxiety when enjoyed as an herbal tea. Its pleasant, citrusy taste is a like a reminder of bright and cheerful days. This perennial plant is packed full of antioxidants, good for digestion, regulates high blood pressure, and can boost your immune system.
"It's important, especially as we approach cold and flu season, to stay hydrated and strengthen your immune system to stay healthy. Tea is an effective strategy and it's easy to make," explained indigenous chef Britt Reed, creator of Food Sovereignty is Tribal Sovereignty, as she wove lemongrass into palm-sized wreaths. The mini green wreaths can be easily placed into a hot cup or teapot, steeped for 10-15 minutes, and then enjoyed.
"What I enjoy the most about these opportunities is sharing the plant stories and watching the people's interest grow as they learn more about the many health benefits of local plants," reflected Roni after another successful event sharing traditional knowledge and assisting community craft makers.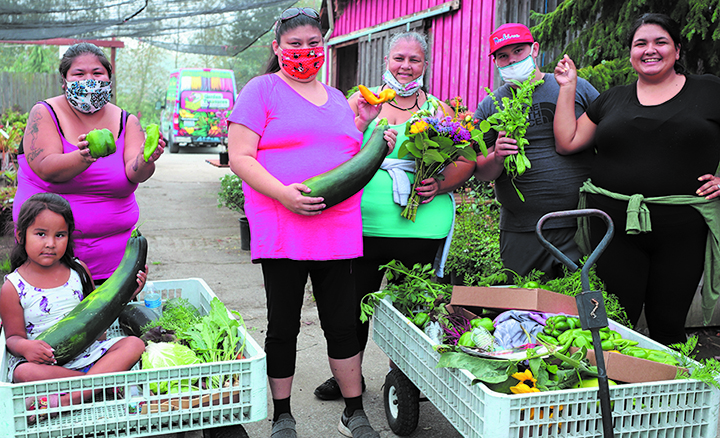 One such participant was Lummi elder Anita Rutherford. She shared that she's attended every Garden Treasures u-pick day hosted by the Diabetes Care and Prevention Program thus far and looks forward to attending the final two on September 30 and October 17 as well.
"I've been a member of the diabetes program ran by Roni since the beginning, some 5 or 6 years now, and I'm happy to say my diabetes is under control because of this program's guidance," shared Anita. "They've taught me how to properly monitor my blood sugar level and how to view food as my best form of medicine."
The quest for optimal health and wellness begins with discovering a vibrant lifestyle based on nature's gifts. Whether it be eating more fruits and vegetables in every day meals or crafting traditional medicines with locally grown flowers and herbs, the power of plants is undisputed.