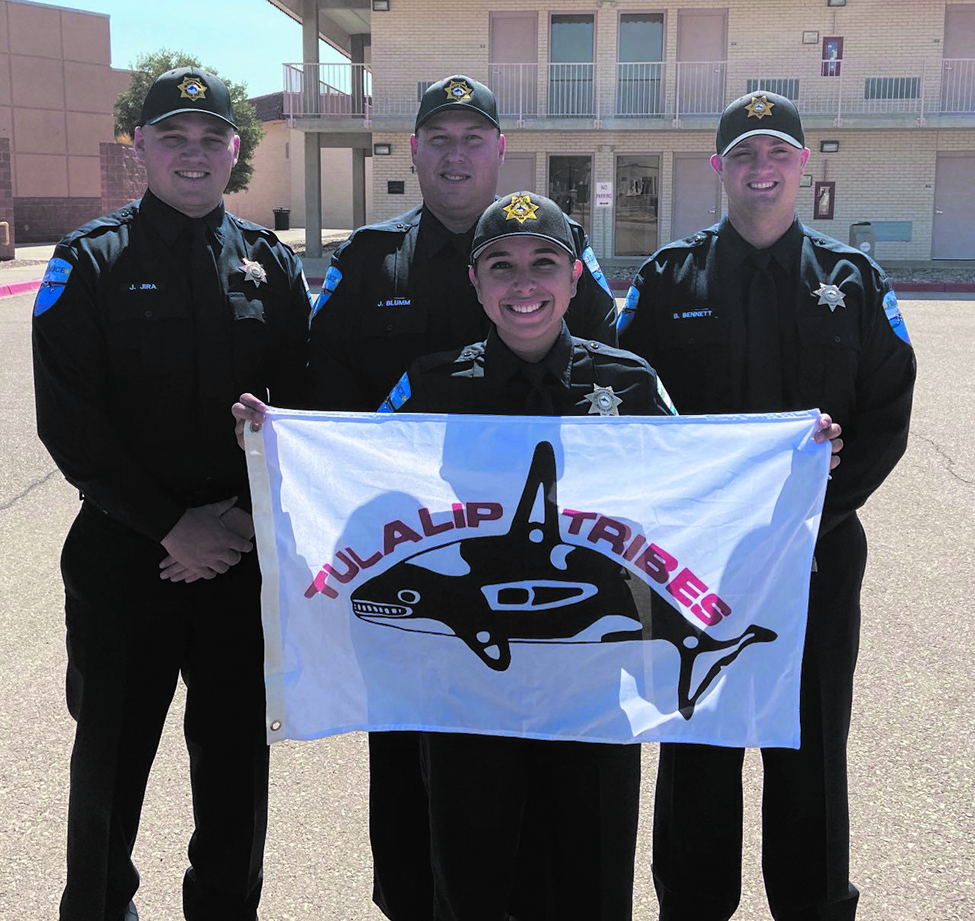 By Kalvin Valdillez, Tulalip News
After returning from three months of intensive training at the U.S. Indian Police Academy in Artesia, New Mexico, four cadets were officially sworn-in as Tulalip police officers on the afternoon of October 7, taking the oath to support and defend the Tulalip Tribes constitution.
The new TPD officers were surrounded by their friends, family and fellow officers while they were welcomed by tribal singers and Tulalip tribal leadership who spoke of commitment, bravery and compassion while congratulating them on their new journey.
The celebration, of course, was taken with the appropriate safety measures, ensuring everybody in attendance was practicing social distancing and wearing a mask. Angela Davis, TPD Professional Standards Manager and tribal member, organized the event and stated that normally the night would end with a feast, but with the recent uptick in coronavirus cases at Tulalip, the police department opted to forgo the meal. However, Angela explained that enjoying cake together is a longstanding nationwide tradition after newly appointed officers take the oath, so she ordered cake and had to-go boxes ready so the officers could bring their cake home and take part in the tradition safely.
Four lateral officers who transferred from different police departments were also sworn-in on the 7th. Officer Jason Lee, who has taken the oath for a number of Washington State police departments, said the ceremony was, "amazing. I've never seen anything like it before. When I was previously sworn-in at other departments, it was always a quick process where we took the oath and signed the paper. But here, we actually had a ceremony in both the judicial way and the Tulalip way, council members spoke and they are very passionate about the city, the reservation and law enforcement. I thought that was pretty moving."
Angela Davis stated, "My prior military service allowed me to be a part of ceremonies like this. We wanted to make sure that we had the ceremony that we're used to having at these academies that are off-the-reservation, but also incorporate our culture. We made sure that we had a prayer song or protection song. I thought it was important to have the ceremony available for our new recruits, and our new officers, and even welcoming our new lateral officers, to bring everyone together."
Now officially members of the Tulalip police force, officers Cheyanne Bear, Jordan Jira, Jonathan Blumm and Brandon Bennett, recently sat down with Tulalip News, in-between defensive tactic training (DT), to reflect on the past several months while on the path to becoming a tribal law official during the COVID-19 era.
Cheyanne Bear (Assiniboine Sioux/Tulalip Mother)
Tulalip News: How does it feel, now that you've completed training at the academy and have taken the oath to protect and serve?
It doesn't seem real yet. I started here January 6th. We were supposed to leave for the academy around April or May and because of COVID, it kept getting canceled and postponed. Finally we got to go in July and we spent three months there. The best feeling that I've had so far is seeing how proud my family is, especially my daughter. She's Tulalip and I just want to give back because the Tribe has been amazing to us. And like everyone else, I want to make a difference and make it safer. Myself, the other officers, we all have good hearts and I want to show being a female Native American, that I can help make that little bit of a difference.
What inspired you to become a police officer?
I was going to school for criminal justice and I had a couple instructors whose stories were amazing, and I knew immediately I wanted to do something like that. Personally, I had some bad experiences with police growing up, they weren't the best. You see what's going on in the world, on the news, I don't want it to stay like that. I want my daughter to see that police officers aren't bad. How many female police officers are there? Like 4%. And being a Native American, a minority, there's like, none. At the academy, I was the last female that graduated in our squad. Over 90-something-percent were males. I want to show my daughter and other young women that you can do anything you put your mind to.
What did you learn at the police academy?
We learned Indian laws. We are a sovereign nation, so we learned Tulalip policies, federal polices and Washington state polices. We did stress-test scenarios where they hired actors to come in and they were screaming in our face; there were big guys, small girls, and people you didn't expect, like in real life. We did mock night calls and pulled people over. There's a lot of steps to approaching a vehicle, before you get out of the vehicle there are like 12 steps you need to take. We had the gun range; shotguns, A-Ks, handguns – and this was all in the New Mexico heat. We had about 45 physical exams and you had to pass them or you would get sent home.
Why do you believe it is important to have Native American representation on the tribal police force?
I understand where the people are coming from, being Native American as well, I understand the culture. Being out here, there's a lot of people that are related, so you just have to have an open-mind for that. I feel like that alone could help teach other officers who aren't Native American tremendously. Like at academy, the cadets who weren't Native American, we had to get them to understand that there are going to be family members showing up on scene, at the police station. Compared to the outside world, it's different here.
We are literally a family working out here. Imagine working in Marysville or Everett, when they first get to work they are 20 calls behind. It's not like that out here, you get to stop, take a moment and talk to people. One time we were handing out food to the elders, that was an amazing experience you're not going to get that anywhere else.
Now that you are officially sworn-in and a TPD Officer, what's next?
I don't plan on ever leaving Tulalip. I don't plan on working anywhere else. I've grown so much being out here, getting to know people. My daughter knows more Lushootseed than I do, so I want to have her to continue to come here and grow as well.
Honestly, I want to be a detective. That would be my dream.
Any words of advice for those interested in joining the Tulalip police force?
If you have the heart, you can do it. You can push yourself to do it and you have all the support of the Tulalip community.
Jordan Jira (Tulalip)
You are officially a Tulalip police officer; how does it feel?
It's definitely a good feeling. I feel like being a police officer is more of a calling, it's a career. Tulalip is where I wanted to work because it's where I grew up, it's where my friends and family are. I want to raise my family on the reservation. It's definitely an honorable position to have and I look forward to making the community safer and doing anything I can to put my part in.
What inspired you to follow this career path?
My grandpa was Stan Jones, Scho-Hallem; he made a big impact. If I could do a partial bit of what he did, that would be an amazing accomplishment. He always wanted what's best for Tulalip and I feel like I have similar beliefs.
Also, my dad (Sgt. Jeff Jira) has been here at the department for 20 years. Every night he'd be going out in his uniform and I just thought that was the coolest thing. Growing up with a father who is in law enforcement makes you respect officers more, what they go through. Another thing is I've always wanted was to help make Tulalip safer. Tulalip is the community I love.
What was your experience like at the Indian Police Academy?
It was definitely a good experience. We had it a little bit harder, we were kind of the trial run. It's a 13-week program. Usually on the weekends you get liberty, meaning you get to go out, go on hikes, get try all the food in New Mexico. It was pretty hard for us because we didn't get to leave at all, we were stuck on base because of COVID. Five days a week you're working hard and that goes by quick, and then there's those two days where you're just sitting in your room wanting to be at home.
Why is it important to have tribal members serve on the Tulalip police force?
I feel like being a tribal member, especially growing up on the reservation, knowing people is an advantage. It's not a strange face coming up to you with a badge, it's someone you know, someone you've seen on the reservation. It feels good being a tribal member and working for the police department. Our sovereignty is such a big thing and it's a big thing to have our own police department.
What's next for you and do you have any words of advice to share for aspiring police officers?
One thing I always wanted to be when I was younger is a K-9 officer. You have to start out on patrol for the first couple years, but I always thought it would be really interesting to be a K-9 officer. And not going to lie, it's a hard job. Especially nowadays, you have to have love for the job, love for the people and the community. If you feel like it's a career and not just a job, go for it.
Jonathon Blumm (Enrolled Alaskan Native)
You were sworn-in on Wednesday, congrats! How does it feel to reach this milestone?
It feels very good, I am pretty proud of myself and all of the other officers. It's a lot of work, the three months in Artresia were rough, but awesome. I started here in February in pre-academy. At the beginning we were going over laws and lots of DT, shooting, getting ready for the academy. Going to Artesia was an eye-opener but also, looking back, you make a lot of good memories and good friends.
Why did you want to become a police officer?
I always wanted to be a cop, I just never thought I would actually do it. Before this, I was a fleet mechanic for the Tulalip Resort for 12 years. I've always seen the position posted online, and one day my fiancé and I decided to just apply and go for it.
I'm Fish and Wildlife – still a police officer but basically patrol the woods and water. I commercial fished on the state side for 5 years, I built two boats and fished under a permit so I was already familiar with boating and commercial fishing. That's the real reason I went for Fish and Wildlife because I get to be on the water.
Why do you believe it is important to have Native American officers on the tribal police force?
If you're in uniform they can come up to you, and feel more comfortable doing so because they know you. I know a lot of people out here from working here for so long, and they know you, so you get that support from them.
What's next in your career path with the Tulalip Police Department and do you have any words of encouragement for those who wish to become a member of the tribal force?
My goal is just to stay here and work my way up if I can and just grow. And even if you don't think you can, try.
Brandon Bennett (Tulalip community member/parent)
You were recently sworn-in as a member of the TPD police force, let's talk about your journey up until this point.
I applied back in 2019, did a written interview with the chief and commanders and then did a polygraph, psych evaluation and medical exam. I got hired-on and started working as a cadet. We did a lot of pre-academy work until July 5th, when we left for the academy in New Mexico. We got back a week ago today and it feels so good to be back with the family, my kids and my wife. My wife is other native, my son is other native and my daughter is Tulalip. It felt amazing to be sworn-in, it was a long process. The academy was not easy. I'm talking 10, 12, 16-hour days, so getting sworn-in is a huge accomplishment.
What inspired you to become a police officer?
To show the community that I care. I want to help protect and grow the community and try to keep all the drugs off the reservation.
Why is it important to have members of the community on the tribal police force?
It's important that kids don't see police officers as bad people, so they don't get afraid or think we're there just to arrest somebody. Sometimes, that is our job, but most of the time we're there to help the community out with whatever is needed at the time.
What's next in your career as an official TPD officer?
Field training. Once I pass that, hopefully I get my own vehicle. I'm excited to get out there and start patrolling, I want to connect with more people, talk to more citizens, play basketball with the kids if they're playing. Just to show that we are all the same, just because I wear a badge doesn't mean I'm anything more.
The new Tulalip Police Officers will be out and about the rez while training with their senior officers, be sure to give them a warm welcome! And for more information about becoming a Tulalip Police Officer, please contact the department at (360) 716-4608 or visit their new website at www.TulalipTribalPolice.org
Chris Sutter, Tulalip Chief of Police, expressed, "It's a real positive step in the right direction for the Tulalip Tribal Police to bring on and hire new officers to help grow the department. We're all about community and service to our community, being guardians and protectors. We're making significant investments in time and training to help our officers be successful in their new role here in Tulalip. I'm really pleased to see this happening."