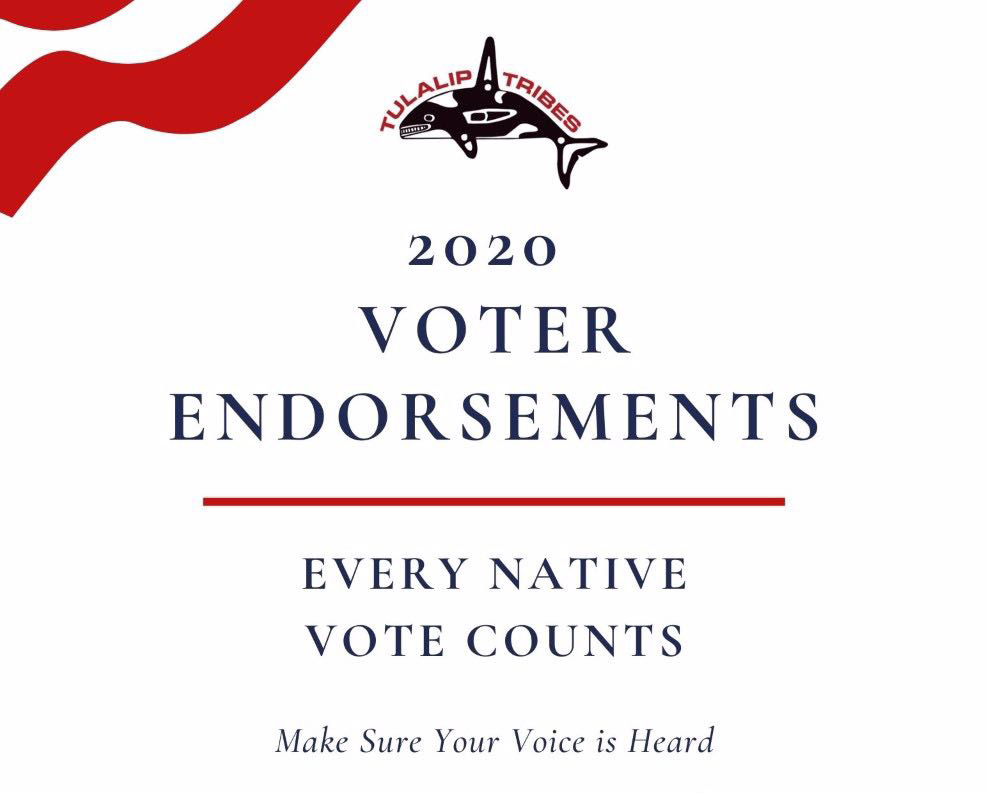 Referendum 90-Yes. Comprehensive age-appropriate sexual and reproductive health education plays an important role in teaching children about what kind of touching is appropriate and which is not. Education of teens about sexual health is critical to preventing unwanted pregnancy and STD/STI's. This referendum affirms a bill passed by the Washington State Legislature in the beginning of 2020 while leaving an "opt out" option for all students.
Advisory Vote on 32- Maintain. This advisory vote upholds a bill passed earlier this year by the Washington State Legislature that prohibits businesses from using single-use plastic bags and requires an 8-cent pass through charge for each paper bag that it distributes to its customers.
Advisory Vote on 33- Maintain. This Advisory vote upholds a revenue-generating bill passed earlier this year the Washington State Legislature that imposes a tax on the rental of heavy equipment within the State equal to one and one-quarter percent of the rental price on each rental. The tax revenue generated will go into two state accounts that fund transportation projects in the State.
Advisory Vote on 34- Maintain. This Advisory vote upholds a revenue-generating bill passed earlier this year the Washington State Legislature that increases a business and occupation tax on certain businesses with the revenue generated by the increased tax will go into the workforce education investment account and the Washington state general fund.
Advisory Vote on 35- Maintain. This Advisory vote upholds a bill passed earlier this year the Washington State Legislature that changes taxes on certain businesses. This change should bring the state and the nation into compliance, and reduces the threat of retaliatory tariffs against Washington industries such as fish, wine, and intellectual property.
President/ Vice President of the United States
Joseph R. Biden and Kamala D. Harris. Joe Biden and Kamala Harris are committed to upholding the U.S.'s trust responsibility to tribal nations, strengthening the Nation-to-Nation relationship between the United States and Indian tribes, and working to empower tribal nations to govern their own communities and make their own decisions. The current administration has attacked environmental protections, refused to condemn white supremacists and their mishandling of the pandemic has led to the death of over 215,000 Americans. America and tribal nations cannot afford four more years of Donald Trump.
US Representative Congressional District 2
Rick Larson. Congressman Larson has been a strong advocate for jobs, transportation, and infrastructure projects in the second District. Before serving in Congress, he served on the Snohomish County Council and worked on economic development for the City of Everett.
Governor of Washington State
Jay Inslee. Under Inslee's leadership, Washington recovered from the last great recession to become the country's #1 rated economy, and our state is poised to rebound more quickly thanks to the Governor's progressive policies. Inslee's' continued work with tribes has helped support tribal sovereignty since the beginning of his time as Governor. His response to the pandemic has saved the lives of Washingtonians.
Lt. Governor of Washington State
Denny Heck. Former Congressmen Denny Heck has represented Washington State at every level of government throughout his time he has been a staunch advocate for tribes in all those places. Denny was chief of staff for Governor Booth Gardner when they signed the Centennial Accord with Washington Tribes outlining the process by which tribes and Washington State will consult on a government-to-government level.
Secretary of State
Gael Tarleton. Representative Tarleton has 30 years of experience as a defense intelligence and national security analyst. She will bring that knowledge to bear to protect our free and fair elections in the state of Washington Tarleton was also the prime sponsor of the House bill that resolved Tulalip's tax case against the State of Washington.
State Treasurer
Mike Pellicciotti. Representative Pellicciotti formerly worked as an economic crimes' prosecutor and Assistant Attorney General. Mike has never accepted corporate campaign donations and has been a strong advocate for financial transparency. He will bring a pragmatic approach to the office of State Treasurer.
State Auditor
Pat (Patrice) McCarthy. Pat is the current Washington State Auditor, and has been so since 2017 when she was the first women elected to the position. She previously served as the Pierce County Executive and Pierce County Auditor. She has been a lifelong Democrat.
Attorney General
Bob Ferguson. Ferguson has served as Attorney General for the last 8 years where he has taken on large corporations like Comcast for defrauding its customers and won. He has taken on corporations and the Trump Administration, who have damaged our state's natural resources.
Commissioner of Public Lands
Hillary Franz. As Commissioner, Hillary has worked hard to protect Washington's natural resources and public lands just as she did when she was an environmental attorney. Commissioner Franz has built a strong relationship with tribes around the state for her commitment to consultation on issues that affect tribal treaty rights.
Superintendent of Public Instruction
Chris Reykdal. Under Superintendent Reykdal graduation rates have risen steadily and Washington is on track to reach its 2027 targets. His challenger wants to send children back to school during this pandemic with no plan for how to deal with it. She also has no experience as an educator.
Insurance Commissioner
Mike Kreidler. Kreidler has served as Insurance Commissioner since 2001. He is a retired Colonel in the U.S. Army Reserves and Doctor of Optometry.
State Senator
June Robinson. Senator Robinson was appointed to former Senator John McCoy's (Tulalip) senate seat after his retirement. Prior to that, she served as the Position 1 State Rep. for the 38th district since 2013. Her expertise on Operating and Capital Budget matters has helped bring opportunity to our district.
State Representative Position 1
Emily Wicks. Representative Wicks was appointed to Position 1 when Senator Robinson replaced a retiring Senator McCoy (Tulalip). Wicks is the President of the National Women's Political Caucus of Washington and was formerly the legislative aid for outgoing Lt. Governor Cyrus Habib. She is the best choice for this race.
State Representative Position 2
Mike Sells
Mike was elected in 2005 and has been a strong progressive leader representing the 38th Legislative District in Olympia for 15 years. He is the Chair of the Labor and workforce development committee and has been a strong advocate for labor and education issues.
Washington State Supreme Court Justice Position 3
Raquel Montoya-Lewis. Justice Raquel Montoya-Lewis is the first Native American woman in the Washington to be appointed to the Supreme Court. She is a strong advocate for children, families and justice. She is formally endorsed by the Tulalip Tribes and is the best candidate for the position.
Washington State Supreme Court Justice Position 4
Charles W. Johnson. Justice Johnson is running unopposed but his commitment to equity and justice has shown through in his nearly 30 years on the State Supreme Court. He co-chaired the Washington State Minority Justice Commission for 24 years.
Washington State Supreme Court Justice Position 6
Helen G. Whitener. Justice Whitener was appointed in April and is running to retain her seat. She is the first black woman to sit on the Supreme Court for Washington. Rated as "exceptionally well-qualified" by a number of bar associations and having an endorsement from every current Supreme Court justice, she is clearly the best option for this position.
Washington State Supreme Court Justice Position 7
Debra L. Stephens. Stephens is the current Chief Justice of the Supreme Court and has served the court and the state of Washington since her appointment in 2008. She has been rated "exceptionally well-qualified" and has earned your support.
Court of Appeals Division 1, District 2, Judge Position 2
Linda Coburn. Coburn has served as City of Edmonds Municipal Judge since 2015 and is seeking election to the open Court of Appeals position. She emigrated to the U.S. from Taiwan at the age of four and earned her law degree from Seattle University. She has had a long and successful career and in law and is endorsed by many current and former justices.
Snohomish Superior Court, Judge Position 8
Cassandra Lopez Shaw. Lopez-Shaw has experience as an Attorney in civil, criminal and family law. In 2019, she was awarded the Domestic Violence Advocacy Award by the Washington Women Lawyers for her work to support victims. She is rated "exceptionally well qualified and "well qualified" by a number of bar associations. Both candidates are well-qualified, but we believe Cassandra is the best selection for this position.
PUD Commissioner
Sidney (Sid) Logan. Commissioner Logan is the incumbent in this race, he has advocated for programs that help customers reduce their carbon emissions. He is the best choice for this position.