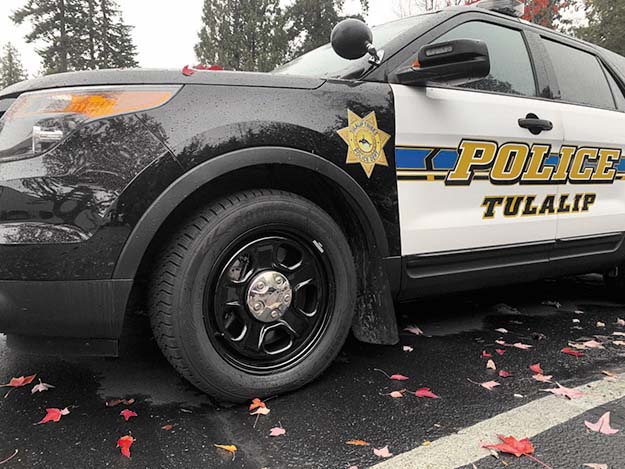 By Kalvin Valdillez, Tulalip News
Over the past several months, the Tulalip Police Department has welcomed nearly ten officers to the tribal law enforcement agency. These include four lateral officers who transferred from other departments and four new officers, who recently completed three-months of training at the United States Indian Police Academy in New Mexico. With the addition of these eight officers, TPD currently stands about forty officers strong.
According to TPD Professional Standards Manager, Angela Davis, the department would like to see the tribal police force increase by about twenty-five additional officers.
The main focus now is recruitment. TPD has made it their priority to introduce Tulalip tribal members and citizens to the badge, in an attempt to strengthen the community from within. With the Tribe's best interest at heart, Tulalip PD is looking to increase communication and interaction with the people who they vowed to protect and serve, and they believe a major key to achieving that is bringing on individuals who also have Tulalip's best interest at heart, whether they are members of the Tribe or simply call Tulalip home.
Angela, who oversees a large portion of the hiring, took a moment to speak with Tulalip News about the process of becoming a Tulalip Law Enforcement Officer.
TPD is growing! Eight new officers were recently sworn-in and the department is still looking to expand. How long does it take to become a police officer after making the decision to apply?
It takes so long for them to get to this point; a long time to go through the background process. To get through a background investigation, there's a lot of steps. The first is they have to pass the testing requirement for employment and they have to pass the interview. Once they get done with the interview process, we do a conditional offer of employment, stating if you pass the background investigation, we'll hire you.
Once we have an effective start date, then we have to try to get them into the Academy. Unfortunately, being a tribal division, we do not have priority when we go through the Washington State Academy in Burien, it's a hurry up and wait and you might not get in. We've chosen to go to the U.S. Indian Police Academy in New Mexico. Even with that though, there's a waiting list. It could be months. And then when they finally go to the Academy, which is three-months long, they come back and have to complete their field training before they can be on the street by themselves.
There have been strong efforts to hire and train officers from within the community, why is it important to have that tribal and citizen representation on the tribal police force?
Chief (Sutter) and I both believe that it is important to have people that represent the community that we serve on the force; having officers of minorities, any kind including non-tribal, that represent all of the people that we serve. And we have all different kinds of people out here, different cultures and races. It's important for us to have that representation so when people are interacting with a police officer, they feel more comfortable and at ease, like they can relate and connect with them. It's more about building a relationship and connection, to try to help de-escalate a situation better, to understand where they're coming from – why they might be acting this way. Or let's say they're other Native from another tribe, they might understand some of the culture and traditions here. A lot of the Tulalip ways are done on other reservations, and so just trying to understand the ways of the Tribe and the people and not disrespect it.
Every single officer who recently took the oath stated that they are not going anywhere, that they plan on serving the Tulalip community for years to come. How does it feel hearing that, especially after several former TPD officers left once they received their training and the necessary amount of required field hours?
I think it's really great because retention is key. We have had a lot of turnover in the past couple years. Retention is a big topic that we've been talking about with the Board of Directors. Law enforcement officers off-the-reservation get to be a part of a retirement pension package, so if you work twenty years you get to have a pension. Here, we don't offer that. We have a 401k-type of retirement package, but it's not a pension. A lot of times, off-the-reservation, medical insurance and stuff like that is cheaper. They have the same great benefits but at a lower cost for them and their families. Here, we are all under the same umbrella as the government, TGO, and everyone that works for them. It's really difficult to retain people because of wages, because of insurance, and sometimes even growth and opportunity. But, it's really nice to have people that are committed to staying here.
And it has to do with recruiting. When we're recruiting, we're trying to tell them upfront that we want someone who is committed to the community. We tell them that we would like them to be committed to serving Tulalip for at least five years with us. I think one thing that's different to with our recruitment is that we're trying to find people with a servant's heart – just good people on the inside. I'm not focused about someone's physical appearance, their physical abilities as much; are you tall and strong and intimidating looking? Are you a woman? Are you a man? It sounds like all those things happen in the law enforcement world but I'm not like that. Chief's not like that. We want people with a good heart that will serve our people and respect each other and have dignity and respect the human life and not have this power struggle with the people.
Where would one start on the journey to becoming a member of the TPD?
We have our new updated Tulalip tribal police website where they can look at all the information there. On there, it talks about the careers and they can click on job openings to learn more. They can apply to the any of the positions that are open. And they can always reach out to the Chief or I and we can take their name down for any future openings, so just reach out to us, stop by anytime and introduce yourselves.
Can you outline in detail the process of becoming a Tulalip officer?
After successfully passing the interview process, they can do their new hire paperwork, their UA, and fill out this thirty-five-page personal history packet that lists their whole life, along with some personal references, work references, any other law enforcement agencies that they've applied to, any drug history – just tons of questions.
I then call them in and do what's called an integrity interview, and ask them eleven more pages worth of questions that are similar, but now I'm seeing them face-to-face to see how they respond. Are they pausing? Are they quick to answer? Are they trying to get around the question? It's just another way to verify what they wrote.
The next step would be a polygraph test, once they pass that they get to the point of a medical exam. They also have a psychological evaluation from certified public safety psychologists. If they pass that, and all the references and all the information I got, all that totality of everything allows us to decide if they're suitable for Tulalip or not.
Hopefully the department continues to grow. I know the new officers are excited to get out into the community. Perhaps by seeing people of the community on the force, others will be inspired to follow a career in law enforcement with TPD.
You know, it is a long process. It's not an easy decision, it's not an easy job to get into. For anyone that wants to become an officer, and that has tried and failed at some point, you can always keep on trying. Sometimes time is all that people need. For instance, let's say that there was someone that was young, and used to get a bunch of tickets, or smoked marijuana. Well, now the laws have changed and the times have changed. Don't disqualify yourself, apply for the job and let us make that decision.
If you wish to pursue a career with the Tulalip Police Department, please reach out to Angela to begin your new journey with law enforcement. For additional details, visit www.TulalipTribalPolice.org or call the non-emergency line at (360) 716-4608.