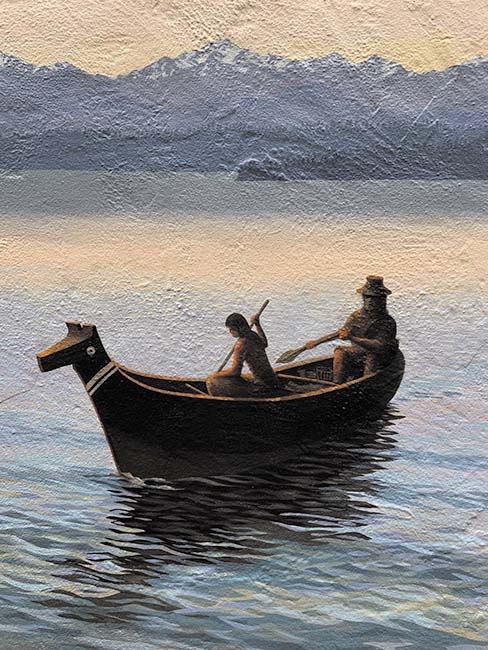 By Kim Kalliber, Tulalip News
A recently finished mural project in downtown Edmonds, spanning two facing walls, portrays the pre-European life of our Coast Salish ancestors. Local residents and visitors can view the large-scale depictions of early encampments, canoes, smoking fish, cedar baskets and garments, and native plants and animals.
Completed in September 2020, the mural project is a collaboration of hard work and cultural understanding between Edmonds artist Andy Eccleshall, and Tulalip tribal member artist Ty Juvinel. The project was organized by Mural Project Edmonds, a committee of Art Walk Edmonds.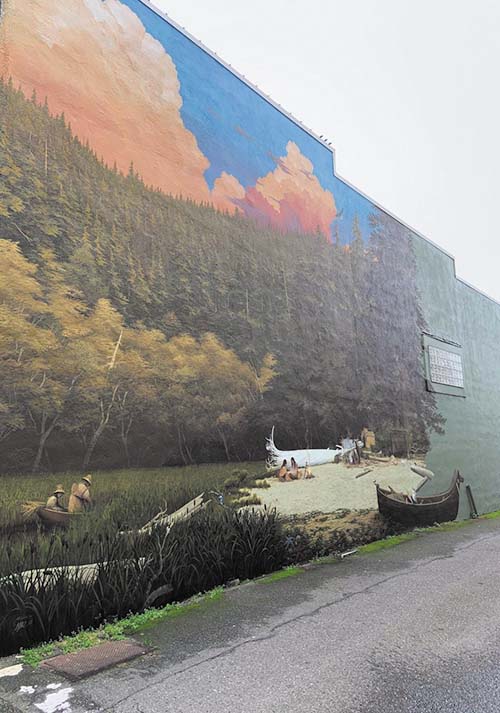 "I was approached by Andy because of the carving I am doing for the Edmonds Historical Museum, as well as various exhibits throughout Edmonds," explained Ty. "Andy needed someone to create a mural that would represent the history of Edmonds and I mentioned the possibility of doing a mural depicting early contact, between fur trading.
"Andy did the amazing painting and I helped with the depiction," said Ty. For more than a year, Ty shared history and photos with Andy, including a visit to the Hibulb Cultural Museum, to help him gain a better understanding of Coast Salish culture.
Everything from the way huts were constructed, the design and use of canoes, how cedar was used, traditional cooking methods and the inclusion of a woolly dog, were discussed by the two artists.
Ty explained that woolly dogs were bred for their long hair, which was perfect for weaving into blankets and other items.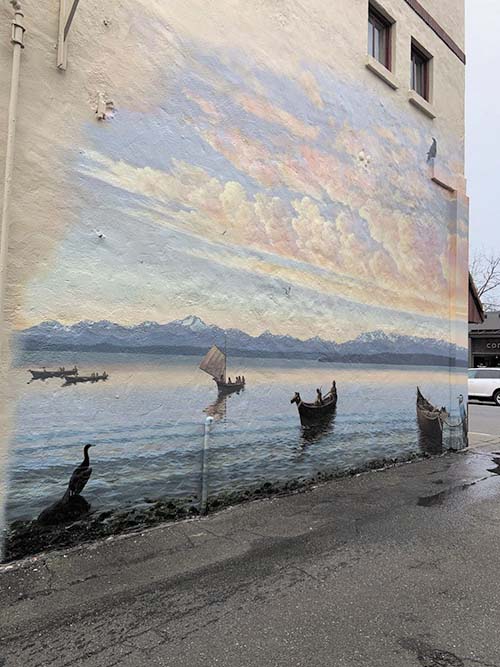 "One thing I like to mention, is Andy was told by a passerby that the women in the painting were wrong," said Ty. "The passerby said they were wrong because their hair wasn't matted and the hair shouldn't be that nice. Luckily, I was there that day to dispel that claim, and educated them both that the Salish people bathed religiously, sometimes up to three times a day. Even during the winter, with cedar bow's dipped in water and brushed against the body."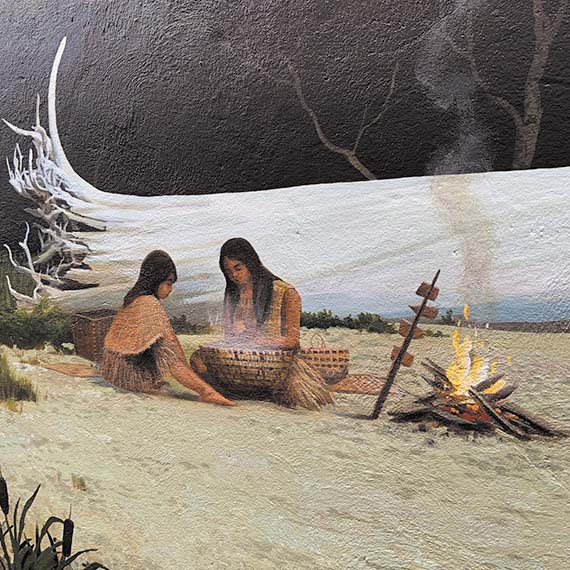 "That area of Edmonds used to be a marsh land, so I figured it may have been used as a summer camp area; summer foraging and prepping for winter," explained Ty. "From there it was just trying to close my eyes and go back to those days of beach camps, elders teaching basketry, hunting, fishing, kids doing as they please, everyone is busy with their chores, preparing for the winter. I was hoping the idea of a community would be shown, and Andy shows it. Community is everyone bringing their resources and abilities together for the community. Again, Andy depicts this wonderfully. When I stand in front of this mural I feel like I'm waiting for them to come to life. The men on the water shouting ashore, the scent of the smoke mixed with salmon and gentle tides."
Ty's signature can be found, along with Andy's, at the base of each mural.
"It was a joy to work within the Edmonds community. Every time I visit I'm welcomed as a neighbor and everyone seems very genuine. I look forward to my next visit," added Ty.
The mural is located on facing walls in the alley between 4th and 5th Avenue in Edmonds, connecting to Main Street.