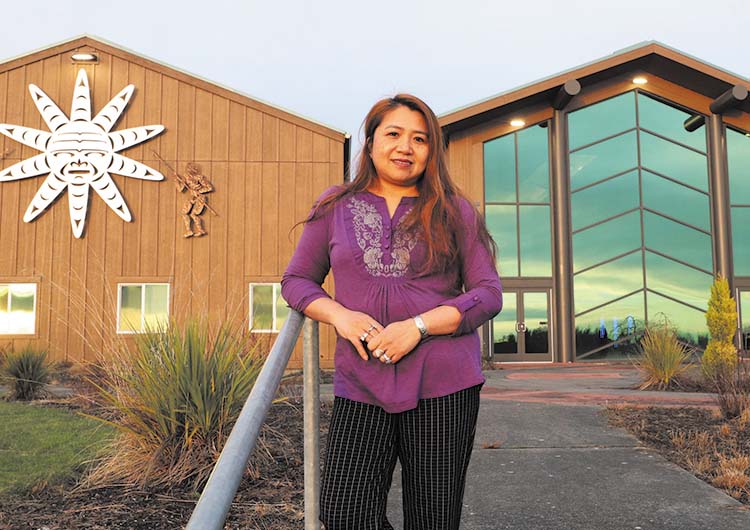 By Micheal Rios, Tulalip News
Native communities and diabetes. The two have been linked since colonization forcibly removed tribes from their ancestral lands and traditional food sources. Ever since it's been a never ending struggle to battle one of the most challenging health problems of the 21st century. According to the World Health Organization, each year an estimated 1.8 million deaths are directly caused by diabetes, while another 2.2 million deaths are attributed to high blood glucose.
It's no question that diabetes is a nationwide health problem, but for Native people its life altering effects are felt at a much higher rate. Native communities have the highest diabetes prevalence of all ethnic groups in the United States. Nearly 1 out of 6 Native citizens has diabetes presently, and the Centers for Disease Control predicts that 1 in 2 Native children born since 2000 will have type 2 diabetes in their lifetime.
Fortunately, Tulalip is excited to announce a vital new resource in its fight against the shared enemy. Dr. Kay Moua has joined the health clinic's Diabetes Care and Prevention Program. An advanced diabetes management specialist, she brings a treasure trove of experience and cutting edge knowledge. She is well regarded for her expertise in the latest techniques and most effective practices for managing and preventing diabetes.
Dr. Kay was gracious enough to be interviewed by syeceb staff in order to introduce herself, her medical background, and what she hopes to accomplish in Tulalip. 
SYS: You have a unique cultural background. Can you tell us about it?
I was born in Laos, and my ethnicity is Hmong. My family migrated to a refugee camp in Thailand after the Vietnam War and came to the Unites when I was 11-years-old. I started learning English (e.g. the alphabet, colors, numbers) in 7th grade.
My husband and I have been married for 30 years. We have 4 children, 3 boys and 1 girl. We are family-oriented people and love to host. My husband is the oldest of seven siblings, so we're always surrounded with family and friends. My in-laws live on the same property, which is common for us to have multigenerational living in the same house. My mother-in-law is a Shaman, so we still perform traditional rituals and practices.
SYS: Please describe your educational journey to become Doctor Kay.
I've worked in the medical field since graduating High School. My first job was in a family practice where I started as a receptionist, then later trained in back office work, which included billing and rooming patients. I attended a community college while working full-time. After completing my AA degree in Medical Office, I continued school in the pursuit of a nursing degree.
Once I graduated with my Associate Degree in Nursing and earned my license, I went to work as a Registered Nurse (RN) at Providence hospital in Everett. Seeing so many people come into the hospital with poor diabetes control motivated me to pursue my Nurse Practitioner license to help people living with diabetes. After attending graduate school, where I received my Master's Degree in Nursing (MSN) and Advanced Registered Nurse Practitioner (ARNP) license, I joined the Endocrinology team at the Everett Clinic to care for patients with diabetes.
Even though I enjoyed my work very much, I knew that I need to get back to school to achieve my personal goal of having a doctoral degree. With hard work and dedication, I graduated with a Doctor of Nursing Practice (DNP) degree in 2015. I continued to take extra classes and trainings and was able to pass the National Board Certified-Advanced Diabetes Management (BC-ADM) certification the following year.
SYS: What motivated you to join the Tulalip Health Clinic and practice medicine for the Tulalip people?
Native Americans are one of the highest risk groups for the development of diabetes. I was surprised to find out that in the history of the Tulalip Health Clinic an Endocrinologist or someone like myself has not been available for the people of Tulalip without a referral to an outside facility. I am pleased to be one of the first contracted providers to manage patients utilizing devices like CGM and insulin pumps. These technologies have evolved over time and under my care and direction we will be offering these devices in 2021 to patients who have this interest in advanced diabetes management.
The Tulalip Health Clinic already has a successful Diabetes Care and Prevention Program. I love the fact that the program is able to provide so many activities to teach people about diabetes and keep the community engaged with the clinic. In fact, I've never came across another diabetes program that is so unique and able to provide so much for their patients. I want to work with the team to help expanding the diabetes program by offering advanced diabetes care to Tribal members, to ensure that their treatment is up-to-date with most current medications and have the option to use technologies to enhance diabetes management. Tribal members should not have to seek care outside the Reservation for diabetes treatments.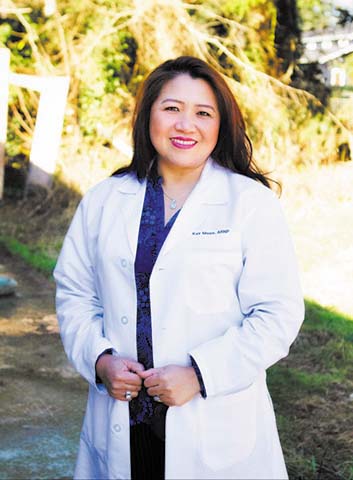 SYS: You specialize in advanced diabetes management. Can you explain what this means?
As I mentioned earlier, diabetes care has been my main focus from training during Nurse Practitioner school and my doctoral degree school. I've worked with patients with diabetes for over ten years. I continue to immerse myself with conferences and continuation education that's specialized on diabetes to stay up-to-date with current medications and technologies and guidelines.
I'm an Advanced Registered Nurse Practitioner (ARNP) by trait, with a Doctor of Nursing Practice (DNP) degree and national Board Certified-Advanced Diabetes Management (BC-ADM) specialist. Patients are referred if they need to improve blood sugar control or have interest in insulin pump or continuous glucose monitor. Diabetes treatment is complicated and has to be individualized. I make sure that patients are offered the best and most appropriate treatment options available to the individual.
I also have extensive experience incorporating technologies such as continuous glucose monitors and insulin pumps to help patient improve diabetes control. Insurance requires additional documentations and special forms for approval. These technologies requires extra training and longer appointment time with patients that may not be feasible for general providers. This is why my service is required. I work with these devices every day and familiar with insurance requirements for quick approval.
SYS: With your extensive professional experience, what do you consider the biggest challenges to minimizing the diabetes epidemic?
Unfortunately, diabetes prevalence continues to increase every year. There are many contributing factors to this epidemic. I think our current financial economy posts many obstacles in diabetes prevention and treatment. Budget is tight in most households, especially with more and more people losing their job during COVID, leading to even more unhealthy diet and lack of exercise.
We all know the importance of a healthy diet. However, it may not always be feasible when you have a tight budget. Fresh food costs 2-3 times more than process food. People are working longer hours and don't have time to cook, so they are eating more fast food. Combining processed and high fat foods with eating late at night contribute to weight gain, leading to increased insulin resistance or worsening diabetes control.
Healthy diet and routine exercise are the cornerstone of diabetes prevention and treatment. As people are working longer hours to make ends meet, they don't have time to do anything else. Exercise is unlikely to be a high priority after a long work day. Lack of exercise increases fatty tissue, which causes insulin resistance and high blood sugar.
SYS: In your ideal scenario, how will your work positively impact the Tulalip community?
Diabetes management is complex and requires collaboration between the patient, their family members and the healthcare team to achieve best outcomes. As a new provider of the community, it's important for me to learn the culture and incorporate the Tribal ways of living when making treatment plans. I believe getting to know the people, developing good rapport with patients, and building trust with the community are the key steps to improving diabetes control within the Tulalip community.
My understanding is that some tribal members have been going elsewhere for advanced diabetes care or have not been active in seeking diabetes care. My goal is to provide the most current diabetes treatment options for members living with diabetes right on the reservation. I will need to prove my knowledge and earn the trust of the community in order to draw members back to the Tulalip Health Clinic for diabetes management.
SYS: A principle of Native culture has always been holistic care (mind, body and spirit). Considering this, what advice or best practices would you suggest to combat diabetes and pre-diabetes?
I've always believe in holistic care approach. It is crucial to access and address the individual's mental and physical health that may impact their ability to maintain diabetes management. Successful diabetes care also requires taking the time to access and get to know the patient, their family, their environment, and cultural practices and incorporating this information into individual treatment plans. We all have different cultural practices and traditional food that should be respected.
I'm so excited that the Diabetes Care and Prevention team has a garden to showcase and incorporate the Pacific Northwest native plants for natural medicines and herbal remedies. The Diabetes Program garden provides diabetes education and promotes traditional food, healthy eating, and activity. Healthy diet and staying active are important for everyone, but even more crucial for those who have diabetes or prediabetes.
My goal is to be a resource and provide guidance for patients who have diabetes or at risk of developing diabetes through obstacles like diet, exercise, blood sugar checking, or medication management. Uncontrolled diabetes can cause many unforgiving long-term complications. Diabetes can start to cause damage to internal organs in prediabetes state. Therefore, it is important to do everything you can to maintain good blood sugar control if you are considered high risk or as soon as you found out that you have diabetes.
My vision for the Tulalip Diabetes Program is to expand diabetes care to Tribal members with prediabetes. Historical records show that at least 20% of these patients convert to full blown type 2 diabetes yearly. We need to focus our attention on preventing diabetes in order to decrease the diabetes epidemic. I hope that we will be able to offer routine educational group classes on diabetes disease and have activities to promote healthy eating and active living once it's safe to have group classes again. In the meantime, I encourage everyone to find safe activities to stay active and practice meal portion control.
SYS: Anything else you'd like to share to our readers?
Special thanks to Roni Leahy (Tulalip Diabetes Program Coordinator) for having the vision to expand the Diabetes Care and Prevention Program and entrusting me with this opportunity. I am grateful for the support from Dale Jones (Diabetes Program Advocate) and Brooke Morrison (Diabetes Program Assistant). I also like to thank the Tulalip Healthcare providers, Dr. Chad Cleven, Dr. Natasha LeVee, Dr. Howard Johnson, Dr. Rhonda Nelson, and Dr. John Okemah for welcoming me to the clinical team.
It is an honor and privilege to have the opportunity working with the Tulalip Health System. I look forward to learning the Tulalip culture, earning the trust of each patients and the community, and collaborating care with the clinical team to improve the health and quality of life of tribal members suffering from diabetes.