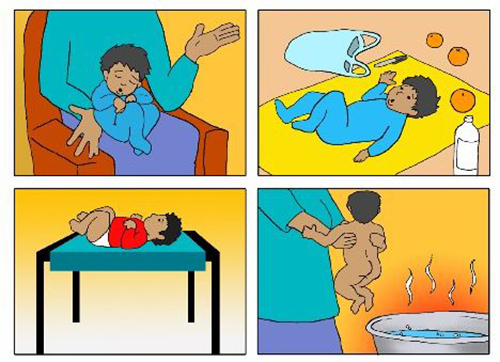 By Kalvin Valdillez, Tulalip News
Last month, when the collective known as the Maternal Child Health Committee (MCHC) formally introduced themselves to the community via Tulalip News, the people showed a great amount of interest for the new committee and the possibilities it offers their families. Comprised of Family Haven, TELA, Community Health and beda?chelh, the group of Tulalip programs aims to provide assistance, education and resources to expectant mothers and young families by uniting as one.
"Our goal is to bring together all the different departments within the tribe, that serve families with children under five, to provide information that will be helpful to the community as well as resources that might help families out," said Family Haven Manager, Alison Bowen. "Each department complements each other and we're able to look at the child and the family in a really global or holistic way."
The committee meets regularly, brainstorming ideas for upcoming classes and activities, as well as discussing how to reach more mothers and young families who can utilize their services. Each month, MCHC will host an online Zoom class for the Tulalip community where participants can interact with other parents, learn new skills, ask any questions and win prizes. The departments will alternate hosting duties every month and each lesson will focus on a new topic, which that month's respective department specializes in. Now officially underway, MCHC is gearing up for their very first Zoom lesson on February 18, which will be led by Family Haven.
"We will be teaching from the Family Spirit curriculum, from Johns Hopkins Center for American Indian Health," said Sasha Smith, Family Haven's Family and Youth Support Coordinator. "We're going to teach from our Infant Care section, which is called 'how to protect'. We are going to teach three main subjects. How to protect yourself, that focuses on blocked airways and poisonings; all about falls, infants experiencing fall related injuries; and burns. And we'll be going over water safety."
Sasha explained that the Family Spirit curriculum promotes the health and wellbeing of young families. The program is known nationally for its culturally-relevant and community-based approach to maternal health and early childhood development. The Family Spirit model was created and based off of years of research conducted by the Johns Hopkins University.
Thanks to Family Haven's involvement with MCHC, those who attend the first Zoom lesson of the year will get the first-glance at the Family Spirit curriculum and hopefully learn a few new tips, tricks and skills to try at home. As Sasha stated, the class will focus on three subjects regarding infant safety, specifically choking, falling and burns. When asked if these are common issues that mothers and families face, she replied that they are indeed and that the upcoming online lesson will provide tips on how to avoid those types of accidents.
Sasha stated that the lesson is full of reminders that urge parents to pay a little more attention to the things they may not think often about, such as the temperature settings of your water heater. She explained that since many people in the community deal with Tribal housing, you can request that they come out and check and/or adjust your water heater temp, in order to avoid accidentally using scolding hot water on you and your baby. She also indicated that the lessons are tailored to the Indigenous community and features illustrated characters who are of Native American complexion, an important detail so young Native parents can see themselves in the lessons throughout the curriculum.
She said, "I think that there are some things that we all tend to overlook. We forget about those simple things like checking the water before you put your child in the tub or thinking that because they're only six months old, and they're still in their car seat, you can set them up on the table and they'll be fine. Most parents know a lot of this stuff already, but it's a good reminder to reinforce those habits of checking your surroundings, making sure things are picked up off the floor and not setting down or allowing your child to climb up on the table."
MCHC plans on hosting in-person classes as soon as it is possible and safe to do so during the era of the coronavirus. For now, they have arrangements extending into the summer months for more fun, online interactive lessons. TELA is up next in March and they will teach a lesson on early childhood development. Be sure to stay tuned to Tulalip News for more details.
For those who are unable to attend the first MCHC Zoom lesson, Sasha wants to provide a link to a free, online First Aid & CPR training, https://www.southsnofire.org/education/a-c-t-first-aid-class, as well as the number for the Nationwide Poison Control Center, 1-800-222-1222, just in case.
The first MCHC Zoom lesson is taking place on Thursday 2/18 at 3:00 p.m. If you wish to attend, please contact Family Haven for more details or simply follow this Zoom link on the date and time listed above. https://zoom.us/j/92147697876?pwd=b0hPK0psN05Fem9DMzZRbzBGNjZ5Zz09
"I think this is all important and a great way for the larger community to learn some new information," expressed Alison. "As parents, we learn more based on new information that is constantly coming out. At one point in time, a lot of people thought it was perfectly fine to feed your kids hotdogs, and hotdogs are now known as one of the top choking hazards for children. You would think that it is safe and healthy feeding them lots of fruits and vegetables, but foods like grapes are an easy thing to choke on. So yes, there are things that are considered common knowledge that we kind of forget about and need reminding of, but a lot of this is also based on new information, new studies and statistics – how we should start doing things a little different for the future generations."