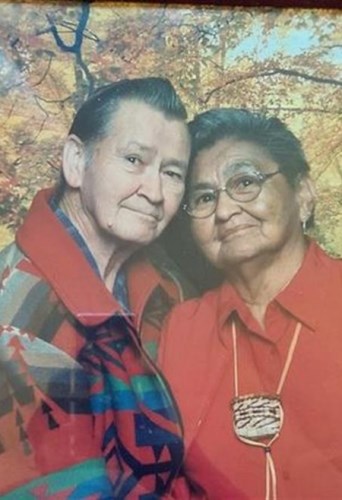 March 31, 1937 – February 5, 2021
Katherine Maryanne Monger of Tulalip WA went to be with our lord on Feb 5, 2021.
She was born March 31, 1937 in Auburn WA. She loved to travel with the 1910 shaker members and cedar circle. She was very traditional, would share her teachings with everybody that would listen every chance she could. She served on the enrollment committee for the Tulalip Tribes for years. She loved to travel with the seniors and enjoyed playing bingo and slots. She also enjoyed sewing, crocheting.
She loved cooking especially for special events at the Tulalip Amphitheatre, Boom City, kid's fundraiser events for sports, family and spiritual functions.
Although she was a raider fan she supported our Seahawks and enjoyed game days with family.
She was proceeded in death by her husband of 47 years James (Jim) Monger Dad & Mom Robert & Ivy Guss, daughters Ivy Guss II & Ella Sanchez, Brother Alvin Charles, Grandsons Albert Power and John Gibson and son in law Robert Power. And her fur baby- baby.
She is survived by her favorite cousin Lillian (Baby) Gomez and family, daughter Elizabeth Monger Grandchildren Michael (Crystal) Monger, Chris (Heidi) Enick, Dakota (Darla) Monger, David and Andrew Enick, Robert (Lisa) Guss, Ivy and Selena Guss and Anthony Power, 27 great grandchildren 15 great great-grandchildren and numerous adopted kids and grandkids and extended family.
She touched many lives and will be greatly missed by all who knew her.
Viewing at Schafer-Shipman funeral home Wed Feb 10, 2021 8am-10:30 am
Burial to follow at Mission Beach Cemetery. Arrangements entrusted to Schaefer-Shipman Funeral Home.