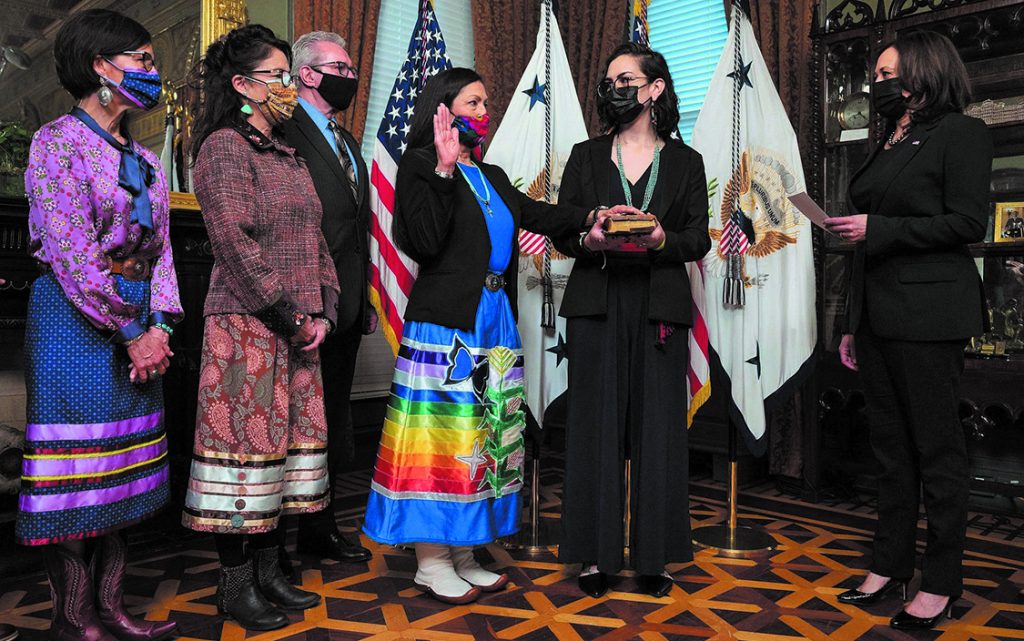 By Micheal Rios, Tulalip News
The last few years have been a whirlwind of history making transformation for Laguna Pueblo tribal member Deb Haaland. In late 2018, she burst onto the national scene by becoming the first ever Native American woman elected to Congress. While representing her home state of New Mexico, Congresswoman Haaland won over the hearts of tribal members everywhere with her unapologetically bold speeches and genuinely Indigenous perspective on U.S. politics.
Even if we didn't live in New Mexico, she become our de-facto Congresswoman because she represented us, the millions of people from hundreds of tribes that together create Native America.
Following the battle for America's soul, aka the 2020 presidential election, President Biden announced Representative Haaland's name as his top candidate for Secretary of the Interior. In doing so, the Biden Administration acknowledged the history of past mistreatment and destructive policies that have hurt tribal communities.
After all, the Department of the Interior is the primary federal agency charged with carrying out the United States' trust responsibility to Native people, maintaining the government-to-government relationship with the federally recognized Tribes, and promoting and supporting tribal self-determination. Interior provides services to over 2.4 million Native citizens that include education, social services, economic development, law enforcement, housing improvement, disaster relief, road maintenance, and natural resource management.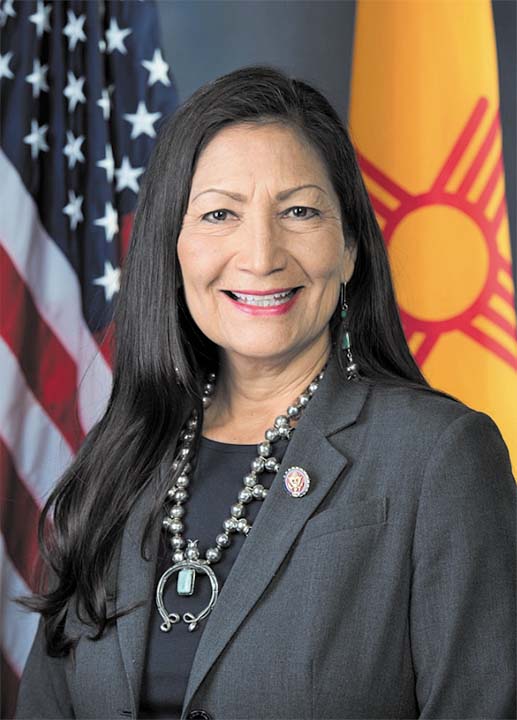 Seems only appropriate that after so many generations worth of termination based policy and mismanagement of tribal appointed funds, that an actual Native American political leader finally be given an opportunity to manage the Interior. Only then can true healing begin and trust start to build between the 574 federally recognized tribes and the U.S. government agency tasked with supporting their overall health and development.
"I'll be fierce for all of us, for our planet, and all of our protected land," said Deb Haaland in her nomination acceptance speech. "This moment is profound when we consider the fact that a former secretary of the interior once proclaimed it his goal to, quote, 'civilize or exterminate' us. I'm a living testament to the failure of that horrific ideology."
Representation and diversity matter to the 35th generation New Mexican, whose connection to her Laguna Pueblo people is unquestioned. Her unique life experiences as an Indigenous person shape the 60-year-old's political decisions to benefit her Native brothers and sisters in a manner previously unimagined. She explained to The Guardian, "We don't need people who all have the same perspective, we need people from various parts of the country, who've been raised in different ways, who bring that history and culture with them, and employ what we've learnt from their parents and grandparents, and bring all of that to bear in the decisions that we make.
"Environmental injustice and economic injustice have taken a hold of so many communities, and they've had enough. They want us to pay attention and help them to succeed. As far as Indian Country is concerned, I want to make sure tribal leaders – and all marginalized communities – have a seat at the table."
After a two-day confirmation hearing in early March, basically a high-profiled, public interview by congressional leaders of both political parties, the U.S. Senate met on March 15 to vote on Haaland's history making appointment. The vote was 51 for and 40 against, more than enough to confirm her as President Biden's Interior secretary. It was another remarkable vote on the side of Haaland who has broken down yet another barrier and opened the door to new possibilities by becoming the first ever Native American Cabinet secretary.
The build up to her Thursday, March 18 swearing-in ceremony was full of fervor across Indian Country. And to her credit, the tribal trailblazer embraced the momentous occasion in true indigenous style by proudly wearing a traditional ribbon skirt, white leather moccasins, and an assortment of turquoise Native bling for the nation to see.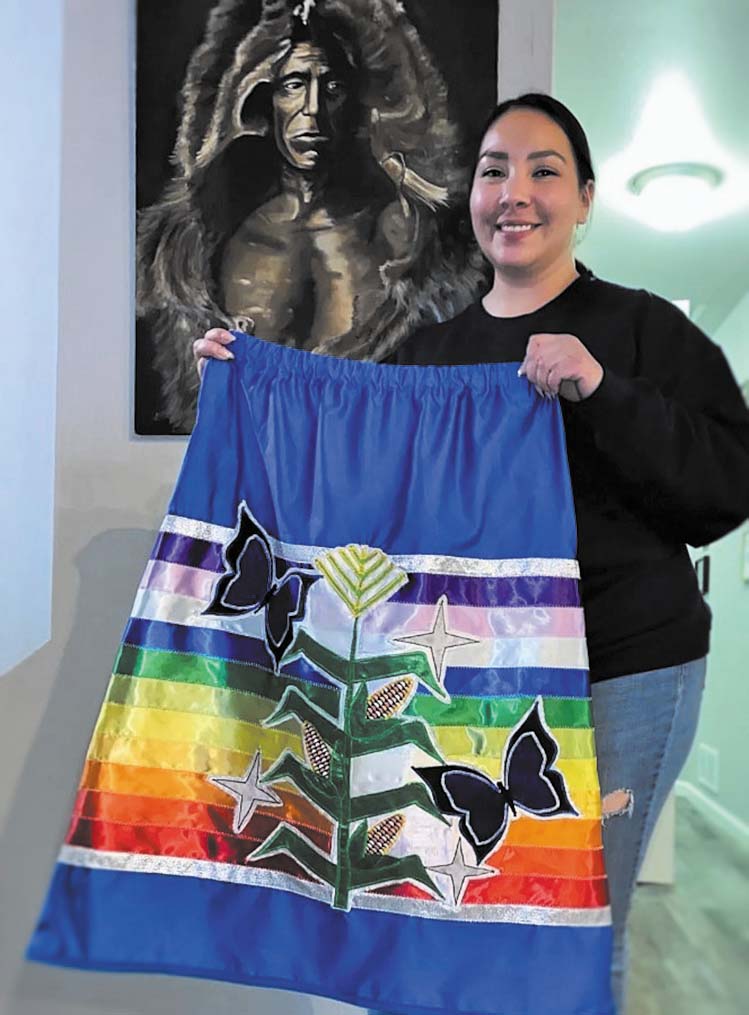 Standing in front of Vice President Kamala Harris with her right hand raised, Deb Haaland was sworn as the 54th Secretary of the Interior. The long rainbow ribbon skirt adorned with a corn stalk, butterflies and stars was impossible to miss. The ribbon skirt is a symbol of resilience, sacredness and survival is not bound to one specific tribe, but heavily influenced by Plains tribes.
The story behind the dress is one of empowerment and survival of a community and also its designer. The garment was made as a "celebration-style skirt" in recognition of Haaland's historic nomination, explained its creator Agnes Woodward, who is Plains Cree from Kawacatoose First Nation in Canada. The 38-year-old seamstress devoted weeks to creating the distinct piece of clothing from her home in North Dakota. While the rainbow colors are meant to represent all people and the pair of dark blue butterflies serve to offer an uplifting message, the cornstalk is a symbol of Haaland's enrolled membership of the Pueblo of Laguna.
"Growing up, sometimes it felt like no matter how much we as a people fought for our right to be heard, for our right to be at tables making decisions on our behalf, it felt like we were often not heard," said Woodward, the Plains Cree dressmaker, to CBC Radio. "So for Deb Haaland to be in one of the highest positions in this country in front of the world, standing in a ribbon skirt that represents our people is definitely a moment that obviously means we've been seen and that we are visible. Because she represents all of us."
From Deb Haaland to Congresswoman Haaland to now Secretary Haaland with Cabinet-level decision making power, her journey has taken her from a New Mexico based reservation to the highest echelons of decision making in Washington D.C. She will lead the Department of Interior in a continued effort to respect tribal self-determination, ensure meaningful consultation with tribes on matters affecting their interests, and work in partnership with tribal governments to support the development of Native communities.
For the first time in history, the Interior will be led with Indigenous values and integrity. Following her swearing-in ceremony, Secretary Haaland said, "Today I stand on my ancestor's shoulders ready to serve as the first Native American cabinet secretary. I am honored and ready to work. I look forward to tackling some of the nation's most pressing issues so that future generations can enjoy our public lands and waters for years to come."