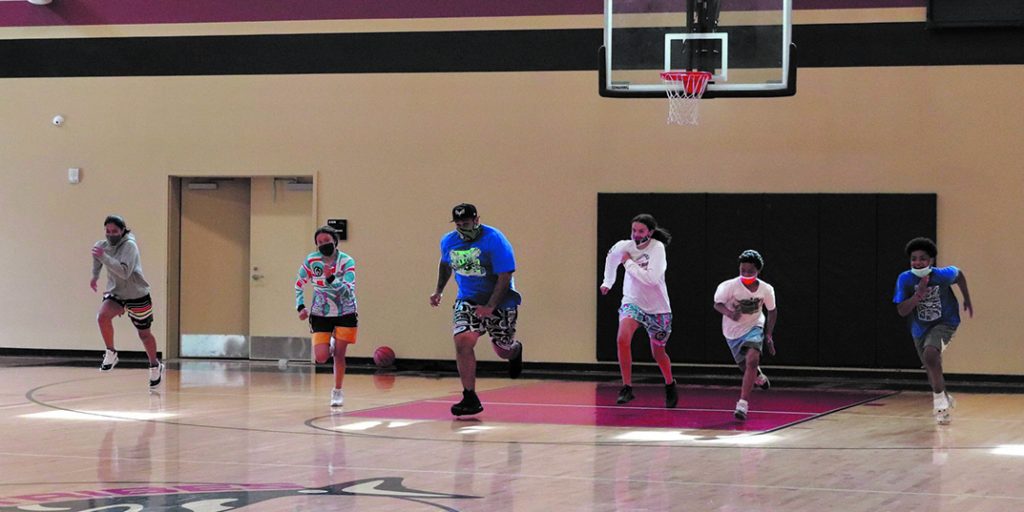 By Kalvin Valdillez, Tulalip News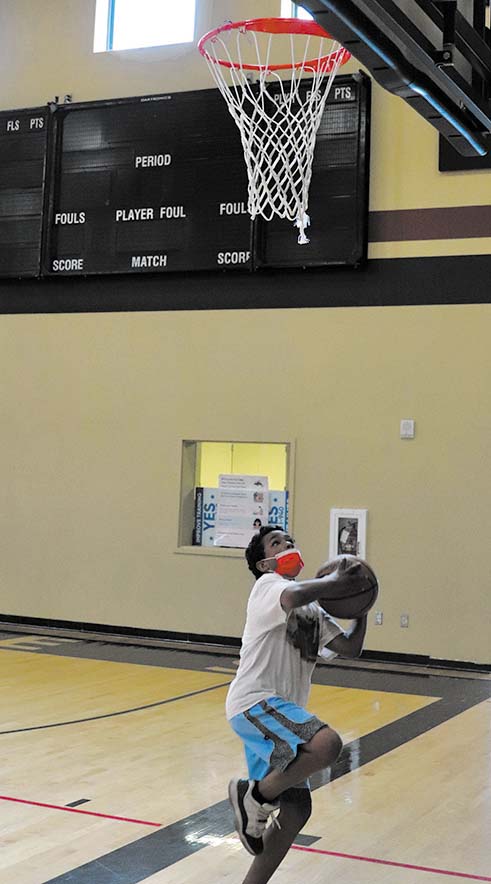 "I think it's important to stay fit and healthy," expressed young Tribal member Kyla Fryberg. "I play a lot of sports and I don't want to get super tired in games or practices. I'd like to see more people get up, come out and do this with us instead of staying inside because I know quarantine has been a lot on everybody. I think it would be nice to see more kids."
Glimpses of normalcy can be spotted every now and again in a world post the global COVID-19 pandemic. As restrictions are lifted, vaccines administered and the outside world continues to open back-up, people are re-engaging and re-igniting their love for activities that were either limited or altogether banned to stop the spread of the disease.
Throughout the pandemic, the Tulalip Youth and Family Enrichment program has remained a space for Tulalip youth to experience some of that normalcy by continuing to provide services, host gatherings, and offer all sorts of fun for in a safe, responsible manner. As school districts turned to Zoom to offer teachings and instruction to their kids, the Youth and Family Enrichment department converted their entire campus into a socially-distant learning environment, where students could work online and complete assignments in their own safe-spaces.
Now that schools are back to teaching in-person lessons and many youth sports have fully-resumed, Youth and Family Enrichment are slowly rolling out some of their activities and events that were popular amongst the public, pre-coronavirus, as well as debuting many new ideas.
The Youth and Family Enrichment department recently began a new activity-program called Strength and Conditioning, to help build endurance as well as promote health and fitness to kids who spent the majority of 2020 indoors and more-than-likely in front of a screen.
Youth and Family Enrichment Manager Josh Fryberg explained, "We're doing basketball conditioning every Tuesday and Thursday from 3:30 p.m. until 5:00 p.m. Right now, it's open to 6th – 12th grade. Eventually, we want to do family nights to encourage the families to come workout together and be as healthy as we can. Conditioning, overall, is something all of us need and something that all of us should practice on a regular basis, so we can have nice long healthy lives."
 With good early 2000's hip-hop blasting in the background, a group of five showed up to the Greg Williams Court on April 27, for the tip-off, so-to-speak, of the new Strength and Conditioning program. With a shared goal of fine-tuning their game in anticipation of summertime tournaments, the group was locked and zoned-in throughout the hour-and-a-half class, sprinting the full-length of the court multiple times and hustling their tail-ends off during drills. 
"A lot of things we're doing right now are fundamentals for lay-ups, left-hand and right-hand dribbling, we're also working on spin-moves as well as doing a lot of cardio and shooting on our shooting machine," said Josh. "I usually have them go about three to five minutes in each area. We'll also stretch, drink a lot of water and work on breathing techniques, in through the nostrils and out through the mouth, so you get the maximum amount of oxygen."
Basketball is an important aspect in many Native cultures as countless bonds have been made through the sport, by way of both local rez-ball pick-up games and inter-tribal tourneys. Reservation-based high school basketball games are popular community events where friends and families ban together to support their tribal teens as they showcase their on-the-court skills and love for the game.
With only five participants at the first session, Josh led a fun and fast-paced class that had the feeling of a summertime basketball camp, like the ones often hosted by former NBA all-stars and local hardwood legends. It's easy to envision, in the near-future, the Greg Williams Court jam-packed with youngins working hard to elevate their game.
"Basically, what we did today was strength and conditioning and we were working on running," said Lillyannah Fryberg. "It was like basketball training, getting us in shape for tourneys and really, it's just better for our overall health in general."
Added Kyla and Lillyannah's sister, Julianna 'Julie' Fryberg, "It's my dad so he goes extra hard on us. He makes us do a lot of exercises that he knows we can handle, just pushing our limits to see how far we can go. It's really nice to see him help other kids too, other than his own. It would be nice for more people to come though, we had five people today, and we definitely want to see a bigger group. We are working on a bunch of drills; spin-moves, lay-ups, free-throws, three-pointers and running to build our conditioning. So, come on out, it's fun and I can't wait to see everybody next time."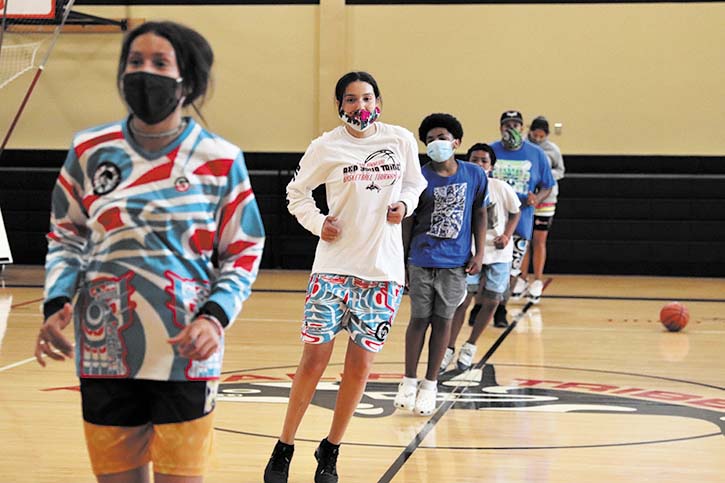 Josh explained that there is a-whole-nother aspect of the basketball skills and stamina building program, aside from improving one's basketball IQ and skillset, and that is diabetes prevention and the promotion of healthy lifestyles. And thanks to a strong relationship with the Tulalip Diabetes Care and Prevention Program, the Youth and Family Enrichment team received two basketball shooting machines that automatically rebounds your shot and feeds you the rock at different locations on the court.
"A big thing that we face in Indian Country is diabetes," he stated. "With these shooting machines, that were donated by our Diabetes program from Roni Leahy and Dale Jones, the goal is to get as many shots for diabetes as you can. So, that's one of the things we're doing with this program as well, prevention work for us to be as healthy as we can."
Josh assures that this is just the beginning, stating that the Youth and Family Enrichment program is planning more activities, events and programs extending into the Summer and Fall months. And after helping establish both a little league division and a football program, the department is now in the early-planning process of bringing yet another new sporting league to the community.
Josh shared, "One thing we're currently working on is starting up a Tulalip AAU [Amateur Athletic Union] program. We want to start with three divisions and work our way up, for all of our players and volunteer coaches to participate in. That way we can really bring our youth in and get them to that next level of competition, so that we can get more of our athletes into college and the recognition that they deserve."
The Strength and Conditioning course takes place from 3:30 p.m. – 5:00 p.m. every Tuesday and Thursday at the Greg Williams Court. For more information, please contact the Tulalip Youth and Family Enrichment program at (360) 716-4909.