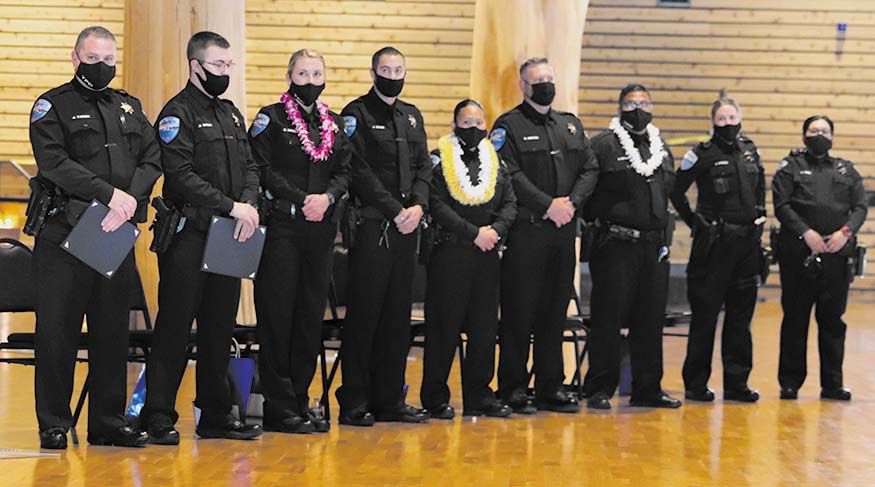 By Kalvin Valdillez, Tulalip News
"I want our newest officers and staff to know that we value each and every one of you," said Tulalip Chief of Police Chris Sutter. "You have worked hard to get this far and we want you to be successful. We welcome you to the department. We all look forward to seeing you progress in your career."
Natural sunlight beamed throughout the illustrious new Tulalip Gathering Hall, on a gorgeous May afternoon. Approximately 150 people, consisting of family, friends and local citizens, came together to celebrate a momentous occasion for eleven individuals who are embarking on a new journey with the Tulalip Police Department. 
In total, nine officers received a warm welcome to the squad; seven officers who recently graduated from the U.S. Indian Police Academy in New Mexico as well as two lateral officers who transferred from other departments. The newly appointed Sex Offender Registration Program Manager, Alyshia Ramon, and the latest tribal recruit, Kanoe Williams, were also honored at the ceremony.
Said Kanoe, "I wanted to join our tribal law enforcement to serve the community that I live in. I grew up here, I know most of the people on the rez. This is kind of my way to give back to them. I know it's going to be a lot of hard work. I'm going off to New Mexico in the summer, and I'm excited and anxious and just ready to learn and start the process."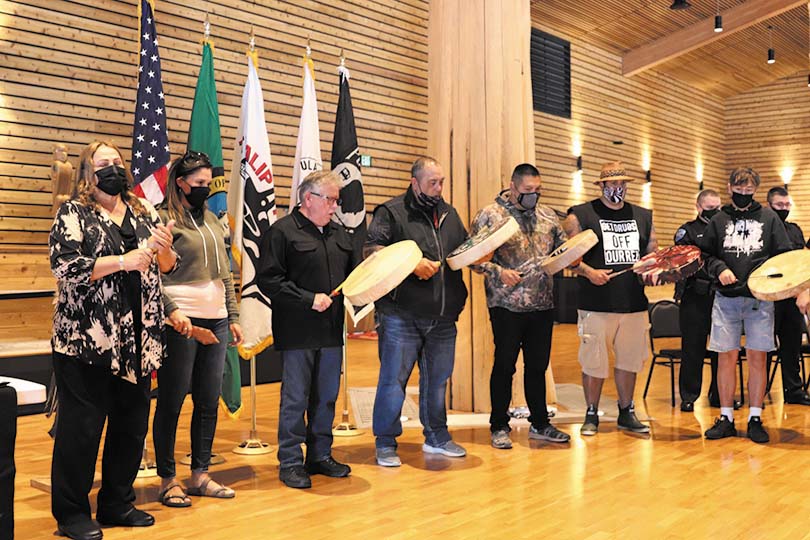 A number of Tulalip leaders were in attendance including Tulalip Chairwoman Teri Gobin and Vice-Chairman Glen Gobin who commended the new officers for pursuing a career in law enforcement and offered their best wishes to both the officers and their families.
Respects were also paid to fallen TPD Officer Charlie Cortez who was announced lost at sea last November. In a special moment, Charlie's family shared a few words and a gift with all the new officers. The Cortez's were escorted by Charlie's lifelong best friend and fellow TPD officer, Beau Jess, and the family was sure to recognize him for being a source of strength for the family during these inexplicably hard times. Each officer accepted a gift bag from the Cortez family. In return, the new officers supplied them with loving hugs.
"I wanted to be here today to witness our new officer's swearing-in and blessing ceremony," expressed Charlie's emotional mother, Paula Cortez, before saying a prayer for the officers. "Our family prays every day for our own healing from what happened to Charlie and we pray that no other family has to experience this type of loss ever again."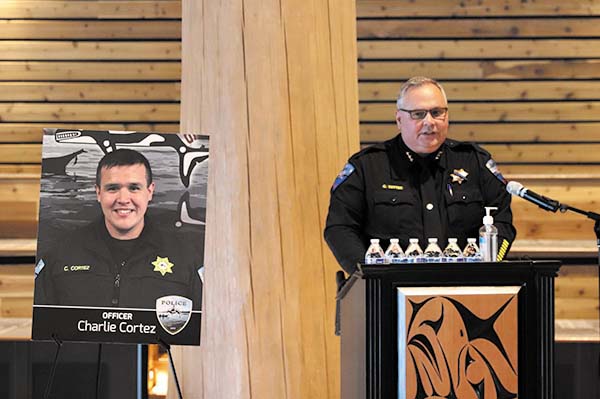 TPD Commander Jim Williams provided a bit of advice and wisdom to the officers, which he garnered from his many years of experience on the force. Then Angela Davis, the department's Professional Standards Manger, officially introduced Darbi Boggs, Justin Coker, Michelle Kekoa-Oshiro, Christian Kentch, Angel Sotomayor Jr., Josephine Stoker, Elizabeth Vides, Joshua Tannen and Jesse Wright to the community, while also sharing a short personal biography about each officer.
Tulalip Attorney, Michelle Sheldon, held the honor of swearing-in the new officers. Following Michelle's lead, the officers raised their right hands in the air and vowed to protect and serve the Tulalip community. After officially taking the Oath of Honor, TPD called upon the officers' loved ones to pin their badges to their new uniforms. The ceremony concluded with a song and blessing from Tulalip singers, as well as a longstanding tradition amongst police agencies throughout the Nation, the enjoyment of cake and company to cap-off a swearing-in ceremony.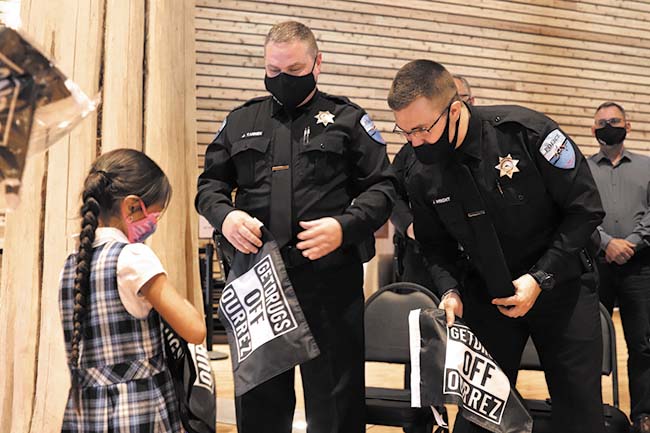 "It's pretty surreal," shared new TPD Officer and Upper Skagit Tribal Member, Justin Coker, who is most excited about defending Tribal treaty rights. "The academy was really challenging, it took everything in me to pull through it and now that I'm here it's pretty amazing. I'm thankful my family has been behind me the whole way. I grew up out here. I come from a family of fishermen and I just wanted to do my part and keep it alive, to make sure my kids have something to look forward to. I'm looking forward to meeting the community on a different level, letting them know that I'm here for them and getting to know everybody and the environment a lot more. It's really exciting and it was a beautiful ceremony today. If this is something you want to do, follow your dreams."
To pursue a career with the Tulalip Police Department, please reach out to Angela Davis to begin your new law enforcement journey. For further details, visit www.TulalipTribalPolice.org or call the non-emergency line at (360) 716-4608.
Before parting ways, Chief Sutter stated, "My charge to our newest officers is to go out be fair, be objective, be kind, demonstrate compassion for others, always remember to treat everyone with respect and dignity, and treat others the way you would want your family members to be treated. Lastly, always be safe, take good care of your partners and also yourself and your loved ones."