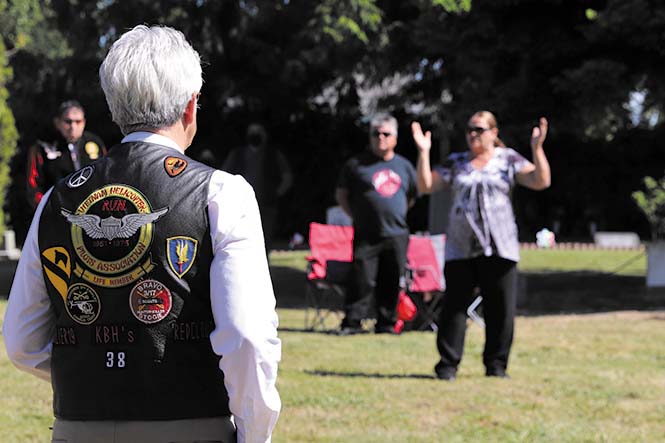 By Kalvin Valdillez, Tulalip News
"I come from a line of many people who have served in the military," said Tulalip Veteran Angela Davis. "I want to thank everyone for being here and supporting our veterans and those who have gone before us. I was told by a commander one time that less than 1% of our population chooses to serve in the military. But when it comes to Native Americans we actually have a higher percentage; Native Americans serve at a higher rate than any other population. I want to thank our Native American veterans and remember the ones who have fallen."
Two special Memorial Day services were held at Tulalip to honor the brave men and women who fought to defend this Nation's freedom and are no longer with us. Mini U.S. flags and flower arrangements decorated the final resting place of over 200 tribal members who honorably served during their lifetime, at both the Priest Point and Mission Beach cemeteries. Families from near and far traveled to the reservation to witness the ceremonies and pay their respects on a gorgeous morning during the last day of May.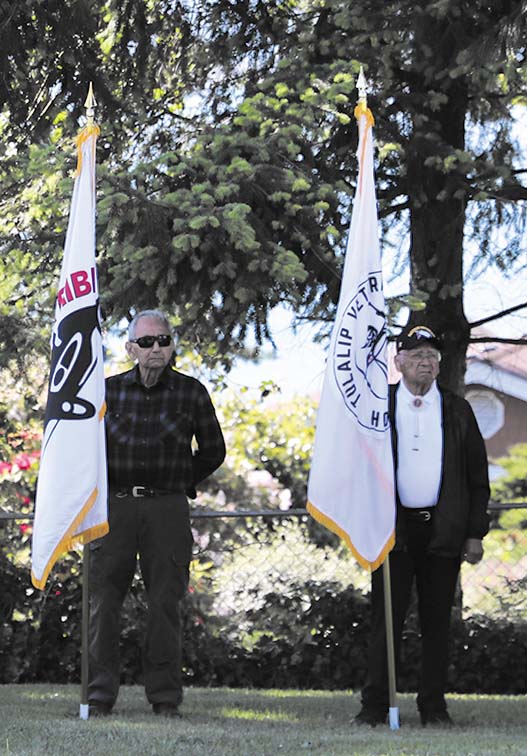 Sticking to tradition, Vietnam Veteran and Tulalip BOD Mel Sheldon took up hosting responsibilities, providing good natured humor as well as sincere recollections and sentiments throughout the day of remembrance.
Mel shared, "Across the Nation, as we gather to remember those who made the ultimate sacrifice, those that died for our country, we remember our Tribal members who died fighting from Tulalip. Special thanks to our brothers and sisters, they didn't ask for it but they made the sacrifice. Today we are also remembering Stan [Jones], our former chairman for many years, every year he was here with the veterans."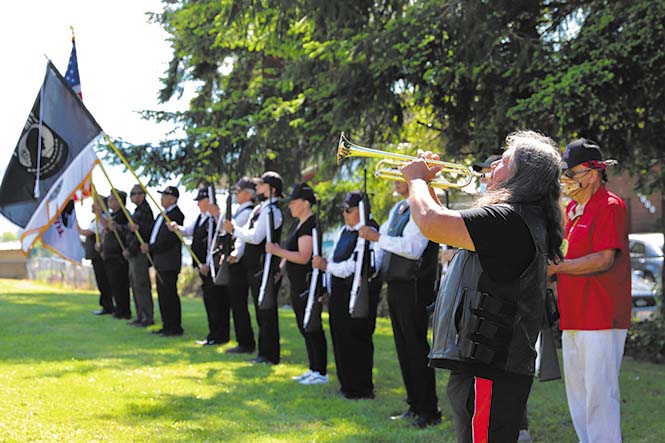 Teri Gobin, Tulalip Chairwoman and daughter of Stan Jones added, "I think about what you have to go through being in the service. I think about my father and the stories he told me. I want to say thank you to all who came out to honor those who made the ultimate sacrifice, those who served to protect us, and their families who stood beside them."
As this Nation's original caretakers, defending this land may have a more significant meaning to tribal members across the country. It maybe the reason why there are 31,000 active Native American men and women serving today, and why there's over 140,000 living veterans who are Indigenous, according to the Department of Defense. And as Angela stated, Natives serve at a higher rate than any other demographic, five times the national average to be exact.
Throughout the many years that Tulalip celebrated Memorial Day with its membership, Tulalip Veteran Cy Hatch III held the honor of reading the names of each tribal member who served and died for this country during roll call. However, the 2020 ceremonies would serve as the last time that Cy spoke the names of his fallen military brethren aloud as he officially passed the torch to Sara Andres this year.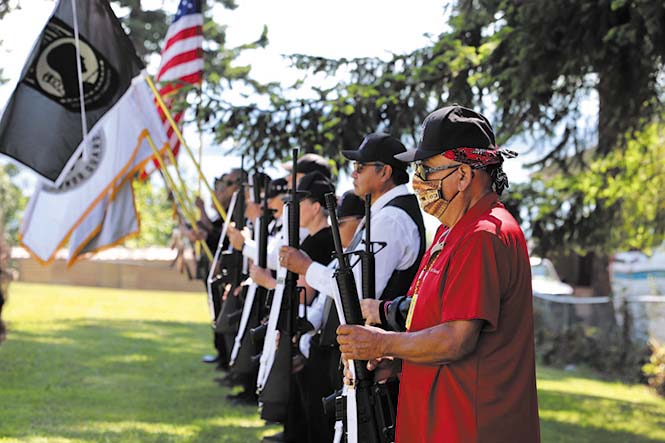 A number of veterans shared words at both ceremonies, thanking the groundskeepers for maintaining the cemeteries. The maintenance crews were credited with enhancing the beauty of both of the sites to compliment the views of the Salish Sea, and for providing an exquisite space where families can gather and remember those who have transitioned to the next journey after providing years of dedication and service to their country.
William McLean III, Tulalip Veterans Department Manager said, "I want to thank the maintenance crews, all of them. We have a few veterans that came out to clean the cemetery today. We have the regular grounds maintenance crew that cuts the grass and does pick-up, and we have building maintenance crew members – every single day they come out and put these flags up and take them down. They show their respects to each individual flag, for each branch of service and our country. I want to thank everybody that put in work this entire month to give respect."
Tulalip elder and Marine Veteran, Cy 'Saigon' Williams recounted, "When I think of our people who have lost their life at war, I think of my dad. My father was Bernard Williams Sr. he fought in the South Pacific from island to island and he didn't make it home. The next one I think of is my oldest brother, Bernard Williams Jr. he was in the United States Marine Corps, he served in 7th Engineer and he came into Vietnam in '65. They fought their way all the way to the Ho Chi Minh trail. And I think of my youngest brother, Randy Williams, he was Naval personnel and took care of records that brought in ammo, personnel and equipment for the war. We all made it home, but I do miss my brothers now – how we used to visit as a family every weekend and share some beers and a lot of bad memories. I want to thank my people for being here to remember our fathers, grandpas, uncles, brothers, sisters who have served this Nation."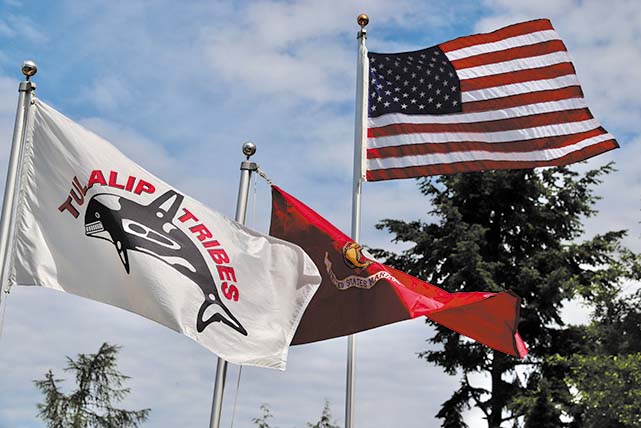 The ceremonies concluded with roll call and a 21-gun salute in honor of those who enlisted and since have passed. As the people left the Mission Beach cemetery, visiting the graves of their fallen heroes on their way out, an eagle soared high above the cemetery grounds, a symbolic gesture that many family members in attendance will undoubtedly hold dear to their hearts for years to come.
"When we went to Vietnam, there are guys I remember who became pilots [with me]," Mel shared. "Because of Operation Lam Sun 719, twelve of them did not get to come home. During my unit in Charlie Troop, I had two crew chiefs that did not get to come home. Two cobra pilots, their aircraft flew into the ground – we still don't know why. I talked to them that morning, by noon they were gone. It is this day that I remember them in a good way, to remind us how fortunate we are. To remember too, how many Native Americans step up to the plate, especially at home here in Tulalip. If you look around, look at all the flags. We are very proud of our veterans who serve."