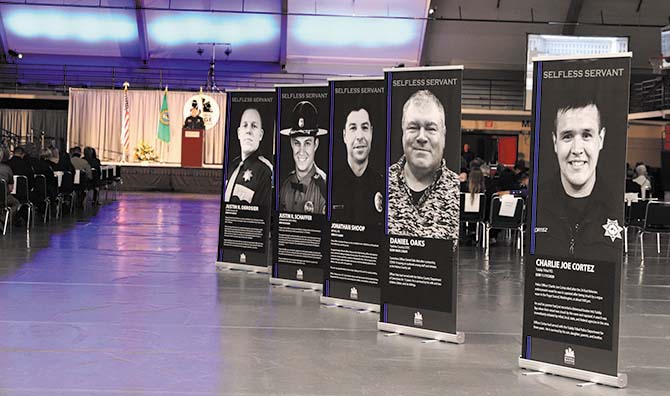 By Kalvin Valdillez, Tulalip News
Five flags were carried onto the stage of a dimly lit gymnasium, at St. Martin's University in Lacey, on the afternoon of June 4. Seated opposite of the stage were the families of fourteen Washington State police officers whose lives were lost over the past two years. Every year, the Behind the Badge Foundation organizes the Washington State Peace Officers Memorial Ceremony to honor those brave officers who paid the ultimate sacrifice in the line of duty. This year, five officers who passed away due to COVID-19 related complications were also included in the special honoring.
Fourteen banners lined the entryway of the gym, each depicting the picture of a fallen officer and also featured a short bio that described the life and times of the hero behind the badge. Moving musical performances were dedicated to the officers, including the National Anthem by Detective Adele O'Rourke of the Renton Police Department, an original number titled 'Carved in Stone' by Shaun Bebe of the Ocean Shores Police Department, and a bagpipe rendition of Amazing Grace.
"Behind the Badge is a foundation that supports law enforcement officers and their families in times of critical need," said Behind the Badge Executive Director, Brian Johnston. "As we began building this foundation, our eyes were opened to so many needs within the law enforcement community and within our family community. Healthy officers and healthy family equal healthy communities. From the response side of trying to support our law enforcement officers and their families in a line of duty death, or even a suicide death or unexpected death, we think it's very important to continue to build the relationship with the department and the families so they feel supported throughout time. The other part of that is that there is significant honor in being a police officer and if you were to lose your life in any form of law enforcement, there are things we should be doing to memorialize that person's service, duty and life."
The touching tribute featured prayers and heartfelt messages from state officials and a handful of leaders of police departments across the state.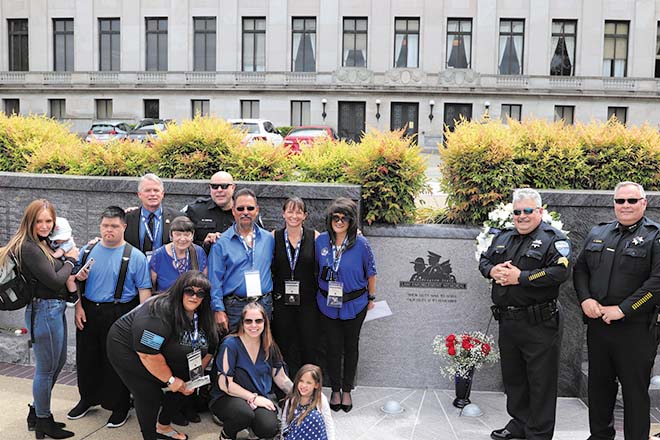 During the reading of the roll call of honor, a single rose was placed into a vase each time a fallen hero's name was said aloud. A family sitting near the back of the audience watched intently, wiping tears from their eyes, waiting for their loved one's name to be called, and they held each other close when they heard, "Officer Charlie Joe Cortez, of the Tulalip Police Department," over the loudspeaker.
"This to me is about making sure that they will never be forgotten, that they're honored for the sacrifices that they made to their communities that they loved," expressed Charlie's mother, Paula Cortez. "It was special for me to know there are still people out there who care and are willing to let us know that our fallen officers will not be forgotten and that their sacrifice was worth something. The Behind the Badge Foundation said 'it was their duty to serve and it's our duty to remember' so that's what this ceremony is about."
The two-hour memorial ceremony ended with a trumpet performance of TAPS and a 21-gun salute in honor of those fourteen officers who died protecting and serving their communities. The families were then invited to make a ten-minute journey across town to the State Capitol to view the Washington State Law Enforcement Memorial Wall, overlooking Capitol Lake, where the names of the fourteen officers were recently inscribed.
Before heading over to the memorial wall, Charlie's family and his fellow TPD officers took a second to snap a few photos with Charlie's banner, a special moment for his children who wore smiles when posing next to the life-sized photo of Charlie.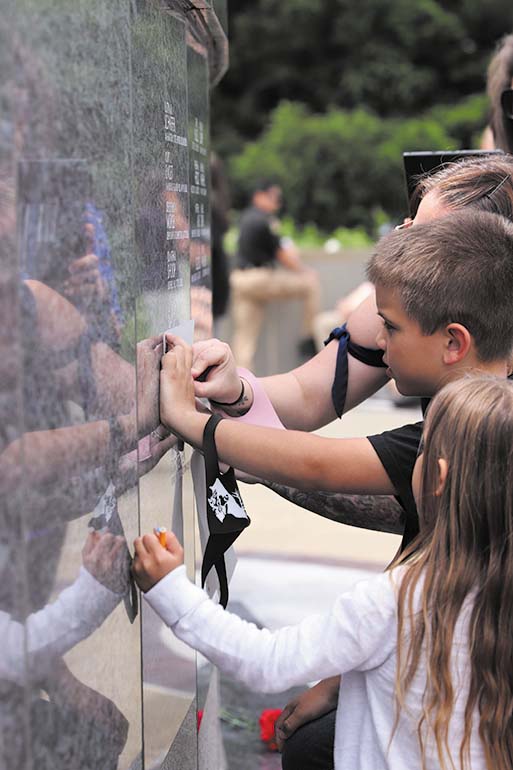 Said TPD Chief of Police Chris Sutter, "It's a real special day to honor and pay our respects to the officers in our state who have given the ultimate sacrifice in the line of duty and we're here representing the Tulalip tribal police department in honor of Officer Charlie Joe Cortez. Our thoughts and prayers, every day, go out to officer Cortez and family, all of his loved ones and friends and co-workers and tribal community who love and support him so much."
Upon arrival at the memorial wall, which was also funded and designed by the Behind the Badge Foundation, blank sheets of paper and pencils were distributed to the family members so they could trace their fallen hero's name onto the paper and take home a special memento to commemorate the day of honoring.
"It's a permanent reminder for generations to come," Chief Sutter said. "To see these names on that wall, it's a very sacred place and a reminder of the sacrifice that women and men in our state have given in the line of duty for public safety. It's a very highly reverent place for law enforcement."
Charlie's lifelong friend and fellow TPD Officer, Beau Jess, attended the memorial ceremony that day and plans on visiting the memorial wall with his family in the near future. Working through some tough emotions after a beautiful ceremony Beau shared, "this one is hard in particular because I've known him my whole life. It's more than just a badge for me, it's legitimately losing a brother. It's good for closure, especially after not having any."
A video recording of the 2021 Washington State Peace Officers Memorial Ceremony will be posted online at www.behindthebadgefoundation.org in the upcoming days.
It has been seven months since Officer Cortez was announced lost at sea, and the search for his body continues. Charlie's family is determined by all means to bring the fallen Tulalip hero home. A memorial service for Charlie is planned for 1:00 p.m. August 17, at the Angel of the Winds Arena with a meal to follow at the Tulalip Gathering Hall.
Thank you for keeping Charlie's family and the Tulalip Police Department in your prayers. As always, please send any potential evidence, information or your own informal searches to us by texting 360-926-5059, or emailing bringofficercortezhome@gmail.com, or leaving a voicemail at (909) 294-6356.