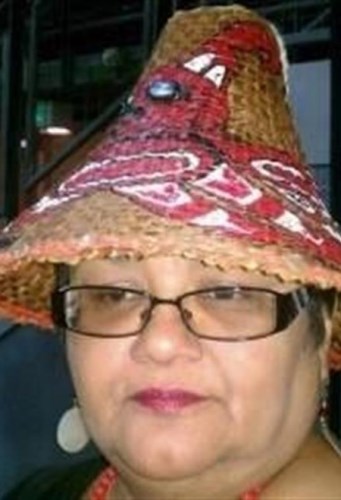 May 4, 1959 – June 7, 2021
Carolyn Rose Moses (Setlakus/Lalacut) was born May 4, 1959 in Powell River, B.C. She was a descendant of Hereditary Chief Johnny Dominick of Klahoose Nation, B.C., and Hereditary Chief Charles Jules of Tulalip. Daughter of William Grenier Jr. (Gladys Grenier) and Elizabeth Harry (Pete Harry). Carolyn spent her childhood years in Sliammon Territory but settled in Tulalip where she married her soul mate Kenneth Moses Jr. on July 16, 1983. Carolyn and Kenneth were married for 28 years and raised two children together, Craig Grenier Moses and Autumnrose Moses.
Carolyn was a residential school survivor and a true warrior for her people. She was a proud Coast Salish woman and spent her life in service to her people. She began in the kitchen cooking for tribal elders, then transferred over to family services where she spent over 20 years helping members of the community. Carolyn advocated for women, children, worked tirelessly helping many people find sobriety, and helped many in their journey along the red road. She wanted people to feel good about themselves and was often heard encouraging someone. She would say "I'm proud of you…you're doing good." Carolyn believed in her teachings and had a gift for knowing everyone. She could name every tribal member's family and many of their relatives going back several generations. She spent 16 years serving on the enrollment committee and used her gifts to help enroll many tribal members and their relatives.
Carolyn had a infectious laugh and a joyful presence that could not be denied and she lit up the room when she walked in. She enjoyed traveling, shopping and lunch with her friends.
Carolyn is survived by her brothers, Murray (Nancy) Mitchell, Leonard (Cathy) Harry, Darryl Wilson, and Laurie (Teresa) Harry; sisters Lillian (Rob) Grenier, Tina (Patrick) Grenier, Toni (Arthur) Grenier, and Sandra (Stan) Harry; and her two children Craig (Florence) Grenier Moses, and Autumnrose (Anthony Enriqurez) Moses. She had eleven grandchildren, Kaeli, Garrett, Gracelyn, Ethan, Liam, Mayah, Cid, Amilio, Benny, James, and Carlos. She was loved by many and was a grandmother, aunt and cousin to numerous individuals in the community.
Funeral Services will be held Saturday, June 12, 2021 at 10:00 AM at the Tulalip Gathering Hall with burial to follow at Mission Beach Cemetery. Arrangements entrusted to Schaefer-Shipman Funeral Home.