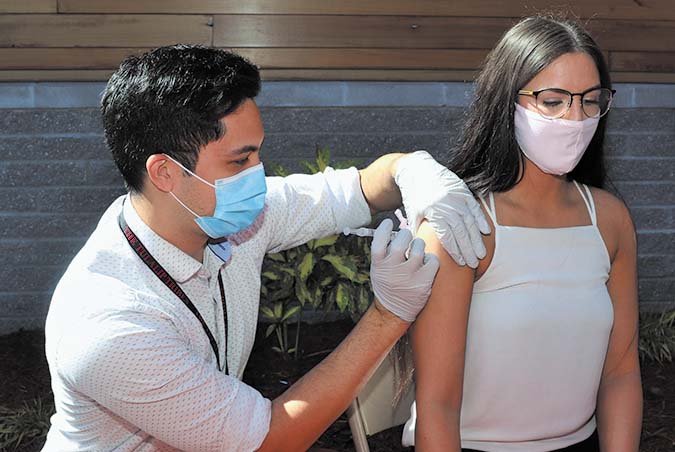 By Micheal Rios, Tulalip News
Seems like only yesterday both federal and state governments were raging the war on drugs. Now in a stunning turn of events, marijuana, the long hyped 'gateway drug', is being strategically used in a war against COVID.
Washington State's Liquor and Cannabis Board announced earlier this month it would allow state-licensed cannabis retailers to provide one joint to adult consumers who receive COVID-19 vaccination at an in-store clinic. The weed-friendly program is the latest vaccination incentive in Washington, where an impressive 73.1% of all adults are already vaccinated, according to the Centers for Disease Control (CDC).
When word reached Tulalip's own Jennifer Ashman, manager of the Tribe's cannabis store Remedy, she immediately contacted Tulalip Pharmacy staff to coordinate a Joints for Jabs event. It didn't take long to work out the details and send out promotional materials to Remedy's dedicated fan base.
"We were fortunate that Tulalip declared our retail shop and employees as essential early on in the pandemic," explained Jennifer, cannabis enthusiast and Remedy manager. "This is a poetic opportunity for us to not only give back, but to incentivize efforts to create a more vaccinated community. Plus, it's truly a historic occasion being able to give out free cannabis. Who doesn't love that idea?!"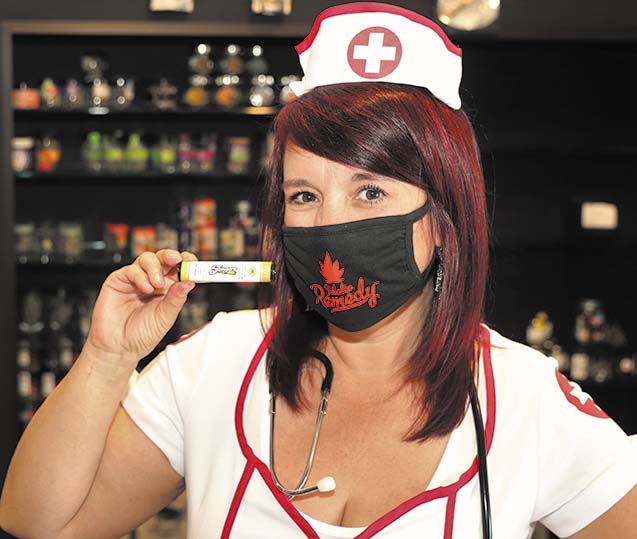 On Tuesday, June 22, a red medical tent was setup outside Remedy where diligent Pharmacy staff awaited with both scheduled appointments and casual walk-ins who were eager for the sense of relief that typically accompanies the vaccine.
"I've been wanting to get vaccinated, but it never worked out with my hectic work schedule," shared 24-year-old Bayley King after participating in Joints for Jabs. "When I found out about this event I was excited because it was on my day off and the process of making an appointment was so simple. Getting my shot means returning back to normal and regaining my freedom."
With roughly 200,000 small businesses forced to shut their doors forever as a result of the coronavirus pandemic, it's quite the unanticipated accomplishment that retail cannabis shops like Remedy continue to thrive. Industry-wide cannabis sales continue to soar as a result of society doing its best to cope with the uncertain times brought on by COVID and the residual aftereffects of isolation, social distancing, and incessant mask wearing.
Remedy has benefited from an influx of new customers as it's stellar reputation for customer service and product knowledge has spread via word of mouth advertising. While some cannabis enthusiasts look to relieve every day ailments associated with aches and pains, others desire to elevate their mental state in an effort to calm their nerves, diminish anxiety and lower tensions brought on by the new normal.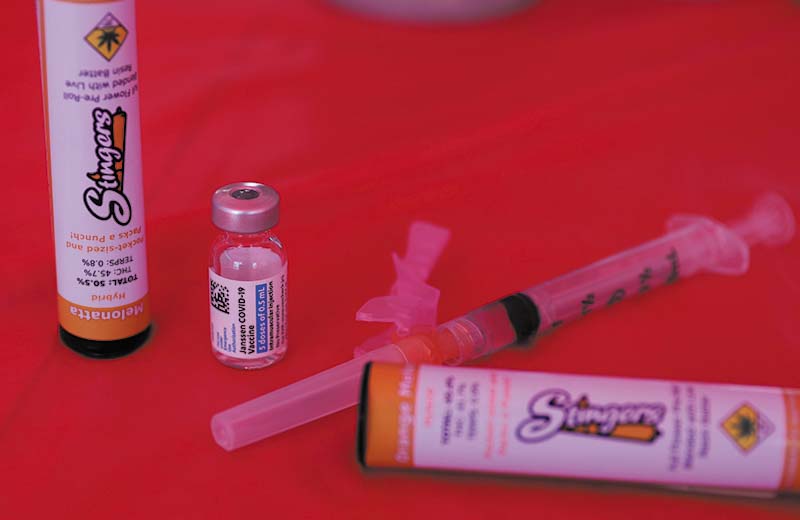 "It's a real stressful time right now and being able to just relax is a real luxury," said Remedy regular and Marysville resident Michelle Moe after receiving her single dose vaccination. "Cannabis helps with pain and anxiety and depression, it's an all-in-one therapeutic really.
"I've put off getting vaccinated for a long time now because I was really nervous about it. Ideas like if there's been enough research or has it really been proven to be safe made me hesitant," she added. "But at this point so many of my friends and family are vaccinated and doing just fine. Figured that was good enough for me to make this decision now and add the additional protection for myself and those I'm around socially by getting vaccinated. I'm definitely feeling a new sense of freedom already. Just in time for 4th of July celebrations."
Participation in Remedy's Jabs for Joints event reached the double digits. Although not allowed to spark up their free pre-rolled joint while getting vaccinated, one participant was witnessed lighting up that complimentary melon-flavored Stinger in his car. Imagine this community oriented citizen thinking to himself, "Merica! Boosting the vaccination rate one puff at a time."
What a time to be alive.