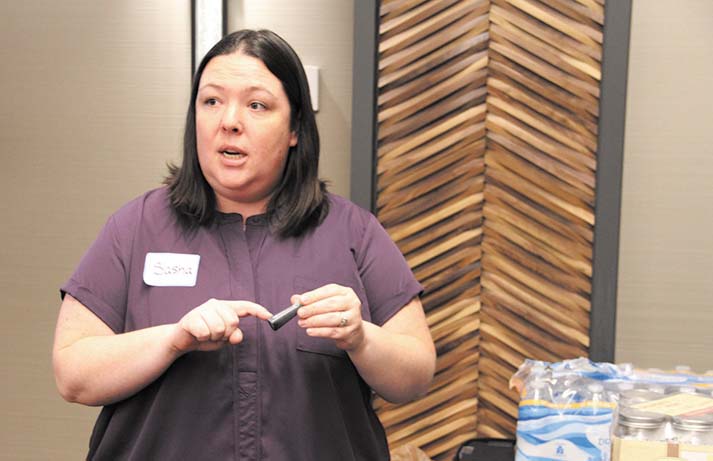 By Kalvin Valdillez, Tulalip News
To spread the word about their new program, Family Spirit, Tulalip Family Haven held a giveaway last month, raffling off fun summertime prizes such as sidewalk chalk, a Radio Flyer Wagon and bubble wands for young kiddos and their families. Participants were entered into the raffle simply by calling-in and inquiring about the program and hearing how Family Spirit can assist them along their parenting journey.
Geared toward tribal members who are either moms-to-be, expectant fathers, grandparents or caregivers of a Tulalip child under the age of three, the program is a resource that families can utilize during the early years of their kid's childhood, to help establish a strong foundation for both the child and parent as they grow together.
Although Family Spirit is new to the community of Tulalip, the program has actually helped thousands of tribal families across the country since the early nineties. Developed by the John Hopkins Center for American Indian Health, Family Spirit is a home-visiting program that was designed for Natives by Natives, who unfortunately knew all too well about the struggles that many Indigenous families face, largely due to a lack of resources and support for first-time parents and families raising young children.
Sasha Smith, Family Haven's Family and Youth Support Coordinator, explained, "Family Spirit has been really successful in other tribal communities. It's evidence-based and the information is culturally relevant, and we really try to intertwine our Tulalip culture and what those experiences look like for us. We talk about historical trauma to get a better understanding of why parents parent the way we do."
Addressing future participants of Family Spirit, Sasha continued, "Your first meeting would be an opportunity for us to get to know you, what stage of parenting you're in, a little bit about your hopes and dreams and what parenting looks like for you. And depending on where you are at, we'll go from there."
The program's area of focus surrounds having a safe and healthy pregnancy and subsequently, raising a healthy and happy baby by teaching parents about childbirth, newborn care, and early childhood development. The participants design a personalized parenting plan and Family Spirit provides any necessary and available resources, as well as modern and traditional teachings in regards to parenting. Most importantly they offer their support, helping empower young parents by giving them the tools to ensure their child has everything they need to embark on a bright future.
"We have lessons that we go by, but if you don't want to talk about a certain topic right away, we can form it to the way you need it to be," Sasha stated. "If you don't want to talk about labor and delivery, we can talk about getting the home ready and what a safe home looks like to bring home baby. Or we can do goalsetting for a healthy family. And at the beginning and the ending of each meeting that we have, we'll do referrals. So, if they need to get on WIC or they need to contact housing, whatever it is, we can check up on that – just making sure we share those resources with them."
Along with helping their clients with all their children's needs, Family Spirit also assists parents by making sure they're on track to meet their personal life goals, providing referrals for job training, or helping them through the process of beginning or continuing their academic career, and even routinely checking-in with a parent who is in recovery.
Ideally, in a COVID-free world, the Family Spirit paraprofessional (i.e. Sasha) would pay a weekly visit to the client's home in order to conduct lessons or provide services, for as long as the parent or family requested or until the child reached the age of three. However, since the virus is still present, Sasha explained that for the time being they are willing to make adjustments so that parents, caregivers and families are comfortable when participating in the program.
"We'll meet the client wherever they want," she said. "Primarily we are an in-home service, but it all depends on the comfort level of the parent. We can do Zoom, we can meet in-person at my office, or we can find a place where they're most comfortable. The kids can be included or not included. It's really just trying to meet them where they're at, building that personal connection and learning what they need to grow as a parent."
To learn more about Family Spirit, please contact Family Haven at (360) 716-4402.