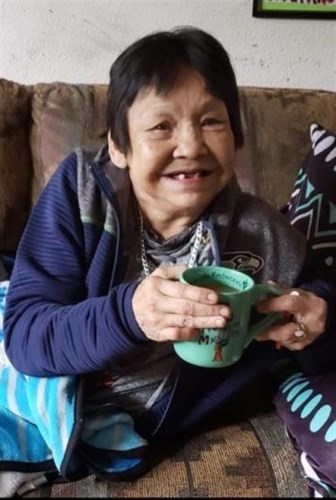 August 18, 1951 – July 18, 2021
Mary Ellen Tom was born on August 18, 1951 to Joseph Jimicum and Mary Jane Moses.
She passed away on July 18, 2021. Mary Ellen loved to play Bingo and go to the casino. When she was younger she fished with her dad and siblings later on fishing with her husband, she loved picking berries, clam digging, canning and making jam, family favorites were her famous Blackberry pies and homemade bread. Camping with her kids and grandkids was always a great time. she worked in the kitchen at the Tulalip Bingo.
Mary Ellen loved her family her children and grandchildren meant the world to her.

She is survived by her children Christina (James) Julie (Ron), Joe (Rayenell) and Wendy (Val) numerous Grandchildren and great grandchildren, Sister Ruby and Brothers Albert and Joe.
She was preceded in Death by her Husband Ron Tom, grandparents, Parents, Sisters Mary Jane and Wendy, nieces Hope and Katie, grandsons Andrew and Joshua, Granddaughter Maxine.
A celebration of her life will be held Friday, July 23, 2021 at 10:00 AM at the Tulalip Gym with burial to follow at Mission Beach Cemetery. Arrangements entrusted to Schaefer-Shipman Funeral Home.