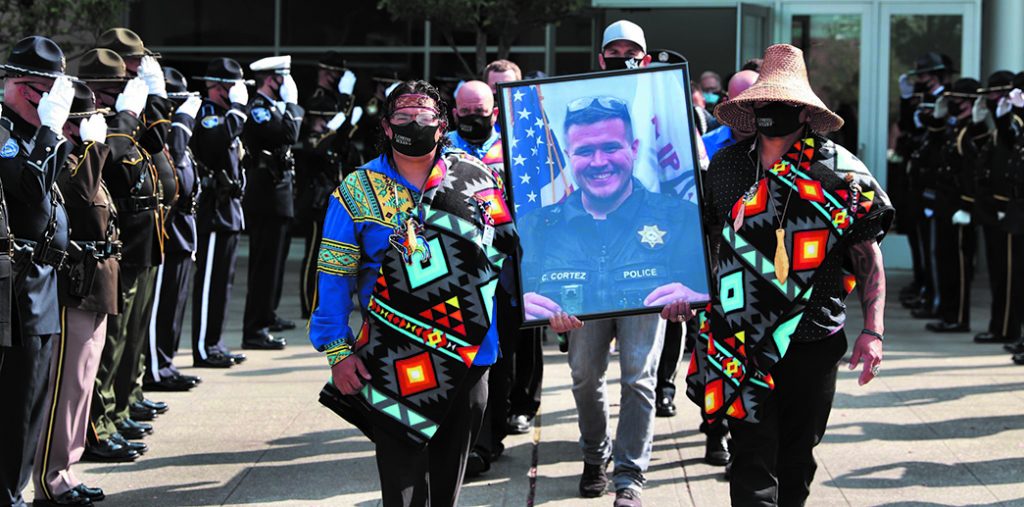 By Kalvin Valdillez, Tulalip News
It has been nine months since the tragic accident occurred on local waters, claiming the life of a young, Tulalip tribal member. At the age of 29, Charlie Cortez was pronounced lost at sea, paying the ultimate sacrifice in the line of duty as a Tulalip Fish and Wildlife Officer.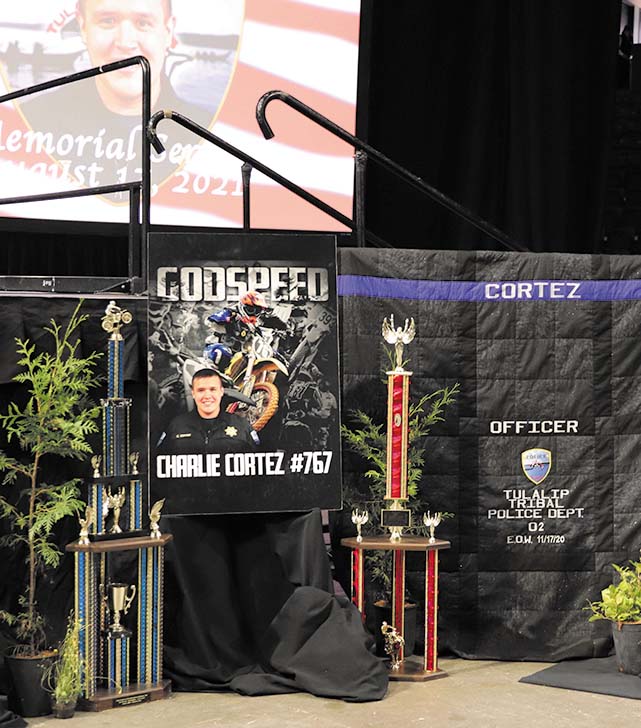 On the afternoon of August 17, Charlie's family and friends, as well as both the tribal and law enforcement communities, gathered at the Angels of the Winds Arena in Everett for the fallen hero's memorial service. 
"Charlie was a kind man who always greeted you with a smile," said Tulalip Chairwoman, Teri Gobin. "He was so sweet. When I think about Charlie as a child, I think about all the memories that the family has of him growing up, all of his adventures. I think about how he grew up to be such an honorable young man. He made his family, his ancestors, and his community very proud. Charlie was not only a motocross rider, that's where he spent a lot of his youth, they were always on the road having a blast with the family, but he was an avid hunter and fisherman. He was also an awesome father, son, grandson, nephew, cousin and friend."
With each day that passed since that stormy night on November 17, when Charlie's vessel capsized, the family remained optimistic and hopeful that the beloved officer would be found and brought home. When the heartbreaking news first broke, volunteers from near and far dedicated their time, scouring the sea and shoreline in search of Charlie.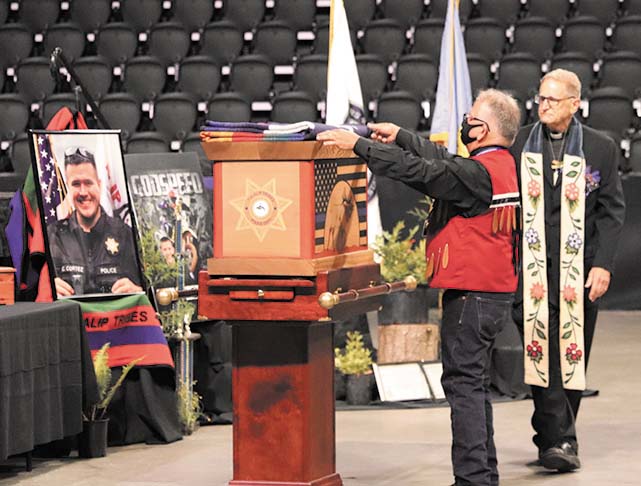 Tulalip Vice-Chairman, Glen Gobin shared, "Nobody thought we'd be at this point when we got that call, that we had a boat tip over and there were people in the water. When the call went out, many people answered. Many of our local sister tribes, local law enforcement agencies, fire departments, Navy, Coast Guard, and our tribal fisherman. And they came out in weather conditions that they normally would've not went out for. When the call came out, they freely went out in the storm to search. In hopes of a different conclusion, many stayed out there 24-36 hours straight searching, only to go home to take a nap and continue on. For weeks that took place. It was really hard this past nine months, for the family, for the community. For the family, it felt like unfinished work we need to conclude here, but can't yet."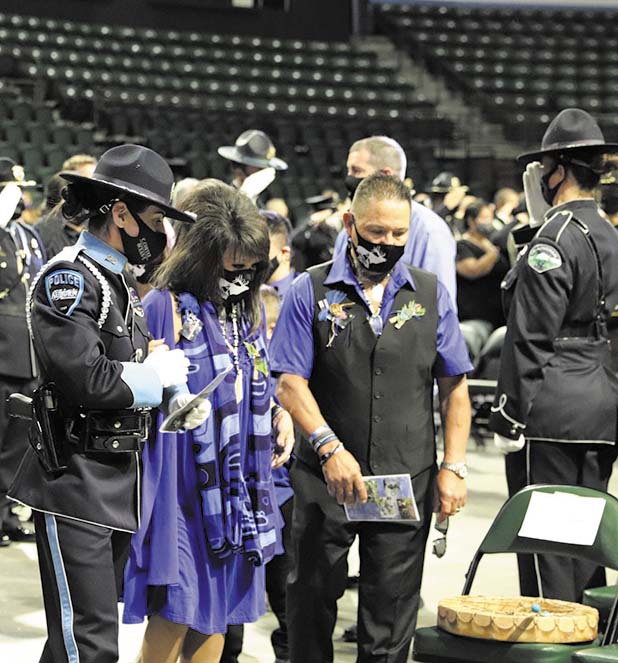 Charlie's family was embraced by the law enforcement community over the recent months. His name eternalized on memorial walls in Spokane, Olympia and Washington D.C., and also displayed upon medals and plaques, honoring the man who died while defending tribal treaty rights. Although the family is very appreciative of those accolades and acts-of-recognition, they still remain deprived of closure as his remains have yet-to-be recovered.
"It means a great deal to our family that we're finally able to have a service to honor our Charlie," tearfully expressed Charlie's cousin, Casey Woods. "We were never expecting this type of tragedy to happen, especially to him. Charlie, you give me strength. I was so hopeful in the beginning. I miss you, Charlie. I tried to make the most meaning of your absence, a constant battle between denial and acceptance. I just couldn't believe someone as good as you could be taken from us. I know your spirit is alive and well in all our hearts. Charlie, you are truly one of a kind and that is the hardest part, to go on without you."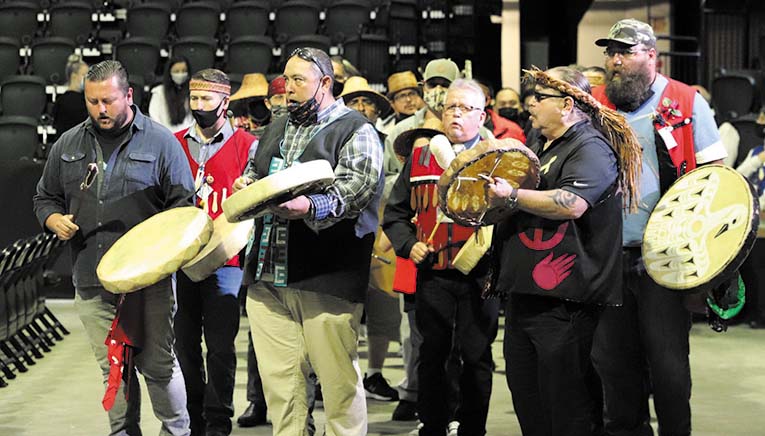 The beautiful and moving ceremony opened with a performance of the National Anthem by Tulalip tribal member Cerissa Kitchens. An acoustic guitar cover of Go Rest High on the Mountain was performed by Tribal member Andrew Gobin. Lieutenant Governor Danny Heck spoke to the family, offering encouraging words while he also presented them with the Washington State flag. The family also received the Tulalip Tribes flag from the Chairwoman and the U.S. flag from Tulalip Chief of Police, Chris Sutter.
"Charlie, as a tribal member, grew up learning and hearing the stories of tribal elders and leaders who fought the battles to uphold and preserve tribal sovereignty and treaty rights," stated Chief Sutter. "As a fish and wildlife officer, he took his duty seriously and understood the higher significance of his work, which was to protect the sovereignty and treaty rights and preserve the way of life for tribal hunters, fisherman, gatherers and future generations of tribal members. Charlie always had a smile as you can see in his photos. Charlie was kind. He was well-liked by all. He was always was willing to help and give assistance."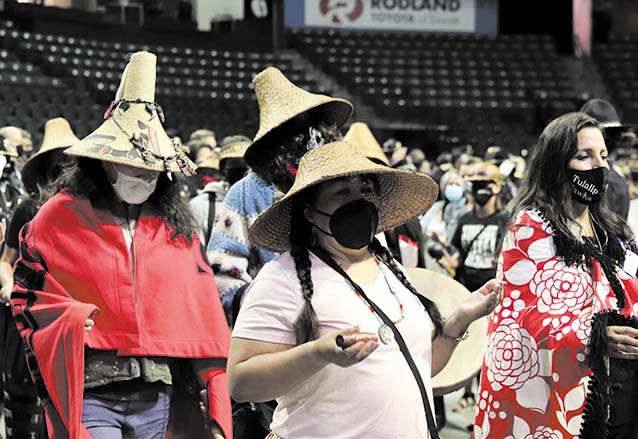 He continued, "To Charlie's two children Dominic and Peyton, his parents Alan and Paula, brother Moochie, grandmother Sandra and all the aunts, uncles, cousins, extended family and loved ones, on behalf of the men and women of the Tulalip Tribal Police Department, no words can adequately express our sorrow and grief. We offer our heartfelt condolences and send our support, love and prayers that you may receive God's peace and comfort in this time of loss and remembrance."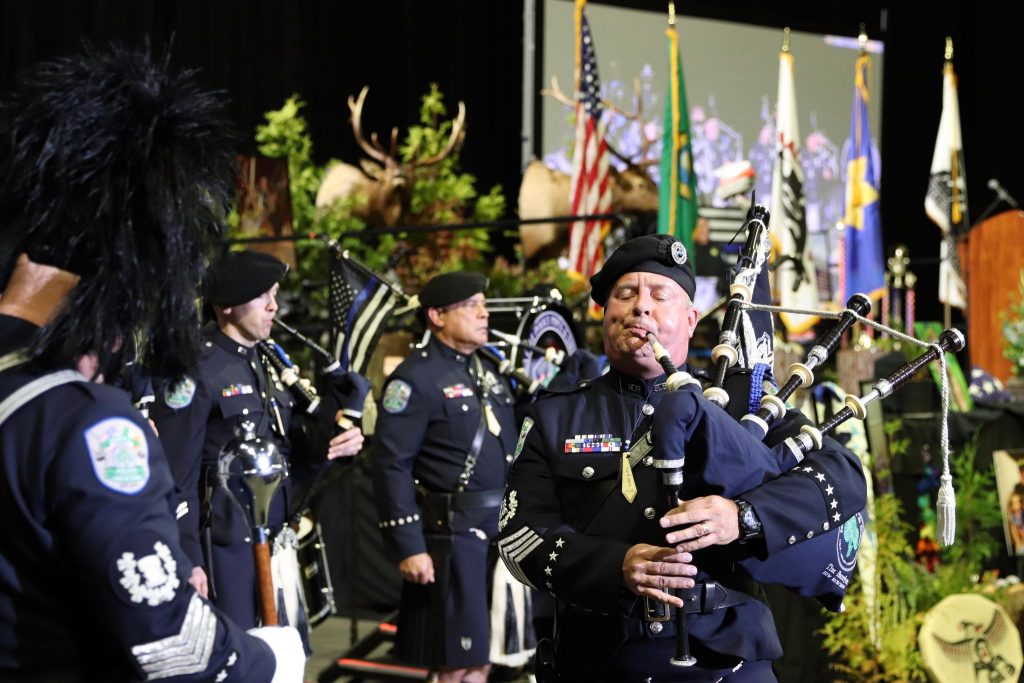 In addition to the heartfelt words shared by cousin Casey, Chief Sutter, Teri and Glen, TPD Commander Robert Myers and TPD Sergeant Chris Gobin both fondly recalled their time spent with Charlie as members of the Tulalip law enforcement agency. Father Pat Twohy provided the service with an opening prayer, cedar blessing and the benediction. A slideshow celebrating Officer's Cortez's life, filled with pictures from his youth and selfies with his children, had the entire arena in tears. Margie Santibanez read the eulogy on behalf of the family and Tulalip drummers and singers provided medicine by way of traditional songs. The Seattle Police Pipes and Drums ensemble performed Amazing Grace on bagpipes, which was followed by a 21-gun salute.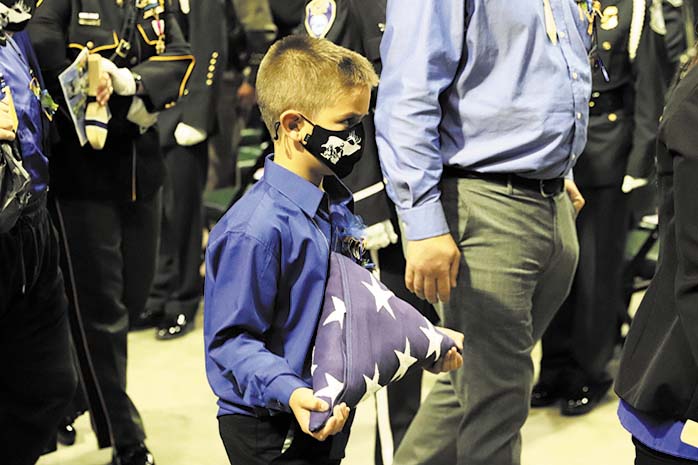 The stage was decorated with all the things that Charlie loved, from hunting to motocross to protecting and serving his community, Charlie's certificates, uniforms, medals, accolades, trophies, and family portraits were on display, celebrating his legacy. Because he has yet to return home, a traditional bentwood box was donated and then customized in Charlie's honor. The box was filled with personal items by his loved ones, and utilized as a way for the family to say their good-byes.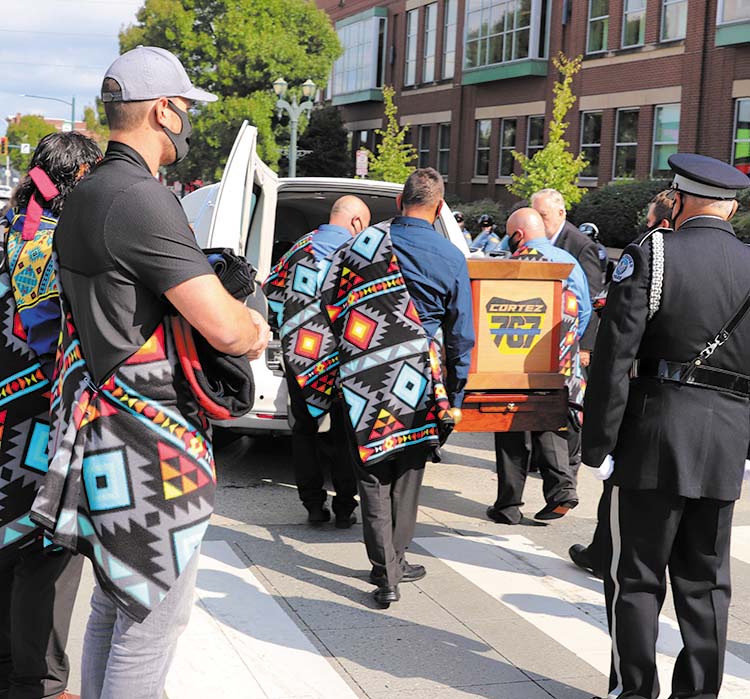 "As you all know, we never did recover Charlie," said Glen. "In the box, the family has placed mementos, things of importance to them, things that were important to Charlie, in a way to continue to pass down his memories. The family, at various times if they want to, can open the box and they can go through and talk about the items in there with Charlie's children, Charlie's grandchildren when they come, other family members. I encourage each and every one of us to not be afraid to talk about Charlie. Don't hold back. Share the memories, share the stories, share the feelings. Charlie's life was not about the end, it was everything up to it. That's what we carry within us, that's what gives us strength to continue on and that's what keeps his memories alive."
The family indicated that although his memorial service took place, the search for Charlie will continue. After the service, Charlie's family turned to the crowd outside of the Angels of the Winds Arena and raised their hands to everyone in attendance, thanking them in traditional Tulalip fashion for their love and support during their time of need. 
Thank you for keeping Charlie's family and the Tulalip Police Department in your prayers. As always, please send any potential evidence, information or your own informal searches to us by texting 360-926-5059, or emailing bringofficercortezhome@gmail.com, or leaving a voicemail at (909) 294-6356.